Televisions have been growing over the years. As they have become thinner and their technologies have improved, consumers have been demanding larger and larger screens. A 55-inch television has gone from being a large television to being a normal size that you would put in the living room of any home. At this point, what is the largest television we can buy today?
The new standard is 85 inches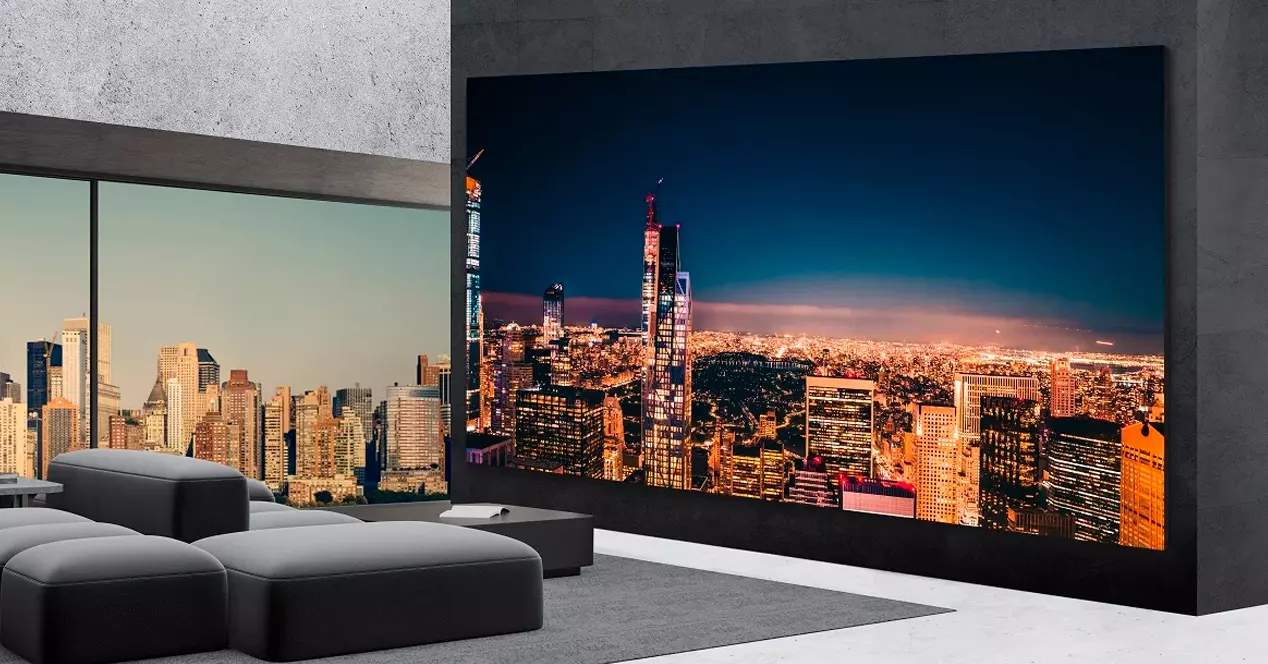 Today, most TV manufacturers have set the ceiling at around 85 inches . However, everything seems to indicate that the market continues to demand larger televisions . Therefore, it would not surprise us if this barrier was falling over time. These are some of the most interesting models that you can find from each brand without having to make a custom order:
Samsung QN900B Neo QLED 8K
Sold in 65-inch, 75-inch and 85-inch sizes, it's one of the most exciting 8K resolution TVs you'll find. Thanks to its Quantum mini LED technology, thousands of tiny LEDs can be grouped together and achieve very precise zone dimming, achieving black levels similar to those we would have in an OLED panel.
Sony X95J
It is the successor to the X90J, and it is a mid-high range model that offers very good specifications considering its price. Its panel has a diagonal of 85 inches, its brightness level has improved and also its contrast. The Sony X95J has a native refresh rate of 120 Hz , which makes it the TV you want to have at home to enjoy the new generation consoles without leaving too much of a budget. Its negative point is the viewing angles, something that should never happen on a television with such a huge panel.
LG 86QNED816QA
LG's most advanced OLED range has remained this year at 83 inches. The largest model of LG that we can buy at the moment is this TV from the 86-inch QNED range . It has 4K resolution and a refresh rate of 120 Hz.
Are there bigger TVs?
Yes, there are, although it can be difficult for them to reach our market. At the moment, these televisions have prohibitive prices. In some cases, they are only sold on request. Here are some of them:
Samsung The Wall 110″ MicroLED TV
It was presented in 2020 and has been put on sale this week in China. Its price reaches six figures (about 150,000 dollars, to be exact), but that has not stopped buyers from the Asian giant, who have swept away this model.
The 2022 The Wall range also has a 146-inch 4K version.
LG DVLED 8K TV 325″
There are those who hire masons to cover the gotelé on the living room wall and there are those who solve the problem in a big way with a 325-inch television.
This LG model falls under what is known as Direct View LED (DVLED) Extreme Home Cinema . The Korean brand announced models ranging from 81 to 325 inches . Depending on the model, the screen has a different aspect ratio, which can reach 32:9. The price of the largest model amounts to a whopping 1.7 million dollars .