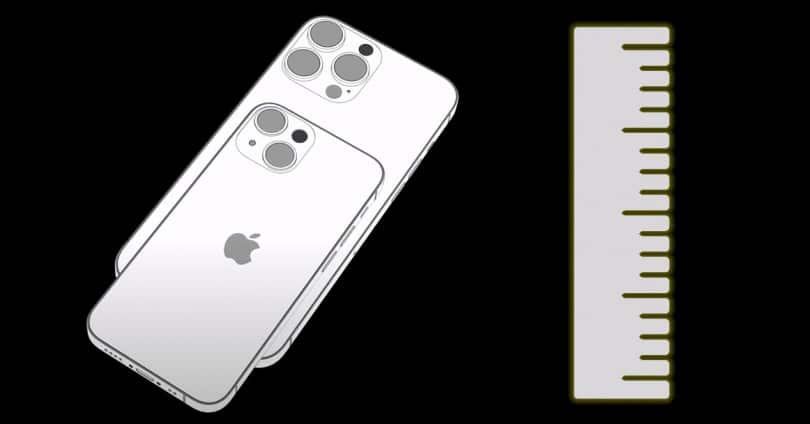 Well, nothing, there is still half a year for the new iPhone 13 to reach stores but we already have among us the expected annual leak that anticipates changes in the dimensions of the devices. The YouTube channel EverythingApplePro has shared the design schemes of all the iPhones of 2021 clarifying what the changes will be with the current iPhone 12 series.
The information and the CAD assumptions of the next range of Apple phones already make us see that the company is going to integrate some other novelty in the cameras of the devices. The company, according to the images, plans to make this year's iPhone camera module significantly larger, likely to make way for larger sensors and sensor shift stabilization.
According to the diagrams shared in the video, the camera module ‌iPhone 13‌ Mini, Pro and Pro Max will be a "perfect square" that, this time, would reach the upper left edge of the phone. In terms of dimensions, the ‌iPhone 13‌ Pro Max camera package will protrude 0.87mm more than that of the current iPhone 12 Pro Max. As a result, the overall thickness of the body will also increase by 0.25mm, based on CAD.
For the ‌iPhone 13‌ Mini , the CAD shows a diagonal camera setup for the 5.4-inch form factor ‌. Specific CAD measurements say the camera setup will stick out 0.99mm more than on the iPhone 12 mini and will be 3.06mm longer in width and 0.14mm shorter in height. The overall body of the ‌iPhone 13 Mini‌ will be 0.26mm thicker.
Moving on to the ‌iPhone 13‌ Pro, the camera module itself will be 3.41mm taller and 4.81mm wider than the current iPhone 12 Pro. The camera housing would be larger and will include a larger LiDAR sensor. And, while not mentioned in the video, it will likely include better precision for corners, edges, and AR. Along with the increased actual size, the 13 Pro's camera system will protrude 3.65mm, compared to 2.79mm on the current ‌iPhone 12 Pro‌.
Few design changes
Now it remains to be seen if these models, beyond growing in size and thickness of camera package, also grow in overall dimensions. Rumors speak that the new family should not present many new features with respect to the current Cupertino phones, which is why we do not bet on it, beyond a reduction in the notch and a slight change of place of the components of the Face ID .