TikTok is disrupting many of today's social networks. And it is logical, they are so successful that other platforms desperately seek to imitate some of their key characteristics so as not to be left behind. One of them has been YouTube with YouTube Shorts, a new function with which you can create short videos.
What is YouTube Shorts
Short videos, easy and quick to consume, have been one of the great successes of TikTok. The other is its discovery algorithm and how it has managed to offer each user the most attractive content possible so that they can spend hours and hours watching videos on the platform.
For this same reason, many platforms have closely followed its decisions and copied some of its most characteristic functions. One of them was Instagram who recently announced Reels, a new function to create short videos with multiple creative tools similar to those of TikTok. Like the possibility of slow cameras, etc.
But it will not be the only one. Now YouTube is added. Yes, as you are reading it. The video platform owned by Google has been experimenting with this new feature for a few months with a small group of users. And he must have liked it because YouTube Shorts is now officially launched , a new function for creating short videos.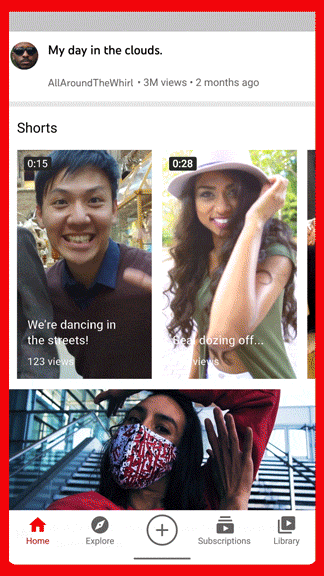 The operation is very simple. To create one of these videos you will have to go to the YouTube application for mobile devices. There you will find a new tool with which you can create videos of no more than 15 seconds long. To facilitate its creation there will be a timer with which to know when to start talking and the company indicates that little by little more creative tools will arrive.
Once you have the video ready, it is published independently of your channel feed. That is, it will share space with the publications that were introduced months ago so that the creators could maintain a somewhat closer contact with their followers and other platform users.
A function with a future or near failure
Venturing to say whether or not it will succeed would be risky, because you never know what might happen. Although it is true that seeing what the response has been to other similar functions, it is possible that it will end up being used by only a few.
Because each platform has already assimilated a very particular type of content and form of consumption. No one is going to consume short videos from YouTube anymore, but the platform itself rewards the long videos more (around 10 minutes) because this way they can insert more ads, which is what generates income.
However, we will have to see what happens. What do you think of this proposal? Do you think YouTube is right or wrong in offering something that nobody asked for? At the moment YouTube Shorts is only available in some countries , but the company indicates that it will soon be extending them to the rest of the markets where the service operates.