When you have a brand as powerful as Bethesda for the world of video games, the logical thing is that you take full advantage of it. So that's precisely what Microsoft is doing and just the beginning. Xbox controllers customized by titles Fallout, Doom or The Elder Scrolls, among others, are here.
Xbox Wireless Controller and the goose that lays the golden eggs
This would be the number of times… I don't know, but it would surely be a high number that would refer to the times that we have said that the customization actions that Microsoft began to apply to its Xbox controllers have become quite a chicken of the golden eggs for the company.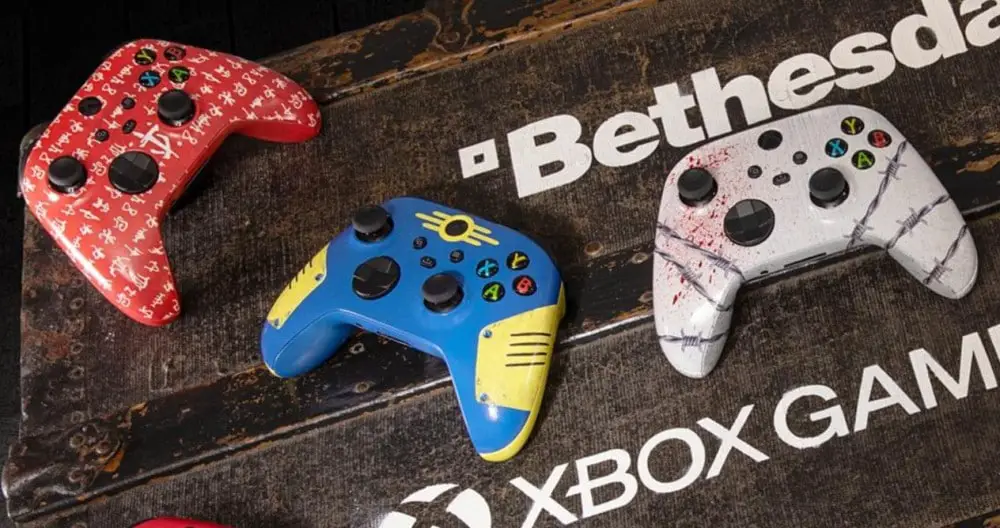 If they recently launched two new controls where beyond the design their sustainability stood out, being made with recycled CDs and car headlights (among other types of plastics), now they go and present a new collection of controllers inspired by some of the most popular games and recognizable from Bethesda .
This limited-time collection consists of seven different models. Each of them is inspired by one of the most important games from the developer. Thus, although you surely recognize more than one, the new Xbox Wireless Controllers are personalized with the following titles:
Doom
Dishonored
Prey
Fallout
The Elder Scrolls
Wolfestein
The Evil Within
Video games that as you can see are currently the most representative of the developer and for which, among other things, they made Microsoft decide to do with them to enhance its Xbox Game Pass platform now and in the future by making them exclusive to Xbox.
How to get hold of these Bethesda remotes
May we interest you in these custom @Bethesda controllers? Just RT with #BethesdaSweepstakes for a chance to win!

Ends April 16, 2021, at 7pm PT | Rules: https://t.co/4KBHC0eywp pic.twitter.com/uHbyUnpdEb

– Xbox (@Xbox) March 29, 2021
Well now comes the good and the bad, it is difficult to assess to what extent it can be positive or negative. If you want to get this collection of so exclusive controls you can participate in a raffle that will be done through Twitter.
That is, you can only get it if you have a profile on said social network, you retweet said publication before April 16 with the hashtag #BethesdaSweepstakes and of course you follow the official account of the company. As a last requirement, your profile must be public so that they can contact you and choose a price that the company values at about $ 399.
If you have some luck, because among so many participants it will be somewhat complicated, you can take these controls that in turn do not arrive like that, each one in its own box, period. You will also receive a chest where they are stored and which is the one you can in the image.
We are giving away this extremely limited edition #BethesdaJoinsXbox collection to a lucky fan. Don't miss the details tomorrow on the @Xbox Twitter handle! #BethesdaJoinsXbox pic.twitter.com/tlXf4mMQaI

– Aaron Greenberg 🙅🏼‍♂️💚U (@aarongreenberg) March 29, 2021
In the top tweet posted by Aaron Greenberg you can see the chest and controls as you would receive them if you were the winner. Although being honest, we would not have many illusions about being the winner of this special collection that would surely make controller collectors and fans of each of these Bethesda games very happy.