There are many websites with different themes that we can find on the Internet, from those that will help us with DIY at home, to study or if we want to play sports. Well, other websites that we can turn to for ideas or tutorials are craft websites.
More than anything, because crafts are a good family pastime. In addition, it is one of the most common uses to enjoy or if we want to make original gifts at different times of the year such as Christmas, Valentine's Day, Easter, Halloween… For this reason, we wanted to review some of the best websites for crafts with children or alone.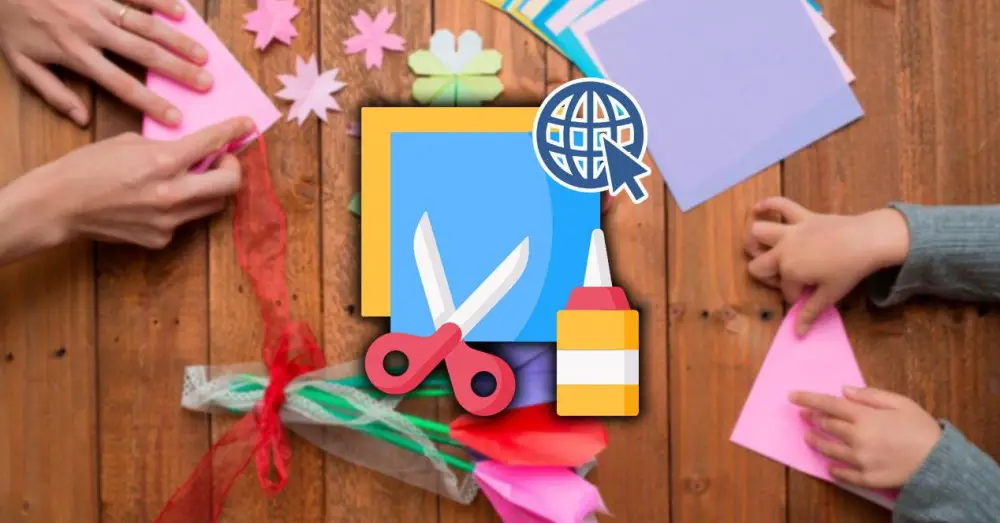 The first website that we can turn to for specific ideas or tutorials is Pocoyo. Within this page we will have an immense variety of alternatives with which we can spend an entertaining afternoon with the smallest of the house or, also, if we are not very skilled with crafts.
Within this website, we will find all kinds of ideas for school, for birthdays and, best of all, we will find different crafts depending on the type of material , either with felt, with EVA foam, with cardboard. So we will have a wide variety of options to choose from.
In this case, we are facing another of the most complete options on the Internet. And it is that, in addition to being completely free, we will have at our disposal a wide catalog of tutorials to do crafts at home on our own or if we want to do crafts with children.
We can even find crafts by material , either using cardboard, bottles, cardboard, etc., or if we prefer, we can divide them by age, whether they are for babies, children or adults. In addition to that we will have at our disposal endless designs and for all the festivities of the year.
We leave aside for the moment the smallest of the house, to move on to the crafts with which we can decorate any home . Within this web page called Better Homes & Gardens, we will have a huge list of ideas for crafts and decoration that will be divided by projects, jewelry, sewing and other techniques. And they will not only give us ideas for inside the house, but also for the garden.
Once inside, we will have a filter section available so that we can quickly find what we were looking for without wasting time on other crafts. Even if you are a novice in this, you will have a section at your disposal.
Going back to the little ones, we find the Aulafácil website. Within this page we will have free craft courses in which we can use all the materials that we have imagined, from clay, cardboard or even recycled materials. With them, we can carry out embroidery crafts, floristry, jewelry, etc.
Keep in mind that, if in your case they have no idea, on this website you can find how each of the crafts incorporates a detailed tutorial that will guide us step by step so that we do not get lost at any time during the process.
This blog is another of the best to do crafts for adults if we want to spend our free time designing new decorations for the house . We will have options and techniques of patchwork, crochet, decoupage, scrapbooking, jewelry and everything we can imagine.
In addition, it has its own online store section where we will find materials or products. In any case, its strong point is the tutorials of all kinds , in which we will find a multitude of crafts with different materials.
Finally, this website is focused on the world of weddings, that is, they will tell us tips to carry out crafts and decorations for parties and weddings . From themes to decorate with wallpaper to ideas for flower arrangements.
Within its website, we can quickly see how it is divided into different sections. We find from ideas to topics that will help us to have an idea of what we want to carry out. In addition, this website offers tips for rustic, original weddings, table decorations and much more.