As of the arrival of the new Netflix plan with ads, there will be changes in the minimum speed that the streaming platform will need to be able to broadcast its content with the expected quality and without cuts.
This speed increase will not be exclusive to this new low-cost Netflix plan, but will also affect the Basic Plan, even if it does not have ads.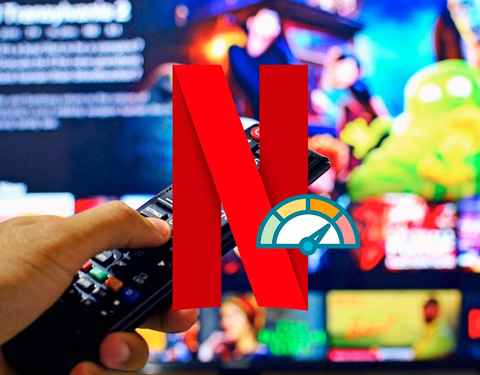 New subscription with ads
As we have been telling you, Netflix has launched a new subscription model in which about five minutes of ads will be implemented every hour to lower the monthly cost for the basic plan subscriber. This cheaper Netflix plan will arrive in Spain on November 10 at the price of 5.49 euros/month and also brings changes to the plans without ads.
Until now, Netflix had three subscription plans. The cheapest, called the Basic Plan, cost 7.99 euros per month and gave access to simultaneous playback on a single screen and download on a single device. In addition, it did not have HD quality, something from the Standard Plan (11.99 euros per month), nor UHD, exclusive to the Premium Plan (17.99 euros per month).
On the other hand, with the arrival of the "Basic Plan with Ads", both this and the "Basic Plan" will now have at least high definition image quality, making the difference with the Standard Plan lie in the amount of devices on which content from the platform can be played simultaneously (two devices for simultaneous playback and/or download).
"Netflix Basic with Ads is a subscription plan with ads that allows you to enjoy movies and series at a lower price. With this plan, you can enjoy Netflix in HD video quality (up to 720p) on a compatible device (phone, tablet, computer or TV).
Netflix increases its minimum recommended speed
If we take a look at point 4.7 of the Netflix Terms of Use , it explains what the minimum download speed should be to enjoy the streaming platform under conditions.
«4.7. The display quality of Netflix content may vary by device and may be affected by various factors, including your location, available bandwidth, and/or the speed of your Internet connection. The availability of High Definition (hereinafter HD, High Definition), Ultra High Definition (hereinafter Ultra HD) and high dynamic range (hereinafter HDR) will depend on your internet service and the features of your device. Not all content is available in all formats, such as HD, Ultra HD, or HDR, and not all subscription plans allow you to receive content in all formats. Default playback settings on cellular networks exclude HD, Ultra HD, and HDR content. The minimum connection speed for standard quality (hereinafter SD, Standard Definition) is 1 Mbps. However, we recommend a higher speed for better video quality. A download speed of at least 3.0 Mbps per stream is recommended to receive HD content (defined as a resolution equal to or greater than 720p). A download speed of at least 15.0 Mbps per stream is recommended to receive content in Ultra HD (defined as a resolution equal to or greater than 4K). You are responsible for all internet connection charges. Check with your internet provider for information on possible charges for internet data usage. The time it takes to start viewing Netflix content varies based on several factors, including your location, the bandwidth available at the time, the content you have selected, and the settings of your Netflix-enabled device.
Therefore, what was previously a recommendation, since HD is the new minimum standard that absolutely all subscriptions will have, means that they must have a download speed of 3 Mbps, while previously, to enjoy SD quality in the basic plan , 1 Mbps was enough. The change is not drastic and getting 3 Mbps down will not be a problem for almost anyone, but even in some areas with little mobile coverage it can be noticed.