We have all wanted to put ourselves in the shoes of Sherlock Holmes, the most famous detective of all time. And one of the best ways to do it is, without a doubt, with one of the many Sherlock Holmes board games out there. In them, we will move through the streets of a Victorian London, solving crimes and demonstrating our investigative skills. Take the cap and the magnifying glass, we bring you options for all tastes.
Sherlock Holmes has always been an excellent candidate for making board games out of his exciting adventures. Almost always using narrative mechanics and deduction, the truth is that there have been many titles dedicated to the most famous tenant of Baker Street.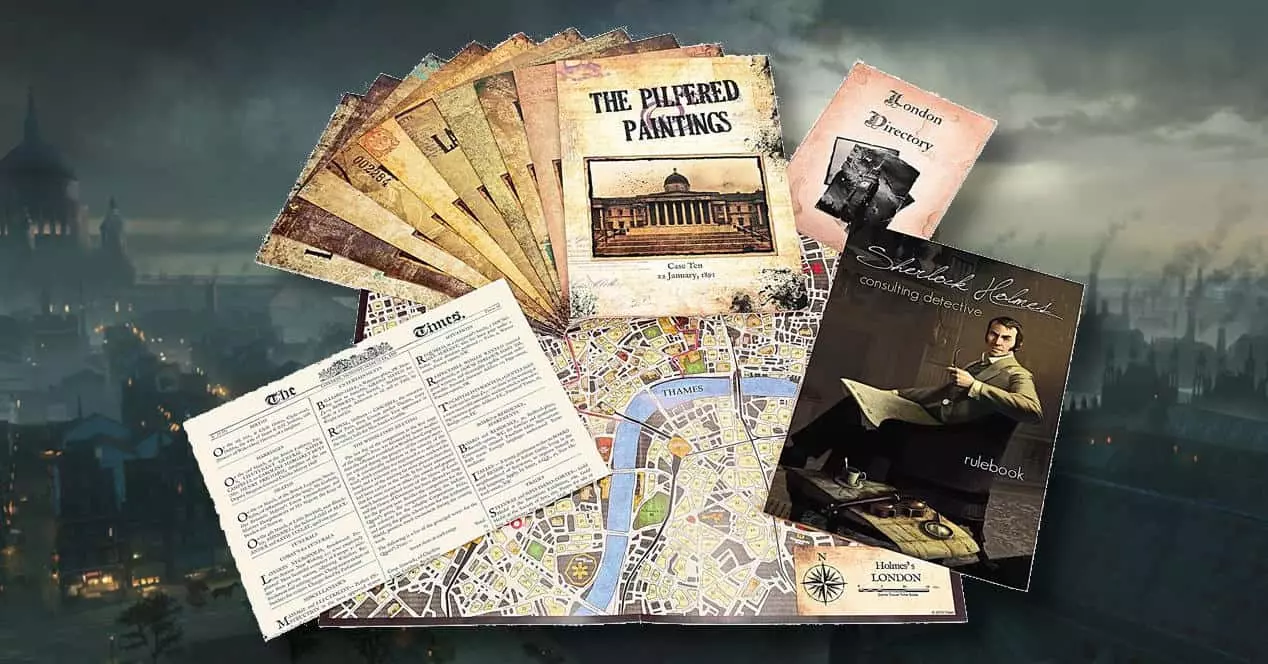 Some of the games that are available are difficult to find, or in editions that are not in Spanish. Don't worry though. We have selected the best Sherlock Holmes games, which you can buy without any problem and they are in Spanish . In fact, as you will see, one of the best Sherlock titles doesn't even have that name and can go unnoticed if you don't know the world of board games well.
In addition to that, we also wanted to give an option for each type of player and situation.
And we start the list with my personal favorite, since it captures very well the essence of Holmes and his cases, as well as making it seem like you're starring in one of his books.
Sherlock Holmes, consulting detective, the closest thing to being in the novel
A collaborative deduction game , similar to those old book-games that are now becoming fashionable again. The goal is to solve a case using as few clues as possible. For that, we must correctly answer the questions that this case poses, once we believe that we have all the ends tied up.
The game itself is simple, but the cases are complex to solve. Using a map of London and a telephone book, we will move through locations in the city, visiting suspects and collecting clues. The book tells us, in each case, what happens when we visit the locations.
The key is to solve the case better than Holmes (something practically impossible, I'm already anticipating it), visiting the minor suspects and possible locations to find out everything that has happened.
The only thing to keep in mind is that the scenarios, once resolved, are no longer replayable, it doesn't make sense because you know what happened in the crime.
It has several expansions and the original game is already difficult to get in Spanish, however, nothing happens. The Jack the Ripper and Adventures in the West End expansion has even better cases and can be played on its own, without the need for the starter game.
Contains the map of London (cooler than the original), the phone book and 10 cases. 4 of them are in campaign mode, that is, they are related. Also, the Jack the Ripper setting gives it a special flavor.
Mechanics: deduction and narrative.
Game type: cooperative.
Players: from 1 to 8.
Playing time: between 60 and 90 minutes.
Age: from 12 years.
Watson and Holmes, recommended for most
If what you like is deduction and solving crimes, in this game we are once again presented with 13 cases to solve . These have different difficulty and, in addition, unlike the previous one, it is a competitive game .
Although the mechanics are always the same and it is made up of two phases: visits and investigation, in each case there are different rules and that gives each game a special flavor. Again, the fact that you know the solutions once the case is solved does not make it replayable.
It is also very immersive , although the cases are not as deep in their history and details as in Detective Advisor . That also makes it more suitable for integrating players of all kinds, without the need for them to be more veteran or motivated.
Here, instead of a book with cases, we find files, crime letters and even QR codes. This also makes it somewhat lighter and more visually appealing than Detective Advisor .
Mechanics:

 deduction.

Type of game:

 competitive.

Players:

 from 2 to 6.

Playing time:

 between 60 and 90 minutes.

Age:

 from 12 years.
Sherlock and Mycroft, the right one for quick games
If you're passionate about Sherlock, but don't have a lot of time or players in your party, this is a good choice. In Sherlock and Mycroft we find a card game for 2 players and very fast , with games lasting half an hour.
In them, we will take the roles of Sherlock Holmes and his brother Mycroft. The two most privileged minds in London face off to find out what is behind the arrest of Michael Chapman.
The mechanics is based on having more points than the rival, making good use of characters and collecting the clues in the proper order. The cards make each game different and the mechanism is very simple . There is no pure deduction here, nor is it that immersive, but it is a good option for a couple of quick games.
Mechanics:

 cards, collection of clues.

Type of game:

 competitive.

Players:

 2.

Playing time:

 about 30 minutes.

Age:

 from 10 years.
Mister Jack, the best Holmes game for 2 players
Mister Jack puts us in the shoes of Jack the Ripper, who has murdered and must escape through the streets of London taking advantage of the darkness. While one player takes on the role of the mythical assassin, the other leads 4 investigators who must prevent his escape.
Leading those investigators are, of course, Holmes and Watson . While the Jack the Ripper player must sneak around and escape the board, the investigators player must block that escape.
This is the best Holmes board game for 2 players , although it does not have its name, where both will face each other in a fun duel of minds. That of the investigators, with Holmes in the lead, to find out where Jack is hidden on the board and discover him. The one that carries the Ripper, so that his movements in the dark are not intercepted and he is arrested.
A personal favorite and highly replayable.
Mechanics:

 deduction and hidden movement.

Type of game:

 competitive.

Players:

 2.

Playing time:

 about 20-30 minutes.

Age:

 from 9 years.
Black Party: Rest in peace, Sherlock, a live role
The most different Holmes game of all is, without a doubt, Black Party: Rest in Peace, Holmes . In this case, we do not adopt the role of the most famous investigator of all time, but we must find out who has killed him .
This is a live role-playing game, ideal for a party of about 6 or 7 people . Each player must play a character, while another, who knows the resolution of the case, will host and direct the game.
Among all, they must solve who has killed Holmes, accusing each other and getting clues. Of course, the player whose turn it is to be the murderer must avoid, as much as possible, being discovered.
If you have a party or event, and you want to surprise people with something different, Rest in peace, Sherlock is the game you are looking for. The rules are simple , although, yes, for this type of game to succeed, the players have to be minimally motivated to play characters.
Although it is no longer easy to find in Spanish (beware of the Amazon editions, which are often in German and the game depends on the language), you can still get the latest units of the game in specialized stores, such as Zacatrús .
Mechanics:

 live role and deduction, a party game.

Type of game:

 competitive.

Players:

 from 6 to 7.

Playing time:

 about 180 minutes.

Age:

 from 14 years old, although adults 18 or older are better.
As you can see, there are Sherlock Holmes board and table game options for all tastes. With them, you can really prove if you are as good as you think when it comes to catching criminals and solving mysteries.