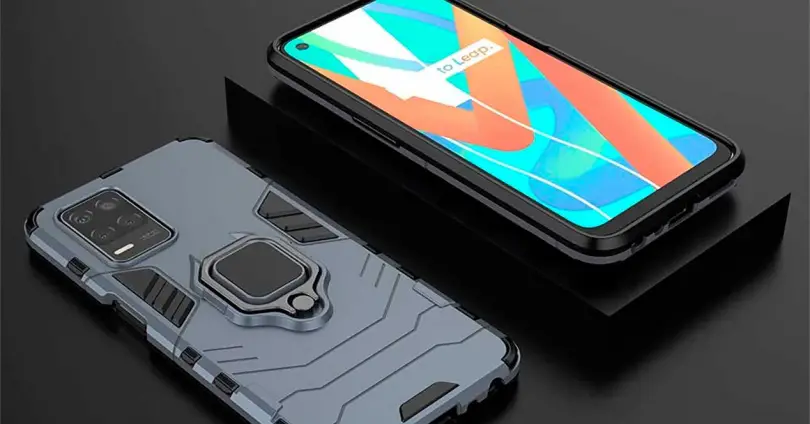 Buying a new mobile is a great investment, surely one of the most important that we make throughout the year. And of course, every good investment must be protected as such, in order to make it last as long as possible and to make it profitable. This is the case of a mobile like the Realme 8 5G , which we should protect with these covers.
Choosing a good case for our phone depends on many things, and many important factors come into play when it comes to finding the right case for our mobile, something that we will try to clarify in the following lines.
How to choose a good cover?
As we say, there are a multitude of factors that influence when buying a good case. And in this case we want to customize that choice on a specific phone, such as this Realme 8 5G. We are facing a mobile that has a very attractive design, so without a doubt a case that can continue to show it while protecting the terminal should be ideal. There are many types of covers that we have at our disposal, and we must choose them based on two aspects, their format, and the material with which they are made.
On the one hand when we talk about format, we refer to the way we use them, and what is the main purpose of these to protect the phone. Because there are many ways to protect it with these formats:
Rugged covers
Silicone sleeves
Book-shaped covers
Covers with "exclusive" finishes
The most extreme way is with a rugged cover, which has a large amount of absorbent material, having been designed precisely to withstand the most important blows. The silicone case is more versatile and lightweight, and it adapts perfectly to the design of our phone. In the book format, the cover has 360-degree protection, as the screen is also covered when it is closed. Those that have a wallet and card holder have the same advantages as those with a book, but also allow us to transport documents. On the other hand we also have covers that we call exclusive finishes , which offer us a more worked and attractive look for our phone. These are covers that imitate the appearance of exclusive materials, such as carbon fiber or leather, among others.
Rugged covers
These are the most resistant cases that we can put on our Realme 8 5G. Some covers that have been designed to withstand falls from a considerable height, and that fully protect the terminal . We are talking about covers that are covered with absorbent material around their perimeter, with special emphasis on their corners, and that also sometimes offer additional functionalities to be able to carry them more comfortably in our vehicles, in such a way that it is easy to place them in the dashboard of our vehicles.
Rugged "carbon fiber" cover
The most interesting aspect of this case is not that it offers us superior protection than others, but that it also has some very useful elements to carry the mobile in the car. On the one hand, absorbent material is available on the entire surface of the phone, so if it falls from any position the damage will be minimal as it is protected at all ends. But the most interesting thing is the ring it has, which in turn works as a base .
Rugged Magnetic Silicone Case
Although later we will see a specific section for silicone covers, there are also this type of rugged covers created with this material. This is the case of the one we are seeing now, and it looks very similar to the previous one, although the material is different. We also see a ring to use as a base , as well as a magnetic area to easily place the cover on a magnetic car holder. It is very resistant to shocks and comprehensively protects the phone.
Glazed
This cover undoubtedly offers us a very interesting mix of materials. Although the edges are made of silicone, the back is made of tempered glass . This allows two things, continue to show the design of our phone while protecting the back from scratches when placed on any surface. It is a great cover because, in addition, this set of materials makes it one of the most elegant.
Silicone sleeves
These usually offer us more varied designs, and above all they adapt much better to the design of the phone. They allow you to carry the phone in the most comfortable way, since in the hand it will not get in the way more than necessary, and basically the case will adapt to the phone, instead of the other way around. They are also lighter and therefore allow the phone to be carried more comfortably from one place to another.
With reinforced corners
This is one of the most popular types of covers when we talk about silicone, since unlike most of this type of covers, they offer us extra protection in some aspects, such as when combating accidental falls . Especially when the phone falls with its corners, since having more silicone in these it is easier for the phone to absorb the most common blows, which tend to dent the corners.
Pack of various covers
In this case we have the possibility of getting up to six silicone covers of different colors for the price of just one . In this case, they are simple covers, but for example, they completely protect the phone's camera module, its entire surface. The cover colors that we are going to have are black, navy blue, red, turquoise, pink and white. In this way, we will almost be able to complement the phone with our clothing accessories almost every day of the week.
Finished with "carbon fiber"
As we saw before with the rugged covers, in this case we can also enjoy a cover that offers us a finish with that sporty look like carbon fiber. In this case with a design that appears to be rugged, but is still made of traditional TPU silicone. Undoubtedly a finish that gives a very attractive appearance to the phone and a more expensive case.
Finished simulating leather
There are also silicone covers that look similar to skin , as is the case with this one we see now. Its edges are made of silicone, also its body, only that on the back the material used to protect the phone simulates the appearance of brown skin or leather. Also with this same finish simulating skin we have it in various colors, such as black, green, blue and red.
Book covers
These covers offer us a mixture of protection and a certain elegance at the same time. They are also one of the most versatile and practical covers on a day-to-day basis, since in most cases, or almost all, they allow us to store documents and bank cards, even banknotes. So in a way they work like a wallet.
Finished in leather
This offers us the traditional aspect of this type of covers, as it is the one that simulates the leather finish, it is a simile that gives the sensation of being legitimate leather. But the best is when we open it, with an arrangement in which on the left side of the case we find the card holder , in which we can carry several bank cards. In addition, on the back of this card holder, there is also a wallet where we can comfortably carry our bills or other documents. On the right we have the silicone case for the phone. It also has a magnetic closure.
Mirror finish
This cover offers the same advantages as other book covers, such as comprehensive protection, but with a much more elegant and eye-catching finish . Since this material that imitates mirror glass even allows you to see the time and the Always On screen through it, creating a very attractive effect. It is available in various colors, such as blue, purple, black, gold, pink, and silver.