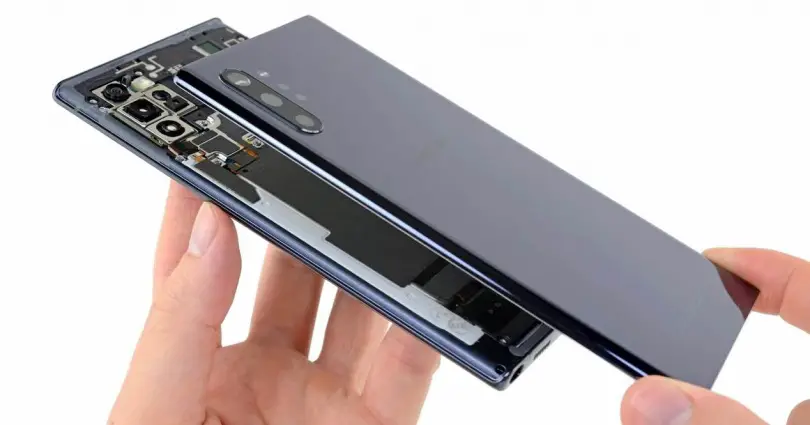 Whether you like it or not, sooner or later there comes a moment that we all fear. It has a guarantee or is out of support, it may be necessary to go through the workshop to fix our mobile and this, "impepinably", will mean an outlay of money. Depending on what needs to be fixed, you will spend more or less to fix your Samsung mobile.
As we have done previously with other brands such as Xiaomi or Huawei, we will try to make it easier for you to know what you will have to pay for each part of your Samsung mobile, whether you go to the official technical service or if you go to any center of support, so that you are not "ripped off" when it comes to repairing your mobile.
How much do the parts of your Samsung mobile cost?
Normally, when we go to any repair center, there are 3 key elements or components that can be repaired. And when we say repair, we say change completely, so its price is not going to be cheap.
The Samsung website, in its support section, only shows the price of the screen change. If what we want is to replace the battery or the motherboard of your mobile , you will have to go to other unofficial technical supports, whose prices are very similar in most and we collect in the following lines.
Screen repair price
Depending on the model you have in your pocket, it will cost you more or less to change the screen . Of course the most recent top of the range are the most expensive, especially if we look at the Samsung models with a folding screen; while the models of the Galaxy M family are cheaper.
Galaxy S21 Ultra: 255 euros
Galaxy S21 +: 230 euros
Galaxy S21: 225 euros
Galaxy S20 Ultra: 230 euros
Galaxy S20 +: 225 euros
Galaxy S20: 220 euros
Galaxy S20 FE: 125 euros
Galaxy S10 Lite: 160 euros
Galaxy S10 +: 220 euros
Galaxy S10: 215 euros
Galaxy S10e: 185 euros
Galaxy S9 +: 195 euros
Galaxy S9: 190 euros
Galaxy S8 +: 185 euros
Galaxy S8: 180 euros
Galaxy Note 20 Ultra: 250 euros
Galaxy Note 20 Ultra: 250 euros
Galaxy Note 10+: 245 euros
Galaxy Note 10: 225 euros
Galaxy Note 9: 205 euros
Galaxy Note 8: 200 euros
Galaxy Z Flip: 525 euros
Galaxy Z Fold2: 545 euros
Galaxy Fold: 545 euros
With regard to the rest of the smartphones of the firm based in South Korea, it is much cheaper to change the screen and the prices are very similar. Thus, for example, all members of the Galaxy M range will be able to change the display by paying between 100 and 130 euros. For their part, the members of the Galaxy A family, one step above, are between 90 and 140 euros, the most current models being those that involve a greater outlay.
As for old smartphones of the Galaxy J family , the price of changing the front panel is between 80 and 90 euros.
Price to fix motherboard
Samsung does not indicate the price of the motherboard change in its support center so we have been forced to take a look at other stores specialized in mobile repair . Each of them offers very different prices but, in general, changing the plate is not the most expensive in the world, especially when compared to the screen.
The motherboard is usually very similar in all phones, with the processor being the RAM, storage and other modules that do change. The price of changing the plate of a phone, be it a Galaxy S, Galaxy Note or Galaxy A is usually around 30 and 50 euros.
How much does it cost to change the Samsung battery
Something similar to what happens with the motherboard we find with the battery of the phones. Since fast charging depends on the processor and the charger, the prices of the cells of Samsung phones are really close, regardless of whether it is the latest Galaxy S21 Ultra or the Galaxy A02s. Here what counts is compatibility and capacity.
To give you an idea, change the battery of the top of Samsung's phones , counting on the labor force, it is usually around 90 and 100 euros, while if we look at a smartphone quite a few steps below, the price average is 60-70 euros, with a difference of just 20 euros.
Galaxy Repair Express vs Galaxy Repair Standard
When it comes to requesting an official repair, we have two ways to do it depending on where we live. On the one hand we have the repair in the same day, through Galaxy Repair Express, and on the other the repair in a week, Galaxy Repair Standard.
Galaxy Repair Express : Offers collection and delivery on the same day or 3 days for both repairs (with original components) under warranty as long as the terminal is in Madrid and Barcelona, although there are expansion plans to other locations. This service has a cost of 15 or 8 euros and is only valid for the Galaxy S, Note and Z.
Galaxy Repair Express: Repair in 5 days. The terminal will be collected at your home address and delivered there when the component has been changed.
Is it worth changing a part?
Everything will depend on your budget and, above all, the time your mobile has. Right now Samsung is one of the brands that brings the most updates, both in terms of system and security, to their mobiles. But this only applies to its premium phones and other mid-range phones released this year.
If you have come this far, we assume that it is because your mobile has no guarantee and, if this is the case, it is because your smartphone, at least, has more than two years of life. If we are correct, the phone will have exhausted its update period or would be waiting to receive one more, at the most.
What does this have to do with whether or not it is worth paying to change a component of the phone ? Very easy. If your smartphone is at least two years old, you should know that it will not receive many more updates so it may be more appropriate to think about buying a new phone whose useful life, at least at the software level, is more advanced.
In the event that your mobile is not that old and the reason for the change is due to a blow not covered by the warranty, surely it will compensate you to repair that part because it will require a much lower investment than buying a new smartphone.
After all, as we said at the beginning of these paragraphs, everything will depend on the budget you have when your mobile breaks. Also in the rush you have to fix the Samsung will require you to run out of phone for at least a week, unless you hire the Galaxy Repair Express service .