Many of us spend a good number of hours with our Windows 10 computers, either working, or in our leisure time. However, sometimes we can find the unfortunate news that it reboots unexpectedly, which turns into a problem.
Surely the majority is something that has happened on more than one occasion, we mean that you are working on something on the PC and suddenly it reboots suddenly. This is very annoying and can become a serious problem.
This is because, in addition to losing important data and information, it can seriously harm our work. That is why to avoid major evils, we want to avoid those unexpected reboots of Windows 10.


For this we can use several tips that we are going to give you below for all this. At first, the first thing we should know are the reasons behind these seemingly random events.
Keep in mind that if this happens every so often, that is, the Windows 10 PC reboots unexpectedly, it is for some reason. As you know, this is a bug that should not happen if everything went well, so something happens, either at the software or hardware level.
One of the most common reasons right now for these events is the system updates. Keep in mind that Windows 10 receives many updates that correct errors and sometimes bring new features.
In addition, you should know that some of these updates require that Windows be closed for full installation. Therefore, in the case that we want to ensure that our work will not be hindered by these updates and reboots, let's see what we can do.
Prevent Windows 10 from rebooting to install updates
At this point say that Windows comes with a programming feature to avoid these things. Thus, we can use this to schedule the hours during which the restart derived from these updates will take place. And if we do not configure this properly, Windows 10 will take the liberty of automatically restarting to install the updates.
It is something that we can do from the Windows 10 Configuration application. Therefore, to access it we use the combination of Win + I key and we are located in the Update and security section.
At this point, the first thing we must do is change the active hours in which we want Windows 10 to restart. So, what we do is establish a time frame based on working hours so that the team does not interrupt us.
We achieve this from the Active Hours section of the Configuration window. Thus, by customizing this section, Windows obtains information about the active hours of each user and will know the time at which the device is used daily.
Similarly, we must also know that we can pause the download of updates up to 7 days. With this what we get that Windows 10 does not restart due to the updates that could arrive at that time. Later, once we finish a certain job, we can install them all at once.
Everything will depend on the needs of each one, but if we have an intensive and important work that will last several days, this is a good option to lay hold of. Of course, in the Update and security section, we also see a section called Advanced Options.
Here we will see other ways to control when the updates are installed and the computer reboots. Therefore, for example we must disable the function that reboots the device as soon as possible to install an update. Moreover, here we can tell Windows 10 that the updates are not downloaded and installed for a maximum of 35 days.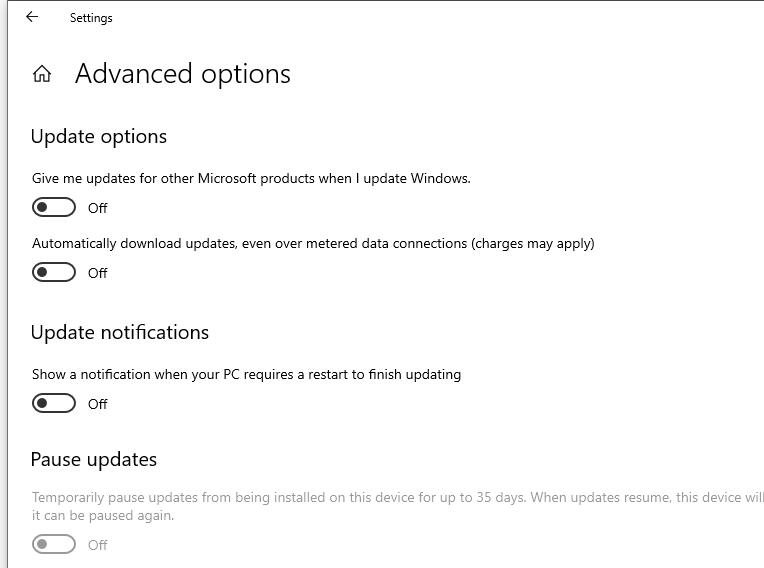 Other reasons why your PC reboots itself
But these operating system updates are not the only reason that Windows 10 reboots on its own. We must also be very careful that the equipment as such is properly ventilated. Otherwise, the PC may shut down suddenly if it detects an overheat.
This is something that makes both laptops and desktops extensible. Therefore, the best thing we can do is make sure that the ventilation ports of the equipment are not covered, and that the internal fans are working properly.
Another possible reason for these reboots can be caused by critical system errors, which causes the PC to shut down automatically. Saying that Windows 10 by default will restart automatically when a serious error occurs, although we can always disable this option and see how the computer responds. To do this, the first thing we have to do is open the File Explorer and right click on This device to choose the Properties option.
Then we click on Advanced system configuration and in the Start and recovery section we can already deactivate the automatic restart after an error has occurred in the system.
To say that these types of failures can occur for a multitude of reasons, many of them leading to the fearsome blue screenshots. If we want Windows 10 not to restart only after the appearance of a BSOD, we do so by deactivating what we just mentioned.
Changing third, these unexpected reboots can occur due to some kind of incompatibility with components. If we have just installed something new on the computer, either internally or via USB, for example, that may be the cause of the reboots.