Recording audio tracks from our Android smartphone is most common. And this is perfect, for example, to record university classes, take voice notes, do interviews or simply create content to share on the networks. However, before you can make use of these audio files you will first need to edit them.
---
---
Although in this type of situation the most common is to download the files from the smartphone to your PC and use some audio editing software, it is also possible to prepare your tracks directly from the mobile. As? Very simple: with an audio editor for Android.
In today's article we are going to offer you a selection of what we consider the best free audio editors for mobiles with Android operating system. All of them have been chosen conscientiously and are perfect for cutting, pasting tracks and making your own podcasts or ringtones in just a few seconds. We hope they help you!
1. WavePad Audio Editor
WavePad Audio Editor is a completely free sound file editor. It offers an excellent balance between basic options such as cutting, trimming or pasting fragments of tracks as well as more advanced ones such as adding sound effects.
One of the strengths of WavePad Audio Editor is its incredible versatility in the case of a mobile app. From it you will have almost all the options of a desktop editing software. And it is that in addition to accepting multiple audio formats it also has an equalizer and you can normalize your tracks, amplify them and even add echo and reverberation options.
WavePad Audio Editor is undoubtedly one of the best options if you want an editor with which to perform all audio editing tasks without resorting to any other program.
Install
2. MP3 Cutter
Don't let your name fool you, MP3 Cutter is much more than just a program to cut audio tracks from your mobile. This comfortable app has been designed for all users looking for a music track editor that is easy to use and intuitive.
MP3 Cutter offers the basic functions that every good audio editor should have. From this app you can cut tracks, join them, mix them and trim them easily. Simply open your sound file, make your project at your own pace and once finished, save it on your smartphone.
This application is especially recommended if you want to create a ringtone for your Android device. And you can customize it and configure it from the same app.
Install
3. Lexis Audio Editor
Lexis Audio Editor is the perfect application to edit audio tracks in just a few seconds. This is largely due to a really clear and simple interface, so you will not waste any time to learn how to master the app.
From Lexis Audio Editor you can record your own audio tracks or if you wish, open any you already have on your mobile. Once with the audio on your phone, simply choose if you want to cut, paste, trim or delete your track as well as add effects, normalize it or even change its tempo. And although it is a simple app to use, it incorporates most of the tools you would expect from a professional audio editor.
Once you have finished editing, simply save the resulting track on your mobile. You can choose between the main audio file formats of the moment ensuring in this way the resulting quality you want. Highly recommended.
Install
4. Media Converter
Media Converter is another good option to edit your audio tracks directly from your Android mobile. This offers all the basic options you would expect from a program to edit audio as well as extra features that make this one of the best applications for your mobile.
From Media Converter you can create, cut and paste audio tracks but not everything ends here ... You can also edit video tracks! Once the edition is finished, you can export your project to different formats such as MP3, MP4, OGG, AVI, MPEG, FLV, etc.
If you are also one of those who in addition to recording audio with your mobile or podcasts also like to make your own videos, this is the application you were looking for. Not only is it powerful and complete, but it is totally free.
Install
5. WaveEditor
WaveEditor is a powerful application with which you can edit your music tracks and audio files in just a few seconds. This allows multitrack editing as well as supports different audio formats such as AIFF, FLAC, MP3, OGG, PCM or WAV.
WaveEditor is a very good option if you are looking for a program with mixer and high quality for Android devices. In addition to all this, you can record your own tracks directly from the application, so at no time will you need to use the classic audio recorder.
WaveEditor is comparable to the vast majority of music publishers for desktops with the only difference that is free and you can also carry it in your pocket.
Install
6. Mstudio
Mstudio may seem at first glance a simple audio editor due to its minimalist interface, but nothing is further from reality. We are facing a complete tool with which you can edit your sound tracks like a true professional.
From Mstudio you can perform editing tasks such as cutting, pasting, trimming, joining or extracting fragments of your audio tracks. But this is not all, because the application also incorporates advanced tools that allow you to change the tempo, tone or add effects to your files.
Mstudio is an ideal application if you want to mix tracks, create ringtones or simply search for a free audio converter for Android.
Install
7. MixPad
MixPad is one of the best Android applications you'll find to mix tracks. In fact, for many it is a comfortable recording studio that you can carry at all times in your pocket.
One of the strengths of MixPad is that thanks to this application you can not only edit and mix tracks, but also be able to add professional audio effects (equalization, compression, reverberation, etc.)
MixPad is an excellent option if you want an app that allows you to create your own music or record a podcast directly from your mobile. It is also perfect if you want to upload audio files from your PC and be able to edit them from anywhere.
Install
8. Audio MP3 Cutter Mix Converter and Ringtone Maker
Behind this long name is a good free audio editor that you can use from any smartphone with Android operating system. This offers all the basic options to fix your music track in addition to a good number of interesting extras.
As the name implies, one of the most outstanding features of Audio MP3 Cutter Mix Converter and Ringtone Maker is its ability to create ringtones for your mobile. But not everything ends here! The app also allows audio mixing as well as the conversion of different audio formats.
Finally, it is also important to note that Audio MP3 Cutter Mix Converter and Ringtone Maker incorporates a tag editor with which you can edit and include the metadata you want in all your music tracks.
Install
9. Audio Recorder and Editor
Audio Recorder and Editor is a popular free app for Android from which you can not only record audio tracks but you can also edit them professionally. In addition to all this, the application is proud to be the only one in the entire catalog of the Play Store capable of rewinding a track while you are in full recording.
Audio Recorder and Editor stands out for offering high quality audio recordings as well as providing basic tools such as cutting, pasting and joining music files. It also offers a functional mixer with which you can join two tracks, improve its audio quality and also add all kinds of effects.
In short, Audio Recorder and Editor is a very good option to edit audio and deserves to be included in this selection of best apps. To all this we must add that allows you to share your creations quickly and easily through social networks.
Install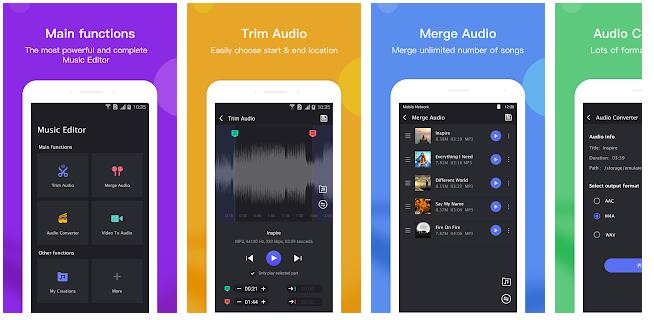 10. Music Editor
To finish this list, we want to recommend a simple but useful application called Music Editor. Although its name is not the most attractive of the entire selection, it does more than fulfill its mission and it is also very easy to use. This makes it a perfect option for all those who have just started in the world of music publishing or who simply do not want many problems when editing their tracks.
Starting to edit tracks from this application is very easy. You will simply have to open it and select what type of action you want to perform. You can trim your audio track, merge it, convert the type of music file or if you wish, it is also able to extract the audio tracks from a video.
Musical Editor also offers interesting options such as increasing the volume of a track that is already on your phone or if you wish, edit the labels of any of them to change their metadata. Highly recommended for all who are looking for a simple but useful app.
Install
BONUS: Super Sound-Free Audio Editing Software
As an extra, we also recommend Super Sound-Free audio editing software. This powerful free application for Android allows you to edit your tracks again, cut them, join them, mix them and turn a simple audio file into a masterpiece.
One of the strengths of Super Sound is that this application incorporates the curious option to alter the voice of our recordings. In addition to all this it also allows editing videos so it is perfect if you are also fond of this type of multimedia files.
If none of the editors on our list hit you, we recommend that you take a look at Super Sound-Free Audio Editing Software. This app is not only free but really complete.
Install
What free audio editor for Android do you use? Share it with us in the comments section.
---
---