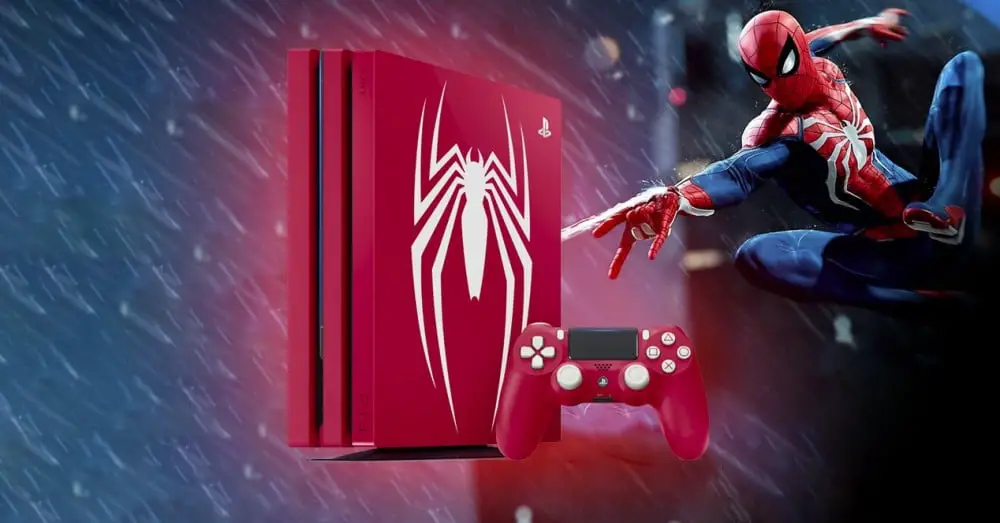 Whether you are a collector or simply a gamer who enjoys this type of fricade, today we want to make a compilation with those models of the PlayStation family that have caused a sensation. We show you the best PS4 special editions that exist so far.
Best special editions of PlayStation 4
Within those rarer or exclusive versions of the PlayStation 4 there are some limited models, rarities or those that are so exclusive that there is only a single unit in the world. Let's review the most interesting or known.
PS4 500 Million Edition
The first version by which this compilation begins refers to a special edition created by the manufacturer itself, on the occasion of the 500 million units sold of this console. A PS4 Pro in semi-transparent blue color, which includes: a controller, camera and vertical support, along with a 2 TB hard drive. Of this model only 50,000 units have been manufactured .
PS4 20th Anniversary Edition
For lovers of the classic, Sony also developed another special unit of this console to celebrate the 20th anniversary of the launch of the PlayStation . A version that was dressed in the classic gray of the family and was accompanied by a remote control and the camera, both bathed in this same color. A "basic" PS4 that, in addition, recovered the first version of the manufacturer's logo. In this case only 12,300 units were manufactured.
PlayStation 4 Ed. Days of Play
We continue with celebrations of the manufacturer with this PS4 commemorating the Days of Play , an annual promotion that Sony does with its games and consoles. In this case, it is perhaps one of the "less exclusive" models in this collection, since there is a gray model (first release), another in Blue (launched in 2018 in America and Europe) and, finally, with the logos ( and a controller) in gold that did not make it out of the Chinese market.
PlayStation 4 Call Of Duty Black Ops III Edition
We now start with some special versions of games with this commemorative version of Call Of Duty Black Ops III . It is a PS4 model in which the number 3 in Roman has been silk-screened on the case, along with various logos of the game on the front. The dualshock is also customized with orange on gray finishes. Maybe too simple for what the movements of this company usually are.
PS4 Ed. Metal Gear Solid V: The Phantom Pain
Unsurprisingly, Kojima's Metal Gear Solid V deserved its own custom console for this game's big send-off. On the one hand we have a very nice dark silver finish. On the other hand, the upper half of this PS4 is bathed in the color red on the occasion of Snake's prosthesis. We can also see the Diamon Dogs logo here.
PlayStation 4 God of War Edition
Runes, gold and silver finishes along with the recreation of the ax that we carry in the God of War game . A PS4 Pro set in this game, with perfect finishes and a theme that reaches the dualshock with the Huldra brand.
PlayStation 4 Ed. Uncharted 4: A Thief's End
If you liked embodying the life of adventurer Nathan Drake, this PS4 set in the Uncharted 4 game will enchant you. A simple design in which we can see in its upper part the drawing of the protagonist's silhouette, and all this bathed in a bluish color that reaches the game controller.
PS4 Spider-Man Edition
One of the special PS4 versions of this compilation is, without a doubt, this model set in the Spiderman game. It is the Pro model of this console, completely bathed in red and with the very large spider-man logo on the top cover.
PlayStation 4 Kingdom Hearts 15th Anniversary Edition
Now is the time to start with some even more exclusive models within this list. We start from this slim PS4 model based on Kingdom Hearts that did not leave Japan. In addition to this design and the game, the start menu was also personalized with this same theme.
PS4 Dragon Quest XI Edition
Another of the designs that remained only in Japan is this one dedicated to the Dragon Quest XI game . In addition to a custom dualshock, the pack included a slim gold USB cover. Many fans of this title sure would have given anything to get it.
PlayStation 4 Ed. Grand Theft Auto V
Now it is the turn of a unique model in the world . It is this version created by Rockstar , in commemoration of Grand Theft Auto V. A very exclusive design in black, laser engraved on micro-perforated metal panels, with green details and a customized Dualshock with the green LED. An exclusive promotion of this gaming company raffled through its own Facebook.
PlayStation 4 Hitman Edition
Something very similar is the case with this PS4 designed by Square Enix , based on the design of Agent 47's briefcase in Hitman . A single model could be won in a North American exclusive drawing on the Square Enix website.
PS4 EA Sports Bruce Lee Edition
Finally, we have another model of which there is only one unit in the world that, like the previous ones, was bypassed. This time the "culprit" was EA itself, an exclusive draw for North America, in which this PS4, the personalized dualshock, a Bruce Lee shirt and the EA Sports UFC video game were delivered.
These are the special and most exclusive models of PlayStation consoles . We hope you have discovered an interesting one and, if you own any of them, you will be a revered person among those who love these models.