Many users are used to not leaving their smartphone for a single second, even when they go to the bathroom to shower. Either for comfort, or because they like to listen to music or watch videos while bathing, the truth is that they continually endanger the smartphone, and there are several compelling reasons to look for the perfect accessory to protect it.
Fortunately, there are different accessories that will help us save our mobile from water , or at least make its useful life even longer. And it is that the fact of using the mobile in the shower is nothing new, although it sounds a bit strange to many, it is a reality to which more and more people are joining. For this reason, we will explain the compelling reasons why you should not do it, and if you do, you will have to use one of these accessories.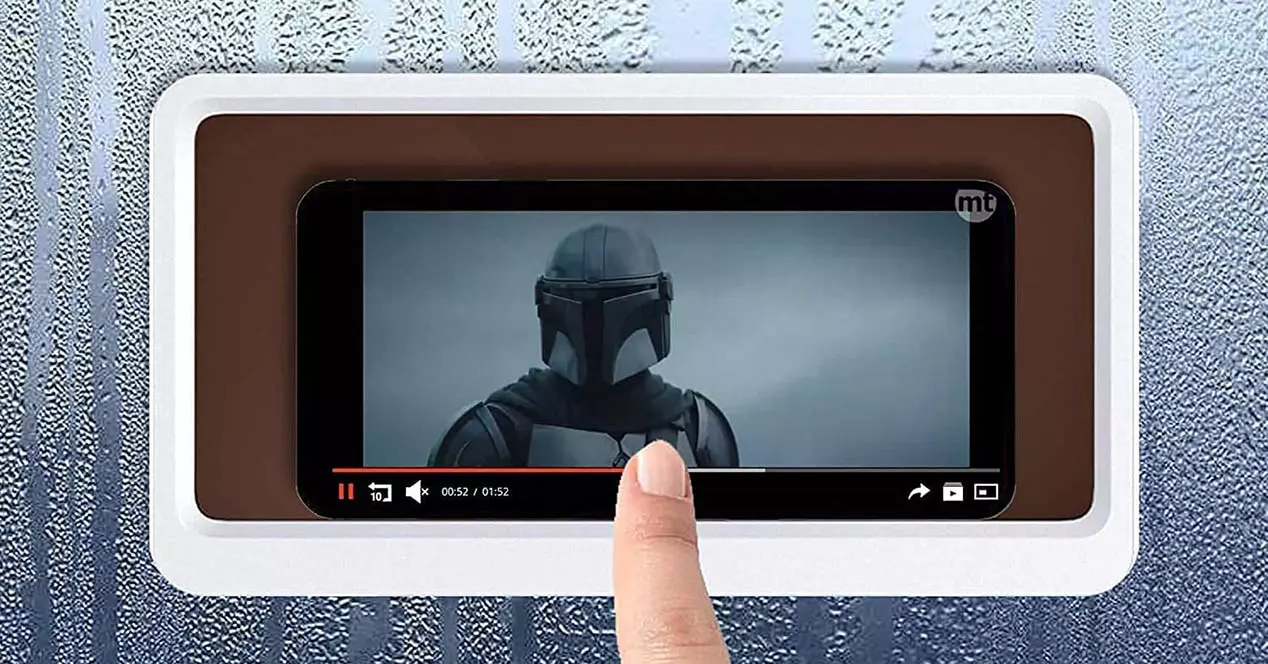 Why not use your mobile in the shower?
It is clear that nobody just plays it like that, since nowadays there are many mobile devices that have special protection to save our smartphone from water and also from dust. We refer to the different certifications that manufacturers manage to add to their terminals with which they protect in a certain way from water.
And there are many users who do not care to release their smartphone can not go to the shower without listening to music or playing a video while they are bathing. However, no matter how much protection the mobile device has, it is not 100% safe to use it in the bathroom, and much less when we shower with hot water. More than anything because steam will take its toll over time inside the phone and in its different internal components.
Although it is clear that having an IPxx certification will be a great relief in the event that the smartphone gets completely wet. Although it is limited by steam, among many other factors. Therefore, if the phone that we have just released has an IP68 certificate , it can also deteriorate over time if we use it continuously in the shower itself, since the fact that it is continuously filled with water will gradually degrade the terminal.
And is that the humidity will punish the phone . It may take more or less time, but the damage will be done. In addition, if it gets wet, it will have to be dried well and as quickly as possible to ensure that there is no corrosion on the chassis of the mobile, especially on its connectors or speakers. For this reason, it is not worth taking risks continuously. However, there are different products that we can buy so that you can easily use your smartphone at all times in the shower.
Accessories to protect your smartphone from water
You always have to look for alternatives. Although it may seem not, there is a wide catalog of accessories that will help us to fully protect our mobile device every time we get into the shower with it to listen to music or watch videos. In this way, we will not have to always be careful not to soak it in water and, above all, we will be able to completely relax while we bathe, without fear of spoiling it. Therefore, these will be the accessories that you will have to take a good look at.
Waterproof mobile holder
The first of all is one of those innovations that many will appreciate and that, surely, they would never have imagined being able to count on it. We refer to the waterproof supports in the form of a "box" in which to put a smartphone every time we go to shower.
With this simple accessory we will prevent moisture and water from entering, since in most cases they have a double layer and a sealed casing design in order to give it absolute protection. Best of all, most of these brackets have a simple installation, so it will not be necessary to make any kind of holes to install it on the shower wall.
And it is that, we will simply have to take off a small plastic film to be able to stick the bracket on the wall, since it will be where we will place the smartphone. As is the case with this Qi-phone holder accessory. We will even have a 180 degree rotation to place it in the position that we like the most. Of course, you will have to look closely at the inches with which it is compatible, since it will be totally necessary so that we can place our phone inside. And also for the type of wall that is designed, whether for glass, tiles, etc.
Waterproof cover
This option will be the simplest of all. However, it will not be as comfortable as the previous one. Well, in the case of the support, we can always place it in plain sight, especially if we are fans of watching movies, videos or series while we shower. In this case, we will have to juggle to place the phone in a certain place and without it falling, since we could break it completely.
In addition, in this case we must also take into account a series of things, such as its compatibility with our smartphone , the resistance it offers us and its durability. Therefore, you will have to pay close attention to the material with which the cover has been designed. More than anything because most cases will be a kind of bags with IPX8 protection in which it will be difficult for us to put our phone if the case it is wearing is too thick. Although, they are the most common since they are compatible with the vast majority of phones.
But, depending on the model and brand of the mobile device that we have, we can have a waterproof case that not only has protection against water, but also a degree of military protection so that, in case we drop it in the shower, it doesn't break at any point. Like, for example, this cover from Beeasy .
Choose to use a Bluetooth speaker
The last accessory will not be the one desired by those users who love to watch videos while they are bathing, since we will only be able to listen to what the smartphone is playing. However, if in your case you are only one of those who listen to music continuously, having a small Bluetooth speaker that is waterproof will be a luxury. Some of us can be fixed to the wall, as is the case with this Onforu speaker with which we will get up to a duration of 10 hours with just one charge.
Although, you can always find others, so again we will have to look at the type of resistance it has, the Bluetooth version that the built-in speaker has, as well as the duration of its battery. And also, not least, whether it can be attached directly to the bathroom wall or not. In this way, by looking at all these details we will be able to find the perfect speaker for us to shower while listening to music.