Having a slow Mac can be an ordeal. Navigating through a slow interface is always stressful, especially if it is a work computer or is used for several hours a day. Fortunately, there is a solution for this and in this article we will tell you how you can speed up your computer again, regardless of whether it is an iMac, MacBook or any other model.
First, update your macOS software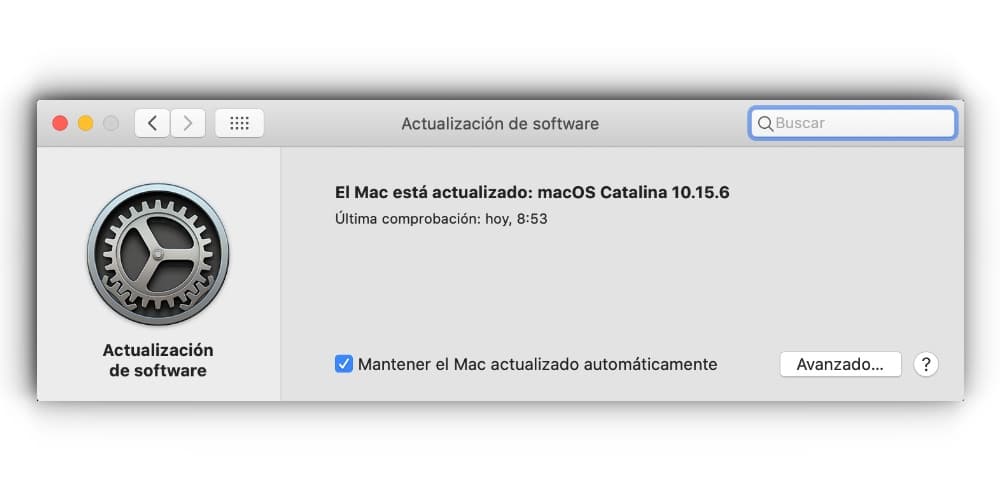 The Mac operating system is already very mature and is designed to optimize performance. However, there may be a version that, due to some type of internal error, is causing the system to slow down. If this bug also occurs since you updated to your current version, it is almost certain that that is the problem. Be that as it may, we recommend you go to System Preferences> Software Update and check if there is a newer version to download and install on your computer.
Clean system junk
Something that is very common in the prolonged use of a computer is that what are known as temporary files or junk files are generated. These are a series of invisible files that come from applications such as Internet browsers, email applications or audio, video or text editing programs. They can come from many places and finding them manually is not an easy task and this is where third-party programs dedicated to this type of analysis come into play.
One of the best known is Clen My Mac, although there are others that also perform similar cleaning functions for these types of files. Once they are eliminated they will no longer cause slowness in the system. If this does not solve the performance problem, keep reading the following sections.
Optimize space to the maximum
Being low on storage space on a Mac can be a major cause of slower performance than usual. This is especially noteworthy if your computer has an HDD (mechanical hard drive). You can check the free space by clicking on the Apple logo on the top toolbar, going to "About this Mac" and then to the Storage tab.
Once you discover that you have little free space, several possibilities open to you. The first and most tedious is to delete files manually by going to their respective folders, checking their weight with the secondary click by clicking on "Get information" and deleting it if you consider it expendable. Once you delete them, you should also empty the trash , since the files continue to take up space even when they are in this place. If you do not want to get rid of these files, you can use a cloud storage service that allows you to continue having access to them without taking up space on your computer.
The most effective native macOS way for this file cleanup is actually in the same place where you can check storage. If you click on "Manage" a window will open in which you will find several tabs on the left side.
Recommendations : in this place you are given a series of tips such as saving files in iCloud, activating the automatic emptying of the trash and other processes to be carried out with just one click.
Applications : a list with all the programs installed on your Mac and that can be ordered by weight. Observe which ones are consuming the most space and if you consider that one is taking up too much you could eliminate it. If there are also applications that you have not used for a long time, whether they are heavy or not, it is advisable not to have them installed.
IOS files : this is where data related to the backup copies of the iPhone, iPad and Mac that you make through the Mac is stored. If you delete these copies you will be able to gain free space, but keep in mind that you will have to resort to another method to safeguard the data on your iOS and iPadOS devices.
Music creation : if you use the native GarageBand program, it is possible that large audio files are being stored on your Mac. You can easily delete them in this tab.
Documents : this tab is divided into others in which to check large files, downloads, compatible apps and file explorer. A good way to take a look at what takes up a lot of space on your Mac and you can delete.
Photos : you can find the size of your native Photo gallery. If the space is too big, you might consider turning off the iCloud Photo Library or deleting photos and videos manually.
iCloud Drive : when you download files from iCloud to your Mac, they also take up space on your computer and here you can check how much.
Messages : in this section you can view the multimedia files received through this messaging application, and can easily delete them.
Music : if Apple Music is your music service and you usually download songs on your Mac, you can check it here.
Podcast : you will find in this place all the podcast episodes that you have downloaded. It is recommended to disable automatic downloads to prevent them from consuming space.
Check apps in the background
Although you only see a series of applications open in the dock, the truth is that this does not mean that only those processes are running. There are usually many more background processes that can slow down your Mac considerably.
To be able to see the processes open in the background, you just have to go to the Activity Monitor , which you can find in the Launchpad, since it is normally saved in the "Others" folder. Once here, in the CPU tab, you will be able to observe all those open processes and by clicking on the "i" to obtain more information close them. However, these will be closed only this time, so you will have to do something else so that they do not start every time you turn on the Mac. For this it will be necessary to find the file path in the "i" again and access it to remove it.
As for applications that open as soon as you turn on the computer, you must go to System Preferences> Users and groups and go to the Startup Items tab. It will be in this part where you can control the programs that are activated as soon as you log in to your Mac account.
Regarding the applications open at that time, you can close them more easily by going to the Apple menu, clicking on Force Quit and choosing the app you want to close. It is also valid for Finder, which is always running and although it cannot be closed, it is possible to restart it so that it closes all the windows that are open.
Swap the HDD for an SSD
If you have a mechanical hard disk in your Mac and it is possible to change it for a solid disk, we recommend going to a technical service that can carry out this process. If the Mac still has a guarantee, it is recommended that this service be also authorized, since that way you will not lose this guarantee. The fact of going from an HDD to an SSD is a change in every way, since from the start of the Mac to the use you make of it on a day-to-day basis, a very important performance change will be noticed. The file reading and writing speed is also much faster, and these discs tend to be much more durable than the classics.
Expand RAM
Having few GB of RAM on any computer can be another cause of some slowdown in the system. If you also run heavy processes, you will immediately notice a certain slowness. If you have a MacBook, it may be more difficult for you to go to a technical service capable of expanding this capacity. In the case of iMac it is simpler and even in some authorized establishments they are able to change the RAM to the 21.5-inch iMac that brings it soldered to the board.
Formatting the Mac as a definitive solution?
Sometimes there is no choice but to restore a computer to ensure its proper functioning again and in this case it is no exception. We understand that you may have certain files and important data that you do not want to lose, so it is advisable to store these on an external storage device, on a cloud server or similar so that you can access them again when you have formatted the computer.
The steps to follow to restore a Mac are as follows:
Shut down the Mac.
Press the power button and instantly hold down the command + R keys until you see the Apple logo on the screen.
A window will now appear in which you must click on "Disk Utility".
You will now see all the disks connected to your Mac and their respective partitions if they have them. Click on "Erase" the disk or partition where you want to install the macOS system again.
Close the window and you will return to the previous one.
Click on "Reinstall macOS".
Follow the steps on the screen to install the latest software. If a previous one is installed, don't worry, since you can update later when it has been installed.
Last solution: contact Apple
If you have not been able to solve this problem, it is possible that it is best to make an appointment with Apple's technical service or, failing that, with an authorized one. In this way, they will be able to run a more exhaustive analysis and with dedicated tools with which to detect the exact origin of the problem and offer you a solution without obligation. You can contact Apple through its website .