The iPad operating system introduces new features in iPadOS 15 as it could not be otherwise. This software version comes with improved functionalities compared to its predecessors, with some of them unpublished and also with some shortcomings that you will surely miss if you are a user of Apple tablets. In this post we tell you everything you should already know about the news introduced in this iPadOS 15, as well as its compatible devices.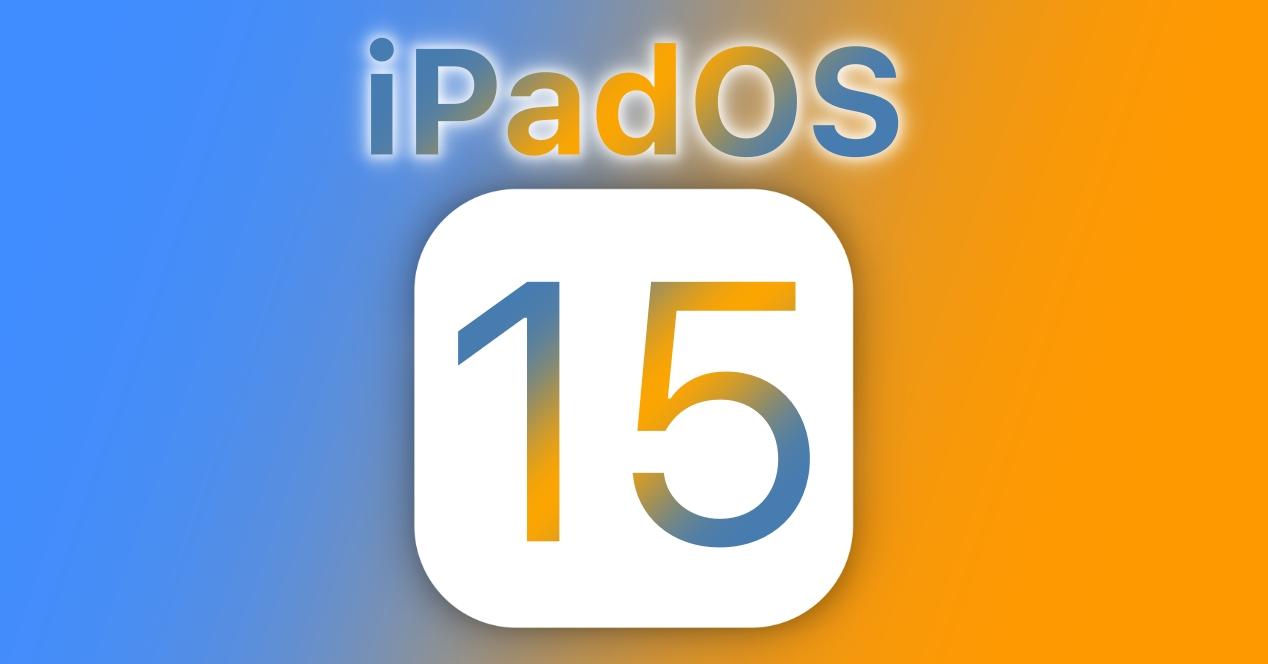 iPads compatible with iPadOS 15
It happens on Apple TV, Apple Watch, Mac, iPhone and, yes, also on iPad. Unfortunately, not all the tablets of the Californian company can update to this software version, therefore having a reduced list of devices with respect to the total of existing iPads, although quite extensive if we take into account that they update terminals of all their ranges and some even many years old. The complete list, ordered by models, is as follows:
iPad

iPad (5th generation)
iPad (6th generation)
iPad (7th generation)
iPad (8th generation)

iPad mini

iPad mini 4
iPad mini (5th generation)

iPad Air

iPad Air 2
iPad Air (3rd generation)
iPad Air (4th generation)

iPad Pro

All 'Pro' versions with compatible
It should be noted that this iPad listing is identical to that of computers that upgraded to iPadOS 14 . Therefore we see that Apple continues to extend the cycle of updates in equipment that a priori could have been left out, as is the case with the oldest ones such as the third generation iPad Air. As it is also a norm, none of those who did not update to iPadOS 14 or any previous one, will not be able to do it either to this fifteenth version.
iPadOS 15 release date
After its presentation on June 7, 2021 at WWDC 2021, Apple announced that both this iPadOS 15 and the rest of its operating systems would arrive in the fall. If we look at the dates on which the company has launched these types of versions, we could set September as the presumable month in which this version is released to the public and with all the news discussed in previous sections.
What did open that June 7 was the beta for developers . Likewise, it was announced that throughout the month of July the so-called public beta, which can be accessed by any user, would be launched. Now, is it advisable to install them? The answer is no. It is very interesting to be able to test the versions before the rest, but this also brings drawbacks because they are still test versions and not focused on the end user. They can contain problems such as unexpected reboots, applications that do not work as they should, certain lag in animations, excessive battery consumption. Therefore it is best to wait for the final version to be released.
Changes introduced in native tablet apps
This version of the operating system of Apple tablets has introduced many changes, although probably the most numerous are in applications or functions that already existed previously. This doesn't make them any less interesting, just that they aren't 100% new.
Improved and more intuitive "Multitasking"
As an explanation of the multitasking quotation mark, we must say that really, although Apple calls it that, it is not a real multitasking in all its splendor. In other words, there are certain tasks that the iPad is still unable to perform unless said task is in the foreground. See the example of a video export in apps like Luma Fusion, which will not be carried out if you enter another task.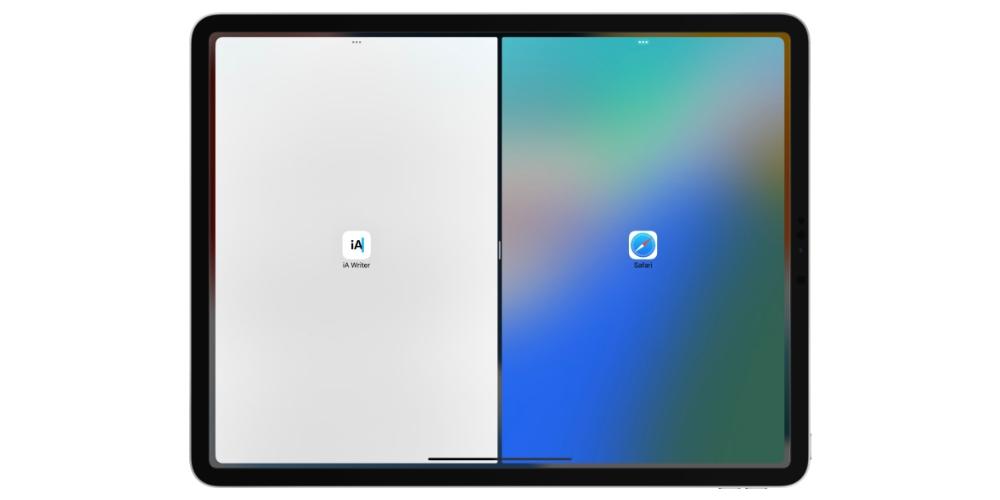 Now, sticking them to what Apple calls Multitasking on the iPad, we refer to the possibility of using several apps in the foreground through the split screen with Split View. This is not new, but now the possibility of introducing two applications in this split format and even adding a third floating window in the center has been made much easier. And what is probably most interesting is that you can now use any app in this split screen format without the need for at least one of them to be located in the dock, since now it is possible to navigate through the app screens in search of the you want to set.
Widgets and App Library (1 year later)
We could perfectly have been talking about these novelties as one of those introduced in iPadOS 14, since they were first introduced in iOS 14 for iPhone. However, and for unknown reasons, Apple has not introduced these elements until iPadOS 15. What do they mean? Well, the widgets, although they already existed and had a renewed aesthetic since iPadOS 14, now they can be added anywhere on the screen and even inserted between apps. New possible sizes are even added to cover more information, although they are still not interactive and if we click on them, it will only open the source app.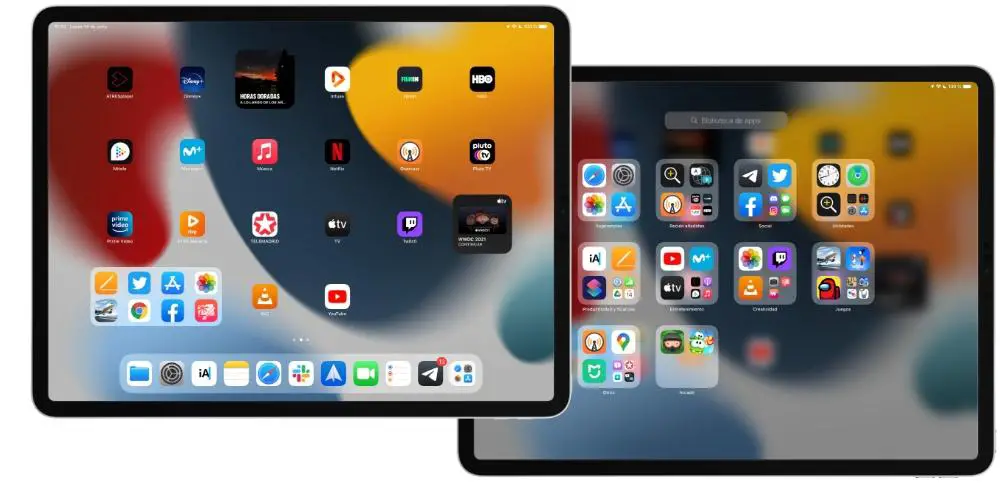 The Apps Library becomes a drawer in which to collect each and every one of the applications installed on the iPad. It is even possible to remove any app from the main screens and keep it on it. It is sorted by categories automatically and is located on the right side if we slide between the app screens. Of course, and this is exclusive to iPadOS, you can place a shortcut in the dock , always being visible on the right side of this bottom drawer.
Safari supports extensions and is identical to the Mac
In iPadOS 13, Apple took a step forward with the native iPad browser by allowing web pages to open in desktop format. It was absurd that screens of a considerable size continue to load the mobile version. The next step comes with this iPadOS 15 and the integration of the same novelties that were added in macOS 12, being in the end the same browser as in Mac, only with different sizes due to the obvious difference in aspect ratio.
Apple announced that Safari is in this version much more secure and also private . The level of blocking of trackers seeking to take over our data has been increased and it also offers new security measures to prevent the entry of malware.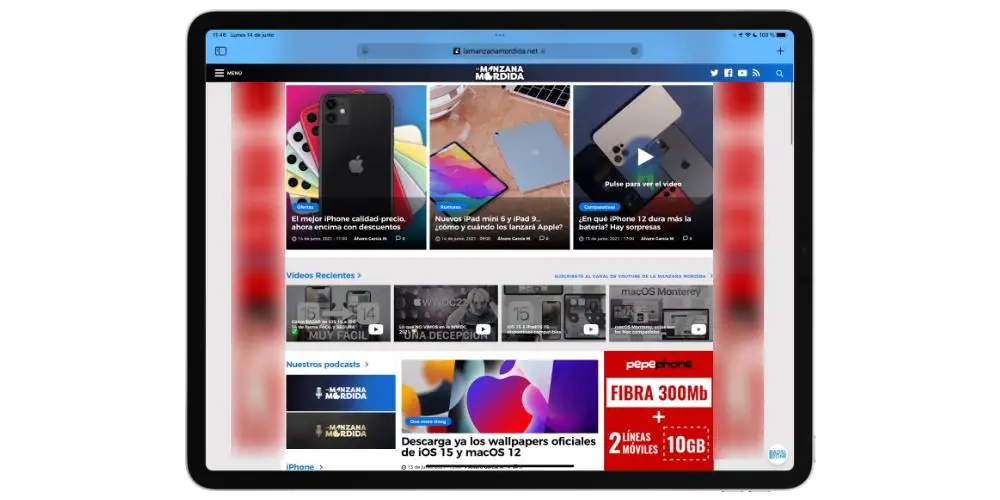 At the level of functionalities, it has stood out positively for having incorporated extensions that can be downloaded from the App Store. All kinds of utilities can be implemented as it happens on Macs, and this is also extendable to iPhones. Although the most interesting thing in the end is the integration of new functions such as the grouping of tabs , being able to separate the pages into blocks depending on our use. If, for example, you are working on the iPad, you can create a group of tabs with web pages that you visit regularly and are associated with your task, in such a way that you only have to click or tap with your finger to open them. You can create as many groups of tabs as you want, being able to have all kinds of groupings depending on the use.
FaceTime wins integers in this version
The popular Apple video calling application may be even more popular with this iPadOS 15. It has been extended to Windows and Android via the web. How? With the integration of links to video calls that can be shared to any user in various ways. If they have an Apple device, they will access the call through the FaceTime app and if not, they will do so through an encrypted and secure link in a web browser.
In addition to this , image quality has been improved with new intelligent processing that makes subjects appear sharper. In iPad Pro with Face ID, even portrait mode is allowed thanks to the blurring of the background. In sound, functionality is also added that improves everything, such as noise isolation , which will allow comfortable conversations without discomfort when in noisy environments.
To this is added even the possibility of screen sharing as it already happens in other apps, but with interesting additions such as watching a series or movie at the same time as the rest of the participants. It is available at the moment on Apple TV +, HBO Max, Disney + and other platforms, allowing the visualization to be simultaneous and even the playback controls to be so, so if one pauses the video, advances it or delays it, the rest also they will have it the same. And this also extends to playback on Apple Music.
New features that this version introduces
We focus on the following sections to describe what we consider to be novelties that represent a major change in iPadOS because they either did not previously exist in any way or have changed enough to be seen as relevant changes. Although again we emphasize that the previous novelties also represent an advance in the software.
Improved notifications and with focus modes
Aesthetically, the notifications have changed slightly, adopting a smaller size in the banners and other small changes such as adding the photo of the contact if it is a message received through iMessage. Now, the main change is found in the new modes added and with which we can choose different Do Not Disturb modes. This has traditionally been a function designed to prevent incoming calls and other warnings during the time it was activated, but now it allows you to add more personalized restrictions.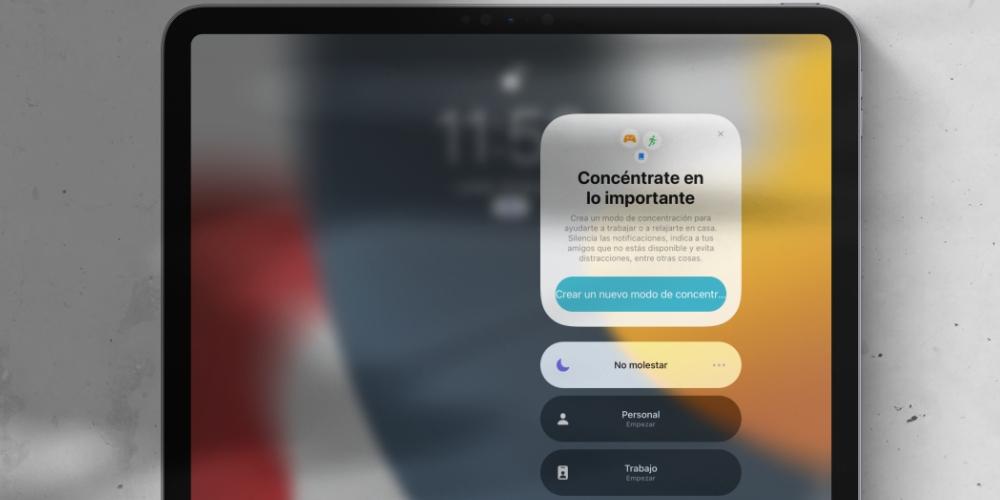 For example, you can create an approach dedicated to work and that when it is activated you only receive notifications from certain apps related precisely to your work and ignore those that are unrelated to it or that you think may distract you. Another for your leisure time with a reverse operation, eliminating those that come from work apps. And the best thing is that these notifications do not disappear but will appear summarized later so that you can quickly and comfortably see that you missed when the focus mode was activated.
Another new feature of iPadOS 15 introduced in relation to these focus modes is to be able to have different app screens depending on the modality. With everything deactivated, you will have the classic apps screen (including Apps Library), while if you activate any of the focus modes you can configure that only certain apps appear in order to avoid distractions from the others.
Image text reader
Although this is a function that some applications already offered, the truth is that for the first time we see it natively in both the iPhone and the iPad, which is what concerns us here. What is this feature called Live Text? Well, basically it allows that when you are taking a photo through the camera, the iPad is already capable of detecting a text that is being photographed, something applicable and more useful to use when the photograph is taken. It is also used for captures or any other image that you have stored and it can be selected, copied and pasted as if it were a normal text document.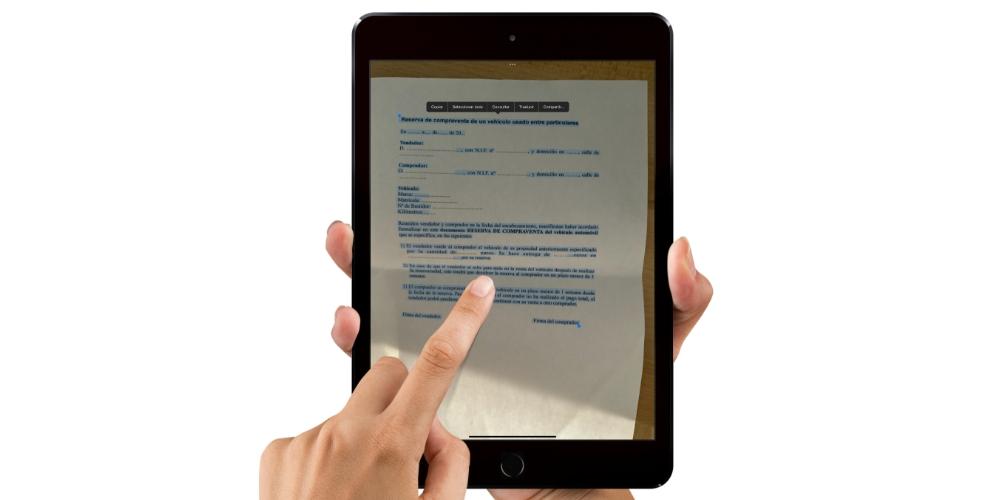 This has many uses on a day-to-day basis. From passing written notes to digital format, to being able to capture the photograph of the password of a WiFi router and add it more comfortably. Of course, not all iPads have this function, which requires having the neural engine integrated into the processor and there are only a few models with this feature:
iPad (5th gen.) and later
iPad Air 2 and later
iPad mini (5th gen.) and later
iPad Pro (any model)
Can be operated with Mac accessories
Both iPadOS 15 and the homologous version of macOS 12 allow full interaction between both devices. All this thanks to the so-called Universal Control , which allows that if a Mac and an iPad are close, the computer's keyboard and mouse can be used to operate the tablet. This is very useful if you are primarily using the Mac for a certain task and require the use of the iPad. It also allows dragging photos from one device to another, copying texts. It is as if the iPad became a second monitor for the Mac, only maintaining its original operating system.
This is a difference with the Sidecar functionality introduced in macOS Catalina in 2019. This is still present in Macs, but in its case it serves for the iPad to serve as an external monitor at all levels, taking the Mac interface as its own and allowing handling some tools with Apple Pencil. With the Universal Control, as we said before, the iPad continues to stay in iPadOS and only changes the fact that it can be handled with the computer peripherals.
Other minor update changes
There are other novelties that are worth highlighting in iPadOS 15, but that perhaps do not offer as much explanation as the previous ones. Some of them are these:
Arrival of Apple Translate: although this is a relevant and unpublished novelty in iPadOS, it must be said that it does not incorporate really new functions to which this same app has already added in iOS 14. In this version it reaches the iPad being the method faster to translate texts and conversations without having to install third-party apps.
Low consumption mode: this battery saving function released for iPhone several years ago, finally comes to the iPad with identical functionalities.
What's new in the Notes app, you can now add mentions to other participants in collaborative notes, labels with which to sort your own notes, and even the ability to create quick notes from the main screen by sliding your finger or Apple Pencil from the bottom right.
Changes in Apple Maps: Apple's navigation app introduces new features that perhaps on an iPad are less relevant than on an iPhone for convenience reasons, but which are just as interesting. The main one is the new 3D interface with precise guidance on lanes, traffic lights and more.
Files shared in iMessage: Although Apple's service integrated in Messages is not as popular outside the United States, the truth is that it continues to improve. Now shared files (videos, photos, links …) have been enhanced, making it easier to send them and with sections in each of the apps that highlight the content that has been shared with you through this channel.
Greater privacy: private browsing is enhanced in Safari and the rest of the apps of this class thanks to the encryption of iCloud +, which will hide the IP to avoid tracking the activity. A VPN-style connection is also included that will allow you to connect to a virtual network with which to obtain that security and privacy.
Enhanced Spotlight: the native search engine of the iPad improves once again in this version with much more extensive searches and in which you can find new information about series, movies or your contacts.
Smart reminders: Apple's native app to manage our tasks now incorporates subtle improvements that give it intelligence. If, for example, you write "Prepare dinner today at 20:00", it will be able to know that this reminder is for that day and at that time, without having to add it manually later.
Why has iPadOS 15 disappointed?
Since the iPad stopped mounting iOS to have its own operating system in 2019, it could be said that these teams have taken an important step in the quest to be a perfect hybrid between iPhone and Mac, being able to execute many tasks of the latter and even be the ideal one to replace it in some cases. This has been accompanied by the hardware of the iPad Pro in all this time, although with the model launched in 2021 with an M1 chip, it is where the scale once again remained decalibrated. Adding a processor identical to that of the Mac made Apple's most advanced tablet models fully equip their computers at the performance level, so it only needed to add a software that accompanied it to squeeze it.
Well, iPadOS 15 should be this version and, as you have seen, there is not a single novelty focused precisely on these devices with an M1 chip. Obviously there are many tasks that depend on the developers, who already have easier to implement their macOS apps on iPadOS . However, it was expected that Apple could take the step by encouraging itself to launch its own very popular applications in Mac environments such as Final Cut Pro or Logic Pro. It must also be said that many iOS and iPadOS apps can run on the M1 of the Mac with a interface that may not be the most appropriate for aspect ratio, but in the end it is just as functional. However, the reverse does not exist.
Another fact that greatly misplaced was not promoting the use of an iPad on external monitors . This function continues to be the same, so that iPads can only duplicate their screen on other monitors without actually serving as second screens and without having an interface adapted to the aspect ratio of the monitor, since the two side stripes are still maintained. by doing this. The fact that the iPad Pro M1 also incorporated a Thunderbolt 3 port was a clear indication that Apple could have been preparing an improvement in this regard.