If you recently had an iPhone or iPad, you may be somewhat disoriented when carrying out certain actions. Simple things like uninstalling apps can be a mystery to you, but do not worry because it is very simple. In this post we will teach you how to delete applications regardless of which version of iOS or iPadOS you have installed on your device.
---
---
Delete apps on iOS / iPadOS 13 and later
Unlike many Android devices, iOS does not have a specific app drawer or buttons dedicated to uninstalling apps. You will have verified how on your iPhone or iPad the applications are automatically placed on the main screens. But these are not fixed there, but can be organized the way you want and, of course, remove them both from that screen and from the system.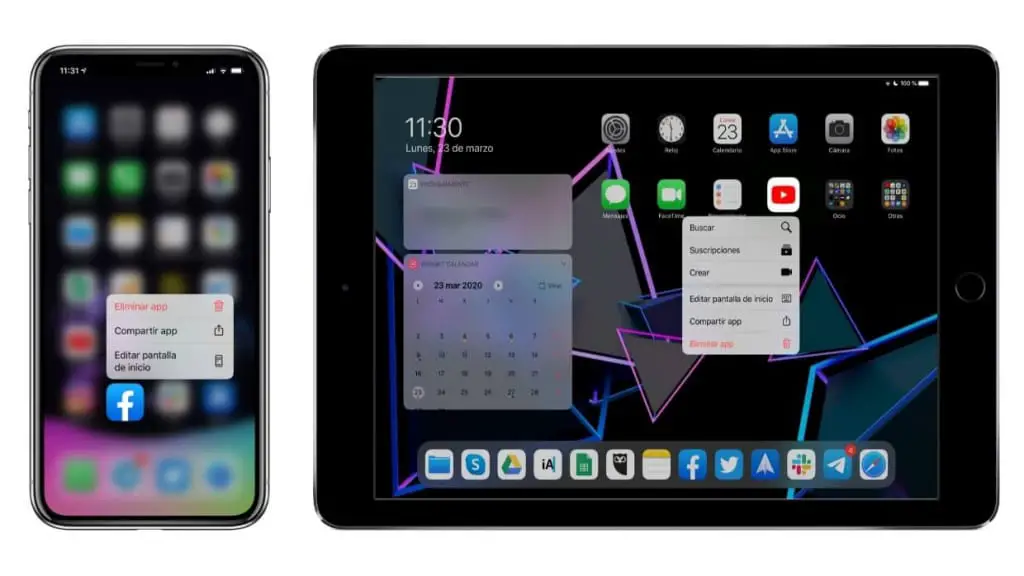 In iOS 13 and iPadOS 13, the process changed slightly from previous versions. You can check what version of the system you have in Settings> General> Information. If you have any of these versions or later, the process to remove apps will be by long pressing on the icon of the app you want to delete. If you are doing it on an iPhone you will notice at that moment that a small vibration is emitted and instantly a contextual menu opens in which appears, in red, the option to delete the app. Pressing will open a pop-up window asking you to confirm whether you want to remove the app. On the iPad it is an identical process, with the only difference that there will be no vibration on the device.
Remember that not all applications can be removed. Some natives such as Apple Books or Mail are possible, however others cannot be done for obvious reasons, such as Telephone, Calendar or Clock.
Delete apps on iOS 12 and earlier
As we said before, in system versions like iOS 12 or earlier, the method to uninstall applications is different. Not that there is a huge difference, but it is substantial. Now you just have to press hard and wait for the icons to shake and appear with the icon of a cross on top, a sign that they can be removed by pressing on top.
Of course, if you have an iPhone 6s, 7, 8, X or XS it is possible that what you find is a context menu, since these devices are characterized by having a functionality called 3D Touch and that works thanks to a Force Touch engine . In this case, the pulsation is differentiated by the pressure exerted on the screen , which must be stronger than usual so that, instead of leaving the menus, it is possible to delete the apps. But do not overdo it either, since it is not necessary to exert a very high pressure that could damage the screen.
Can the apps be reinstalled?
The answer is yes. There is no problem so that, once uninstalled, they can be downloaded again from the App Store. In fact, you will see that when you search for them, they do not appear with the "Get" button but instead appear with the icon of a cloud as a sign that it has already been installed on another occasion. There is also a section dedicated to recovering deleted apps if you don't remember their name.
In this way you will be able to get to know something new about your device, which is not difficult at all but is vital on many occasions. At the end of the day, nobody is born knowing and surely that little by little you will be able to get to know your new operating system better.