Windows 11 has brought us a complete overhaul of the operating system interface. These changes are also usually accompanied by new designs in the interfaces of Microsoft programs and other companies that are adapting them. Microsoft confirmed the new Office a few days ago, and we can start testing it now.
The new Office is not only available for Windows 11, but we can also test it already on Windows 10 without having to install the latest build for Insiders. In both cases, the program is the same, with the new design philosophy based on Fluent Design . According to Microsoft, the company has been working on this change since 2017.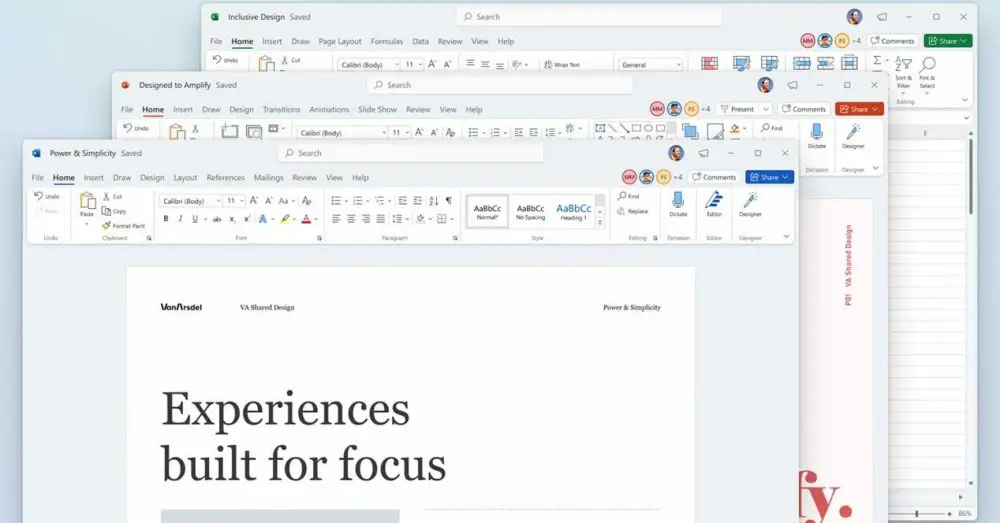 New Office for Windows 10 and 11
Thus, now we find a more stylized design, with rounded edges that applies to all applications, such as Word, Excel, PowerPoint, OneNote, Outlook, Access, Project, Publisher and Visio .
An interesting function that remains is that we can apply a theme to Office independently from Windows. Thus, if for example we have the dark theme applied in Windows 10 , we can choose the light theme in Office if we wish. If we want both to keep the same theme, we will only have to select the option " Use system settings ".
The current version is not the final one, and Microsoft states that they will implement various changes to it before the release of the final version to improve it. As we can see in the images, the interface maintains the same functionalities, but with a new look.
All the changes at the design level that they have implemented have been due to the fact that, according to Microsoft, users asked for a more consistent and natural user experience that is better integrated into Windows. There are also new functionalities, such as a more comfortable view when it comes to seeing who is editing a document in real time if we are in a shared document. We also have a new improved dark mode.
So you can sign up for the Office Insider program
In order to receive this latest version on your computer you have to do several things. To get started, you need to be signed up for the Office Insider program , which is different from Windows Insider. In order to access it, you need to have an active Office 365 subscription and follow a series of steps.
First, we go to any Office app (like Word), and we go to File> Account> Office Insider . There, we select " Join Office Insider ", and we give the option to " Sign up for early access for new Office releases ". We select the Beta channel, accept the conditions, and click on accept. With this, the latest version will begin to download and we will already be part of the Insider program.
Once we have it activated, switching between interfaces will be very simple, since a new icon will appear to the left of the minimize button that will allow us to quickly switch between the new and the old design in the event that we do not like it, although probably once you switch to the new one, you don't want to go back to the old one or use other alternatives to Office.