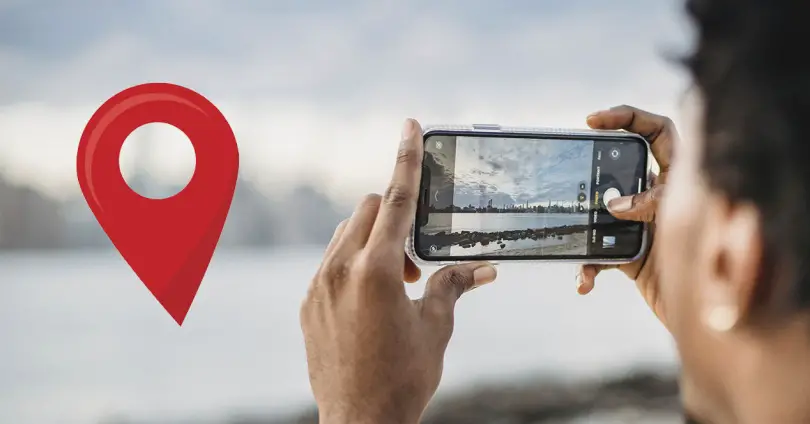 The camera of our mobile devices usually has the option to save the location of the photos and even videos that you have taken by default in the settings of your application. With the aim that, after a while, we continue to know where they were taken, even if we don't remember. But it is not so advisable to have it activated, for logical reasons.
This involves different risks that we will explain below. For this reason, it is advisable to know how to deactivate your terminals, whether it is a mobile that has the Google or Apple operating system. In addition, depending on the system you have, it will also leave you the option to edit the location of your images and videos.
The danger of location in your photos
Although we may not realize it, we are used to taking different photos or recording videos with the active location. Either in our homes or while visiting some place. However, having the location enabled on our smartphone can allow the location where we are at that very moment to be recorded. While it may help us remember where we took that snapshot, it could pose a danger as well.
Basically, because when this record is saved from where we have taken that image from our mobile, be it a mobile device with Android or iOS, it can be a fairly invasive action towards our privacy. So there are different ways to disable it in the terminals in order to keep our privacy even more safe.
Also, as useful as it is to use GPS metadata for images. It is quite necessary to remove the geographic location of the images to protect ourselves from possible potential dangers. In this way, we could avoid that, when sharing a snapshot with the coordinates of the active location in the EXIF data, that person who receives the snapshot cannot use their native photo app to be able to find where we took it.
Even if we publish it on one of the most popular social networks, someone could know that data that could put us in danger, since we do not know exactly who is behind the terminal screen. Therefore, we will explain how to remove the location on both your Android mobile and iPhone .
Disable camera location on your Android smartphone
One of the first options that we can try on devices that have Android will be within the camera application. In it, it should allow us to activate or deactivate the option of the location of those images that we take. So, it is something that all native camera apps should let you do.
However, the name of this option will surely vary depending on the brand of the terminal you have. In addition, it is important to know that if you use a third-party app, you should also allow that location to be removed. The steps that you will have to follow are the following:
Access the camera app on Android and enter settings
Go into your settings.
Look for the Location , although the name as we have mentioned could vary.
By deactivating this option, the next photos or videos that you take with your terminal will not save any type of record. In addition, you can check it from the app itself in the gallery of your mobile device.
The second alternative to do this on your Android terminal will be by deactivating the location permission from the smartphone's own settings . A more direct way without having to investigate the camera application. Since, in this way, the new images that you take will not have the location registration either. Therefore, you must follow the following steps:
Go to Settings> Applications. Although, it could be in Privacy, since some mobile devices have it configured there.
Access Permissions > Location .
Once inside, find the camera app, enter it and deactivate the permission.
Once we have done this, we will be able to make the native application of the camera of our Android terminal not able to record any type of location through the mobile's GPS.
How to disable it on iPhone
Luckily, in iPhone they have also dedicated themselves to allowing their users to remove said configuration from the terminals. Above all, for those who want to share some of their photos or videos, but want to keep their privacy a little longer. However, for this we must have a device that has iOS 13. It will be almost mandatory so that you can eliminate the location data of the multimedia elements in your terminal in the simplest way.
It is not common for users to know about this option to disable these details and other types of metadata as quickly as possible before sending some type of image or recording. But if in your case if you want to do it, you must bear in mind that you will have to do the same steps every time you activate it again for some other reason. The steps that you will have to carry out are the following:
Open the Photos app on your iPhone.
Choose the snapshots or recordings you want to share and click on the Share button. Which will appear in the lower left in the shape of a square with an arrow pointing upwards.
Then, at the top of the panel an option called Options will appear , which you will have to press.
Once inside, a menu will appear in which we will find a function that says Include , in which it is explained that all the data of the images will also be shared, as well as the location. So you only have to deactivate it by clicking on the switch.
In the event that you do not have iOS 13 installed or you cannot access it because you have an older terminal. You can also remove geolocation from photos on iPhone using iOS 12. However, it is not as flexible as with iOS 13.
Edit the location on a photo or video in your gallery
Today, many Android users use Google Photos to store their images. Something that could change, since it is official that they have stopped offering unlimited free storage. Leaving this question aside, this app allows us the possibility of organizing both the videos and the images based on their location when they were made.
But, it is something that can also be edited , so that they are not organized in this way. And all so that they are not saved based on the place where they were taken. Thus, we can further safeguard our privacy.
To do this, we must enter that app and open the multimedia file that we want. Although, we can also do it from the computer version. Although in this case we are interested in doing it from the mobile device itself.
Then, we will click on the information icon and we will touch the button that will allow us to edit the location . We can put another name or select the option that offers us to put without location. We can also edit the location of several snapshots and recordings in one go, without having to go one by one. Therefore, if we want to do it all at the same time, we will have to select several multimedia files and follow the same steps that we have explained previously. Therefore, in this way, the change will be applied to all those elements that we have selected.