Now that the summer heat is coming, it is time to think about what we are going to do to cope with it. Among all the options on the market, it is nothing new that the best of all is an air conditioner. But of course, even though you have an older model, imagine that you could control it from anywhere so that, when you got home, it was already at the temperature you want. We explain everything you need to know to make your old air conditioner smart .
Why make an air conditioner smart?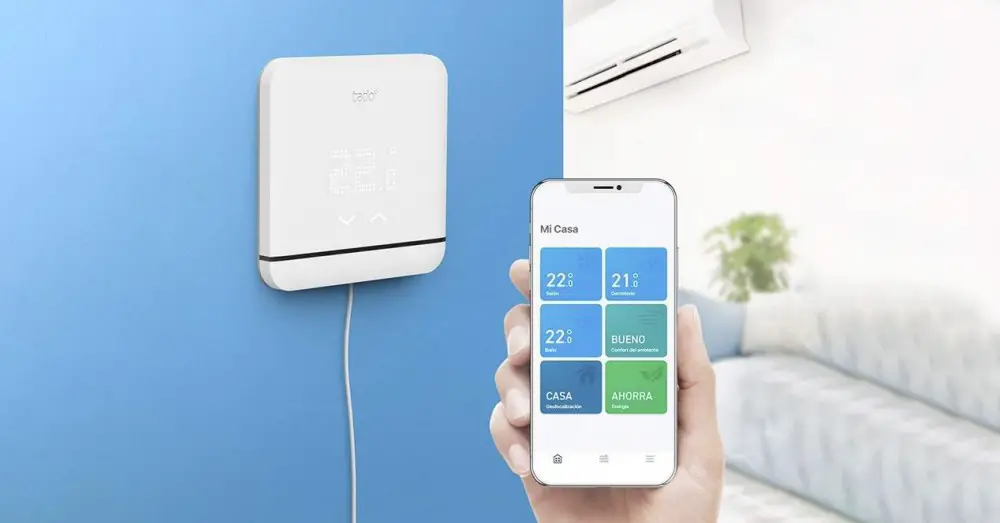 This is probably the first question that comes to mind when reading this article. A device that you have been using for years without having anything smart, what could turning it into intelligent contribute to you. If you are questioning this, it is that you do not have much contact with the term home automation.
The "home automation" or IoT equipment are those that, "intelligently" can perform different actions without us touching them. The way to interact with these products is usually through our smartphone, or directly through voice commands. All this implies a series of very interesting advantages such as:
Manage them from anywhere in the world : it may sound a bit fanciful but, once you have this functionality, being able to control any of these accessories from outside the home will be one of the most interesting aspects. In the case of air conditioners, as we mentioned at the beginning, having the possibility to turn it on before arriving home in summer to acclimatize the room will become your favorite benefit.
Extreme comfort : as we mentioned, thanks to making these devices smart, we can tell Alexa or Google Assistant to interact with them by raising and lowering the temperature or, for example, by turning them on or off. We can live without this, but when you're lying on the couch and don't have to get up for the remote, you'll end up thanking it.
Programming and efficiency : there are many models of air conditioners that incorporate an on and off program that we can configure. But of course, this control is not done intelligently and it will always be the same. If we make this equipment intelligent, depending on the method we use, we can make the air conditioning detect when we are at home and when we go out so that it acts accordingly or, for example, make it activate the equipment based on the external temperature. In addition, thanks to being able to do this, we will be able to detect if we have left home and leave it activated, in addition to being able to turn it off remotely.
Details to be considered
These are the key benefits that an intelligent air conditioning can bring us, but can I do it with any model? What should I take into account? There are different important aspects that you should know before anything else:
Type of air conditioning : this is probably the most important detail of all. There are different models of air conditioning that you can have at home, such as the typical split attached to the wall, a centralized louver ventilation system or a portable air conditioner. Although, of the latter, we already talked to you in another article a few days ago.
Intelligent system model to install : an aspect that is directly affected by the previous section. Each option will be compatible with some of the air conditioning models we have on the market. It is very important that you pay attention to what the seller says in the fine print of their smart system model.
Functions to control : for the same model or brand of air conditioning, we can choose different equipment that can control it intelligently. And, depending on which one we choose, they will allow us to interact with different aspects. Some models only allow us to manage the on and off, others add the temperature and, the best ones, give the possibility of managing every detail of the refrigerator equipment.
Accessories to "make" a smart air conditioner
Having said all of the above, now we want to show you the different gadget alternatives that allow us to turn our old air conditioner into a smart one . And, as we mentioned, there are different options to do it.
Tado ° V3 +
One of the most popular models on the market is the Tado ° V3 + . It is an air conditioning sensor that allows us to make our old air conditioning smart and which is also compatible with many of the brands of these products.
Its installation is extremely simple, since it will be connected through infrared, replacing the remote control that our split already has. Then we will connect it following the instructions and that it tells us to, finally, connect it to the WiFi signal and be able to handle it through voice commands (compatible with Alexa, Google Assistant and Siri) or through the mobile itself. It will allow us to know the energy consumption, the temperature or even detect if there is someone at home to reduce the temperature.
And, if you want something even cheaper, you can opt for the tado ° V2 that reduces some of its functionalities but is equally valid.
Google Nest Learning
However, if what you have at home is centralized air conditioning, we recommend that you change your console for this Google Nest Learning . Installation is simple and, through the instructions included in the product, Google explains the process step by step.
Once the replacement is done and connected, we can control both the cold and the heat of the heating by turning the ring of the Nest Learning body. Or, we can handle it through voice commands with your smart assistant or from the phone itself. As its name suggests, it incorporates a learning system to adapt to our routines and change the temperature to our liking.
AIRZONE
Continuing with other interesting alternatives we have this AIRZONE . A WiFi thermostat that has a specific model for each manufacturer: Fujitsu, Toshiba, Mitsubishi Heavy and several others.
This is capable of adapting to different types of air conditioners and air conditioners, giving us the possibility of managing both the cold pump and the heat pump. Of course, it will connect via WiFi and we can operate the product from our smartphone and with voice commands.
Sensibo Sky
This is the Sensibo Sky , an air conditioning controller that connects via WiFi and allows us, from the phone, to control the on and off of the split. How do you do this? Replicating the infrared signal from the remote controller.
In addition to turning the air conditioning on and off, it also gives the possibility of managing the temperature and controlling the humidity of the environment for a better experience. It has a mode that will detect when we leave the house to save energy by turning off the air. It is compatible with smart assistants from Amazon and Google.
Broadlink RM4 Mini
Finally, there is the option of the Broadlink RM4 Mini which, as was the case with some of the previous options, replaces the remote controller of the air conditioning by means of infrared pulses. But, in this case, it contributes something more than the previous ones since we can handle more equipment just by splitting the air.
From its application, we can interact with television, fans, projectors, audio equipment and a long etcetera. Of course, any of those devices will have to be in the same room as the RM4 Mini in order to be controlled.
And if we want to manage the temperature intelligently, that is, by establishing programs so that it is maintained, we can add the HTS2 sensor that will tell us the temperature and humidity data.