A few months ago Pokémon Unite for mobiles came into our lives, although previously it had already been deployed on Nintendo Switch. This video game from one of the Japanese company's great franchises drinks from classics like League of Legends to adapt the MOBA genre to this immense world full of creatures.
The doubt arose in many users when the release of the delivery was carried out in parts depending on the platform, as they feared losing the advanced progress during the previous months of its appearance on smartphones. Of course, the developer did not take long to calm the situation and warned that in the future it would be possible to link both accounts to play from any device without any problem.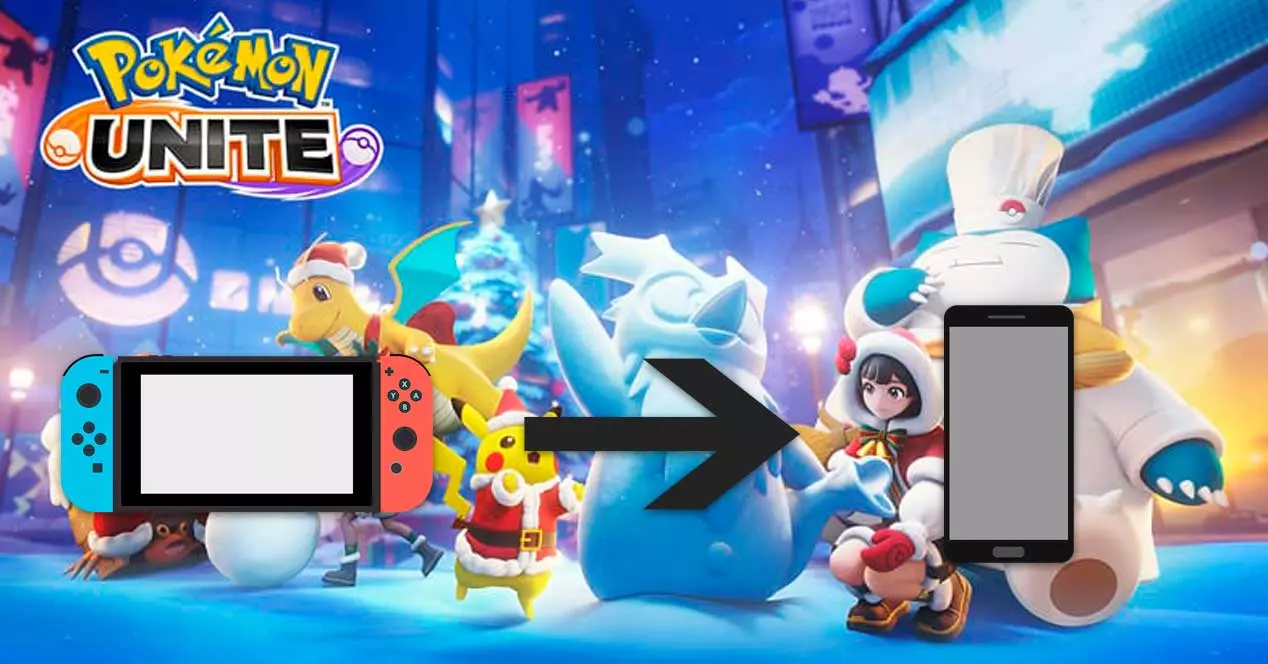 This functionality was instantly enabled after its arrival on phones, but there are still many players who are unaware of this peculiarity that allows you to recover everything that you had originally lost. Precisely for this reason, today we teach you how to do it so that you can squeeze Pokémon Unite at any time, place and console.
What is it for
If you have a Nintendo Switch at your disposal, surely you have played the occasional Pokémon MOBA game since its launch. Mainly, because you can download it for free . However, the problem with doing it on console is the impossibility of enjoying it in all possible places.
With the terminal landing on the construction site, the user can go out to the battlefield regardless of the location , be it on the bus on the way to class, in the car with your family or simply at home.
Of course, to continue your game on mobile along with the elements that you have previously unlocked on the console, you must link your Nintendo account . Only in this way will you receive all the Pokémon and objects that you had obtained with work and sweat, both Aeos coins and equipment for monsters. Absolutely everything will come back to you.
Link your account
To link your Pokémon Unite account you will have to follow a series of steps that may vary depending on whether you intend to transfer your account from the terminal to Switch or vice versa. Anyway, whatever your case, below we explain the two ways that exist to proceed with it.
From Nintendo Switch to mobile…
This is the procedure that you must carry out in the event that your objective is to transfer your information from the console to the telephone to play this Pokémon title. If you belong to this club there is not much complication to successfully join.
Open the app on your device.
Several possibilities will appear in the start menu, but the one that interests us is "Nintendo Account" or the Poké Ball icon. Regardless of your decision, it's time to log in.
Enter your credentials and look for the verification code in your email.
Watch out! If you sign in directly without transferring the corresponding data, you will not be able to link your Pokémon Unite account and you will have to delete the game and reinstall it to complete the process.
From smartphone to Switch…
On the other hand, if you are one of those who have just acquired the big N console and want to continue your journey on this platform, the process is different, although it is not far from what we have seen above.
Enter the application
Once on the home screen you have to access the settings. To do this you have to touch the icon of your character that appears in the upper left area.
In the pop-up window you will come across different options, although to find the one that interests us you will have to scroll down.
Inside you have to go to the " Account Settings " section and decide which of the two alternatives you prefer. The decision does not matter, but it is mandatory that it be the same for both devices. Also, when you proceed with the pairing you will no longer be able to undo it, so be careful.
Open the game on your Switch and add your account.
Be careful, if you had previously completed the steps to link your Nintendo account, the smartphone data will be automatically synchronized with your console if you use the same account. Also, if you enter Pokémon Unite on your Nintendo Switch without performing those previous steps, you will not be able to use your Nintendo Account for save data synchronization.
On the other hand, if you don't go through the linking process before playing the console version, but have played on mobile, your only option is to create a new user profile and go through the same process afterwards.
Transfer your data to a new mobile
It is never a bad time to change your smartphone. Of course, remember to link your Nintendo account or Pokémon Trainer Club beforehand . Otherwise, if you choose to sell the device there will be no way to get your progress back. That is why it is convenient to anticipate this fact and carry out the corresponding procedure.
Access the video game from your old phone and use one of the different methods that exist to link your account. For this you have the following options:

nintendo account
Pokemon Trainer Club Account
Google
Facebook
Apple (only if it is an iPhone)

Download and install Pokémon Unite on your new purchase and choose the login alternative that you had selected for the other terminal.
These are all present methods that involve account linking. It's time to go out and win on any device and show that you are the best player of all. Not to mention that if it is the first time that you comply with the indicated steps, you will receive a reward. The truth is that it costs absolutely nothing and we will enjoy a certain security in the event of any unexpected problems. It should be noted that if you cannot log in at all, it is advisable that you try to contact the game's technical support.