Creative has always been a manufacturer that has stood out in the PC audio market, since it was not in vain that they were the creators and promoters of one of the first sound cards, the famous Sound Blaster. Now, the manufacturer has launched the Outlier Free Pro headphones on the market, with bone conduction technology and a list of features that make them perfect for athletes… including swimmers because they are waterproof .
And it is that when we talk about headphones, it is common to find that they are resistant to water and sweat, especially in sports headphones, but submersible? Of course, Creative has gone a step further with these Outlier Free Pro, and that is that their IPX8 certification (which allows them to be submerged up to 50 meters) is not the only feature designed to improve the quality of life of sports lovers.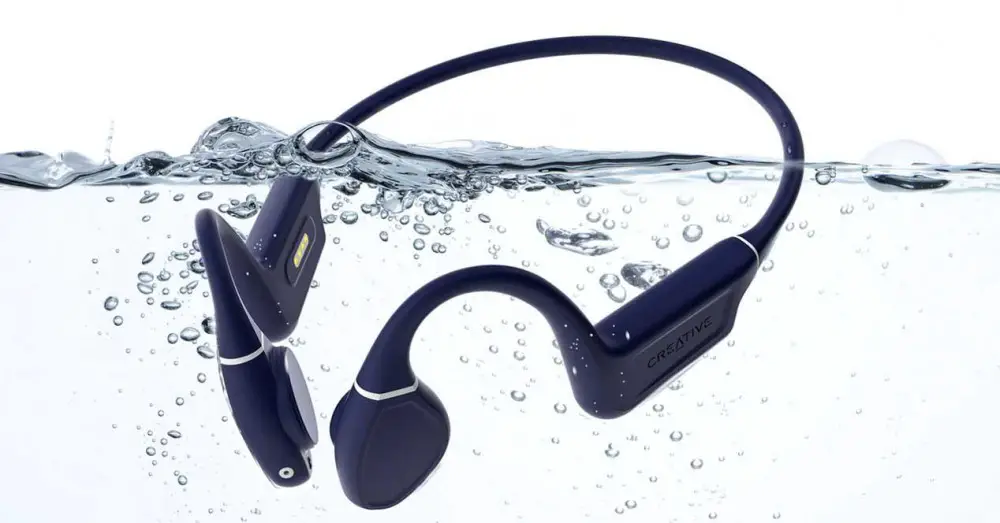 What is bone conduction technology?
Bone conduction technology is not something new, having been invented in the mid-20th century; Thanks to an integrated sound processor, these types of headphones send sound waves through the bones of the skull directly to the eardrums, also getting the skin to dampen vibrations for crisp, clear sound… and don't worry, because These vibrations are imperceptible and harmless to the head, you will not notice anything at all and the sound will reach your ears as if by magic.
The use of this technology allows, as you can see in the image above, that the ears remain completely clear, allowing us to have a better notion of what is happening around us: we will hear everything without problems. In fact, since these headphones are waterproof, if you intend to use them to listen to music while swimming you can even put earplugs in your ears and you will still hear the music.
the Creative Outlier Free Pro
The Creative Outlier Free Pro are wireless headphones, which, as you may have already noticed from the images that we have put in the article, have a rear headband design to adapt perfectly to the shape and size of the head without exerting pressure on it. , so comfort is guaranteed. In addition, since the support is so good, they are ideal to use when you do sports and you are moving without fear of falling off.
These headphones have a total autonomy of 10 hours, more than enough for any sports or gym session, and they make use of Bluetooth 5.3 technology to receive audio from your smartphone (or another system that emits audio through this technology). However, if you intend to use them for swimming, you obviously won't be carrying your smartphone, so they also include their own MP3, WAV and FLAC player with 8 GB of memory to store up to 2,000 songs and not have to depend on other devices; this is total freedom, right?
But that's not all: the Outlier Free Pro also incorporates microphones (which have covers so that when you're going to submerge them they don't get water) so you can use them to talk to your friends hands-free without problem. In addition, they have multipoint connectivity, which means that you can associate them with several devices simultaneously, so that, for example, you can be listening to music with its integrated MP3 and receive phone calls from your smartphone.
Price and availability
Initially, the Creative Outlier Free Pro are already available on the manufacturer's website (linked below) for €179.99 , a price that seems quite high a priori, but you already know the quality that Creative always provides (and we are not just referring to to the quality of the product itself, but also to its audio processor that guarantees a listening experience of the highest quality).