Privacy is increasingly important. With the simple fact of connecting to the Internet we are already exposing personal data to large companies, such as Amazon, Google or Microsoft, among many others. In addition, modern operating systems, such as Windows 10, also collect a great deal of information related to us and about our use of it and its programs. Although the data is often anonymous, users do not like companies to collect this data, and unless they use it to get more benefits. Therefore, there are programs designed to improve user privacy, such as PrivateWin10.
When we install Windows 10 from scratch, the operating system installation wizard itself asks us about how we want to configure a series of options. In this way, we can choose whether or not we want to share certain information with Microsoft. However, Windows 10 has many other privacy options over which we have no control.
Within the Windows 10 configuration itself we can find other sections also related to privacy. At any time we can activate or deactivate all these options without problem. But we still don't have everything under control.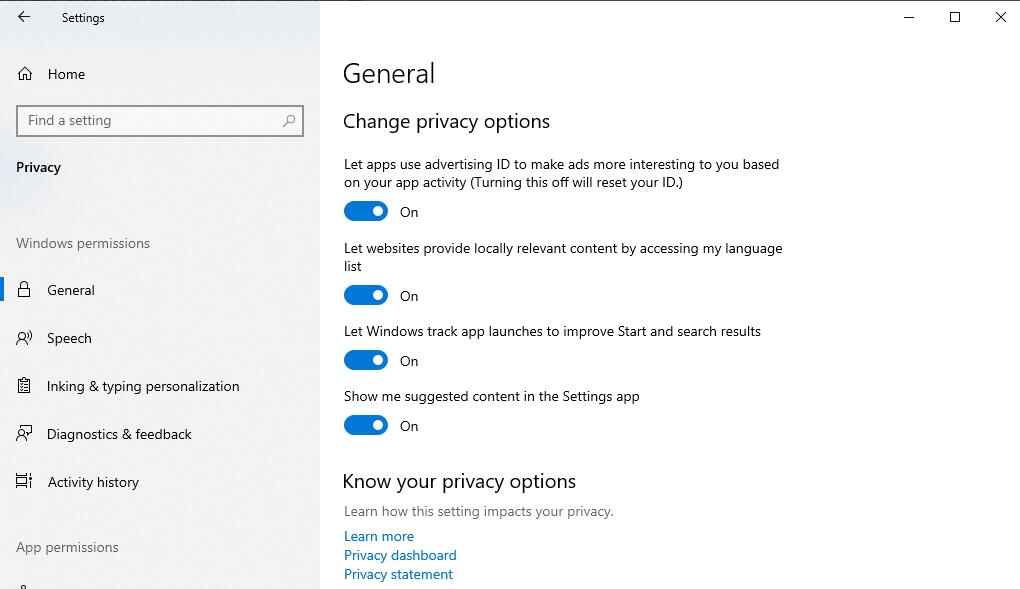 Therefore, if we really want to control our privacy and be able to use Windows 10 in a 100% anonymous and private way, it is necessary to resort to programs such as PrivateWin10.
PrivateWin10, the program to master the privacy of Windows 10
PrivateWin10 is a free and open source program designed to allow users to have much more control over everything related to the privacy of Windows 10. This program has a very simple interface to use in which we can find all the options that we offers. In this way we will be able to choose the data we want, or not, to share with Microsoft.
One of the best features of this program is that it does not make aggressive changes to the system. In this way, all changes are reversible and, in addition, they will not give us problems with Windows Update. This software makes changes to the registry, deactivates policies and adjusts scheduled tasks to protect our privacy. But it neither modifies nor deletes critical Windows files.
How to download and install PrivateWin10
This program is completely free for personal (non-commercial) use, and all its development is open, being able to check its source code in its GitHub repository .
We can download the latest version of this program for free from the following link . In addition, PrivateWin10 is portable, that is, we do not have to install the program to use it, just unzip it on our hard drive and run it with administrator permissions to start its configuration.
How to improve privacy with this free program
When we open the program for the first time we can see a small initial configuration. In it we can choose if we want this program to open at the start of Windows, and we can also choose if we want to control the Windows firewall.
Once these two options are configured, the first thing we will see will be a summary window with the system status. We can see if we are running the program as Administrator, the firewall status and the engine that allows us to control the privacy status. We can also see a log with everything related to the privacy of our computer.
Configure Windows 10 privacy
One of the most important points of this program is the shield icon that can be found in the menu on the left. Here we will find all the privacy options that allow us to activate or deactivate this program.
As we can see, here we will find a series of categories in which all the operating system privacy options are ordered. For example, we can see options related to telemetry and error reporting, with Cortana, with Windows Defender, with Office, with the Microsoft Store, etc. If we click on each of these categories we can see a list with all the options it contains. And within each option, all the changes that apply to apply the restriction.
In this way we will be able to control all the changes that this program makes on our computer. If we double click on one of the categories on the left we can apply all changes automatically.
Control the Windows 10 firewall
The third icon in the menu bar on the left is the firewall. From this section we will be able to easily control all the firewall activity of our operating system. Thanks to this privacy program we can see a list of all filters and all the rules of this firewall and the programs that are inside this firewall. In addition, we will also be able to create our own rules easily, improving our own security.
DNS filter, thus PrivateWin10 protects our privacy when browsing
The fourth section of this program is the DNS filter . This option is disabled by default and to be able to use it we have to activate it from the configuration of this program. Within this section we will find a series of options, in addition to a black list, a white list and a block list, which will be used to protect our privacy when browsing the Internet.
Its operation is very simple. In general, it works like any other DNS filter, uses a DNS proxy to monitor all connections that are made and, according to the lists, block or allow resolution. In this way, thanks to the block lists, we can prevent personal data from being sent to the servers of the websites we visit, protecting our privacy.
PrivateWin10 configuration options
Finally, within the gear-shaped icon we can find all the configuration options offered by this program.
From here we will be able to configure everything related to the behavior of the program at the beginning (we can install it as a service, and even configure it to skip the UAC window). We can also configure the Windows 10 privacy settings panel, the Windows firewall options and the DNS filter.