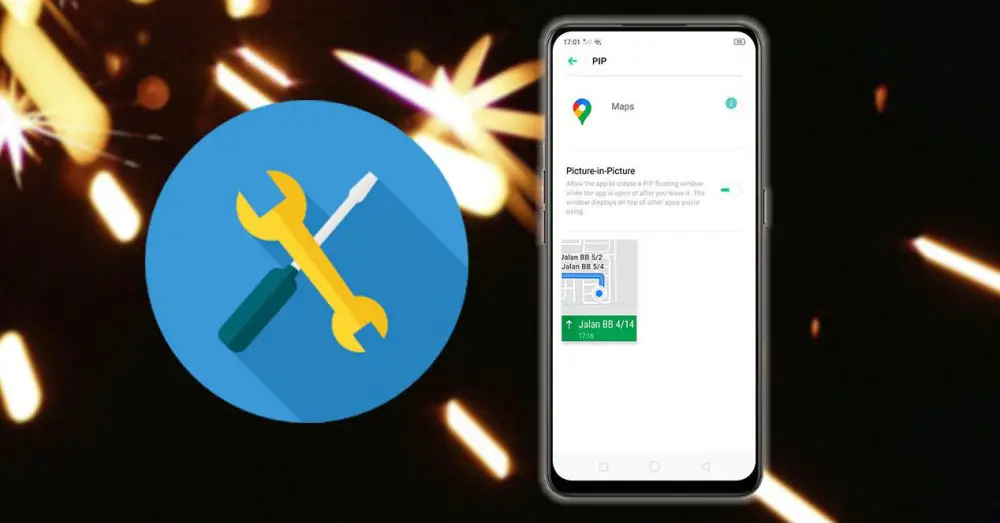 One of the functionalities, which in its day was a very popular novelty, is the Image in Image mode, or also known as PiP . This feature came to Android mobile devices to make life easier for us. Basically, this mode allows us to use a small floating window on the screen to continue using another app at the same time below the one we have open.
For example, this functionality allows us today to watch a video on PiP while we are chatting quietly with our friends on a social network or on WhatsApp. Although, at some point or another it may give us some kind of problem or we will not be able to use it with the app we want. For this reason, it is time to put letters in the matter and see what are the possible solutions, as well as the apps that will be able to use this Image by Image function on our Android smartphone.
What apps does PiP allow?
One of the problems that we can run into with this mode is that it is not always compatible with all the software we have on our mobile device. Therefore, if at any time you try to use this functionality in a certain application, but it does not work, it may be the fault of the application and not of your smartphone.
For this reason, there is a way to know if a certain software of our smartphone is compatible or not with this mode. In addition, as we will see below, we will also know if the app has access to this function and, above all, if it is fully activated . To do this, we will have to follow a series of steps:
Enter the settings of your Android phone.
Select the Applications and notifications menu.
Click on Special application access.
Go to the Picture menu in Picture or PiP.
When we are inside this menu we will be able to see all the applications that have access to this mode of the operating system, or what is the same, the applications that allow us to view content in a floating window.
In this way, what we can also do is give or remove access to an app with this functionality. To do this, we will only have to press the switch next to each software prepared for this function. At the moment of doing this, the app in question will no longer have access to the PIP function , so it will be impossible to use it in it. With this setting, we will have full control over the applications that can use this mode.
In addition, within this section we will be able to know which are those softwares installed in the phone that have this function. And it is that, in most cases, they do not specify it in the description, or they have had it for so long, so we do not know that it has it until we see how when minimizing the application the floating window appears.
In any case, it is a simple way to have this feature controlled on our mobile phone and be clear about the apps that access it and also choose which ones we want that do not have that access.
Why is it not working well?
The PIP mode began to occur mainly in some televisions, which allowed us the possibility of seeing two channels at the same time, one on a large screen, and the other within a small window. Well, as we have been talking about, in this case it works the same. Therefore, this is what this function allows us from some versions of Android. However, it is not without problems, but fortunately we have some solutions that will help us to recover the use of Picture in Picture on our mobile device .
Delete and reinstall the application
If in your case the problem is only limited to a single app, which you have already verified with the previous method that supports the functionality, we will have to reinstall it. Maybe by deleting the application and downloading it again on your mobile device.
Therefore, go to the settings of your terminal, to the applications section and select the software you want to delete. Then go to the Google Play store and search it again to download it again to your smartphone . Once it's done, check if you play videos in PiP mode again. Of course, before proceeding to remove the software from our smartphone, it is best to check if you have a pending update. Well, the error may be general, and which may have been solved with a new application patch.
Restart your smartphone
If it is not solved with the previous method, we will have to restart it. More than anything, because it could be a specific failure of the mobile device. And all because some of the processes that the Android device was executing have been caught, causing this mode to stop working completely. Therefore, we will have the option of restarting it with the traditional method, or we can also force the restart by keeping the power button pressed for at least 10 seconds.
Watch out for gestures
We may not know it, but it could be a problem with the gestures. Basically, if the user considers PiP mode essential and is used to system gestures, they will have to choose between one thing and another. In this case, you must enter the system settings and deactivate the gestures , activating the classic buttons on the screen. This way the PiP mode will work again without problem. More than anything, because there could be a problem between both softwares.
Use the mobile browser
If none of the above has worked for you, it is time to switch to using your mobile browser . In addition, it will be a fairly simple way to use, especially for apps that are not compatible with this modality, such as YouTube. And it is a simple way, but it works in most cases. We will only have to do the browser of our mobile device. Of course, it must have a web version, as is the case with YouTube.
Once we are inside, we will only have to change to full screen and then go to the home screen. In this way, we will easily achieve that the floating window is enabled by itself, that is, the Image mode within Image.