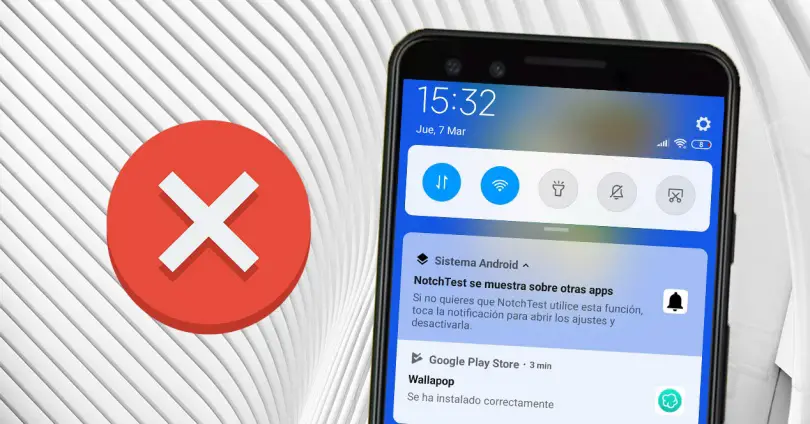 The notification bar is one of those elements of our mobile devices that have become one of the most basic parts. More than anything because it allows us to view messages, emails and others from different applications without having to access them. But, this does not mean that it cannot suffer some kind of problem in its operation, since it is also another part of the terminals that can give us an error.
At some point or another, this tool feature on Android terminals will become unresponsive, blocked or simply not displayed . In addition, it is not something that happens on time, since many have been the users who have complained about these problems. Fortunately, there are also different ways you can fix these failures to get you back to normal. And all this without having to resort to the technical support of the manufacturer of our mobile device.
Don't confuse the bar with the control center
One of the first aspects that we must take into account is that the terminal control center should not be confused with the notification bar. For those who do not know, the first one offers us instant access to different controls that will be of great help without having to enter the terminal settings. As is the case with the flashlight, airplane mode, setting the screen brightness, activating the mobile's Wi-Fi, among many other functions.
Once we have understood what it consists of, it is clear that the bar is in charge of showing all the notifications that come to our Android device. That is, only with its name we should already get an idea of what it consists of. Well, basically as we said, it is the place where those notices of different apps appear on Android mobiles. For example, unread messages from WhatsApp or some kind of interaction in a social network will appear.
In this panel, therefore, those notifications that we have received will be displayed, whether we are with the mobile or if it is blocked at that time. We could say that it is a kind of inbox of an email in which all those notices that reach the terminal are collected, as it could also be an SMS or a missed call. In addition, to access it, you must slide down from the top of the panel, but this could fail for different reasons, but luckily there are different solutions that we will show you.
Use the safe mode of your terminal
Before trying some of the other methods that we will explain later, we will have to identify what is the real problem we have with said panel. One of the best ways to check its status will be through the Safe Mode of our mobile device, which all Android phones have. With this we can investigate whether it is a misconfiguration of the terminal or the culprit of this failure is a specific application.
The truth is that the steps to activate this mode could change, since it will depend on the manufacturer of said smartphone. But, the most common thing will be by pressing the power button on our mobile in order to display a menu. Once it has appeared, we must press and hold the Shutdown option for several seconds.
Next, a warning will appear in which it will indicate that our mobile is going to restart in safe mode, in addition to that third-party software will be completely disabled. After this, click on Accept and the terminal will automatically turn off and turn on again. Once it has started completely, we will know that we are inside because a message will appear in the lower left corner that will indicate Safe Mode.
If we can slide it inside it and it works without any problem, we must be clear that the error is caused by a third-party app that we have recently installed. So we will have to try to uninstall it and check if everything has returned to normal.
Check the screen status
Other aspects that we must take into account if the fact that the notification bar does not work because of the touch panel of our smartphone. For this reason, it will be necessary to check that it continues to work as it should. Many times it is due to some type of software, so if when testing Safe Mode it still does not work, the screen will have to be tested.
Luckily, there are different ways to check its status, either with internal tools or third-party ones in order to clear up doubts. The first of these is found in Android by default, in addition to being a method that will assure us one hundred percent if our mobile panel has problems or not.
The way to access this method is simple, we must enter Settings> About the phone and press several times on Number of complications. At that time, we will activate the Developer Options . When we are inside we will have to enter the Location of the pointer section and activate said button.
From that moment, we will see horizontal and vertical lines that will mark the route we make through the panel, in addition to showing us all the lines through the areas that we touch. If we see that there are certain interruptions in these lines, we will know that the screen of our terminal is failing and where the problem is occurring. So we will only have to go to technical support to repair it or try to change that the bar is displayed from another place.
Restart your smartphone
One of the easiest solutions to carry out, and one that often becomes the great wild card, is the simple act of restarting the terminal. Although we do not believe it, this action could give the key to put an end to this problem in the notice panel of our mobile device. Either because it does not display or it is frozen occupying the entire screen, and no matter how hard you try to make it work, it is possible that some process has failed, but by restarting it we could fix it forever.
Although we do not believe it, by performing this act we can make the smartphone work normally again. Since, we will get all the processes that were being carried out to restart. So, most likely, when we turn it on again we will be able to slide the notification bar without any type of failure.
In addition to being one of the easiest methods to perform, it is also considered one of the solutions that works the most times. Even, everyone can carry it out without having great knowledge. More than anything because we will only have to access the on / off menu and click on the Restart option.
In the event that the warning panel has been blocked and we cannot see said menu, a combination of buttons will have to be tried to force it to restart. Depending on the brand of terminal we have, it could vary. Although, it is quite common for it to be pressing both the on / off lock button and the volume up button at the same time.
Swipe the notification bar from somewhere else
After finding out that it is a problem with this functionality, something that can happen more than usual, since due to a small blow in that area, in which we managed to slide said panel, it stops working. But, this will not be enough so that we will not continue using our phone, as long as you can activate the option that allows us to slide the bar from anywhere on the smartphone .
In addition, these are characteristics that can be found in the different layers of customization that different manufacturers of terminals have. So we can make the notification panel display whenever we want by making the gesture of sliding down, regardless of where on the screen we make this gesture. That is, it will not have to be from the top of the screen, but it can be any other.
Therefore, the steps to follow to activate this function will be the following:
Access Settings.
Enter the Screen> Home screen section, although this will vary depending on the layer you have installed on your terminal.
Find the option Swipe down for notifications and tap the switch to activate it.
Reset your mobile
The last alternative that could solve these problems on our mobile device will be to reset it to its factory settings , that is, as it was the first day we used it. But, we repeat that it is not advisable to do it lightly, only when none of the other methods provide us with a solution.
So, if nothing has worked, we will have to try to reset our smartphone. Since, the normal thing is that this error with the notification bar can be solved. Also, it is important to make a backup copy of all terminal data before starting this process.
To be able to restore it we have to enter Settings> System, although again it could vary depending on the brand of our phone. Then, you will have to enter the Restore section> Restore phone. Then, we will click on confirm or accept and enter the pin that we normally use. After this, click on the Restore option, and after a few minutes the mobile device will start up again.