Error fares have become one of the best options for cheap travel if we have flexibility when choosing the date of our next trip. In the travel sector we can find error rates in almost any service that we have the need to hire for our adventure, the most interesting are those related to flights and hotels.
Although the pandemic has strongly hit the tourism sector and we have witnessed how we could not even leave our home, it seems that little by little trips abroad are being reactivated, demanding by some countries the presentation of a PCR test or antigens even the obligation to pass a quarantine once landed in the country of destination. One of the next attractive travelers is visiting European cities with the best Christmas markets and for this, there are ways to find cheap flights.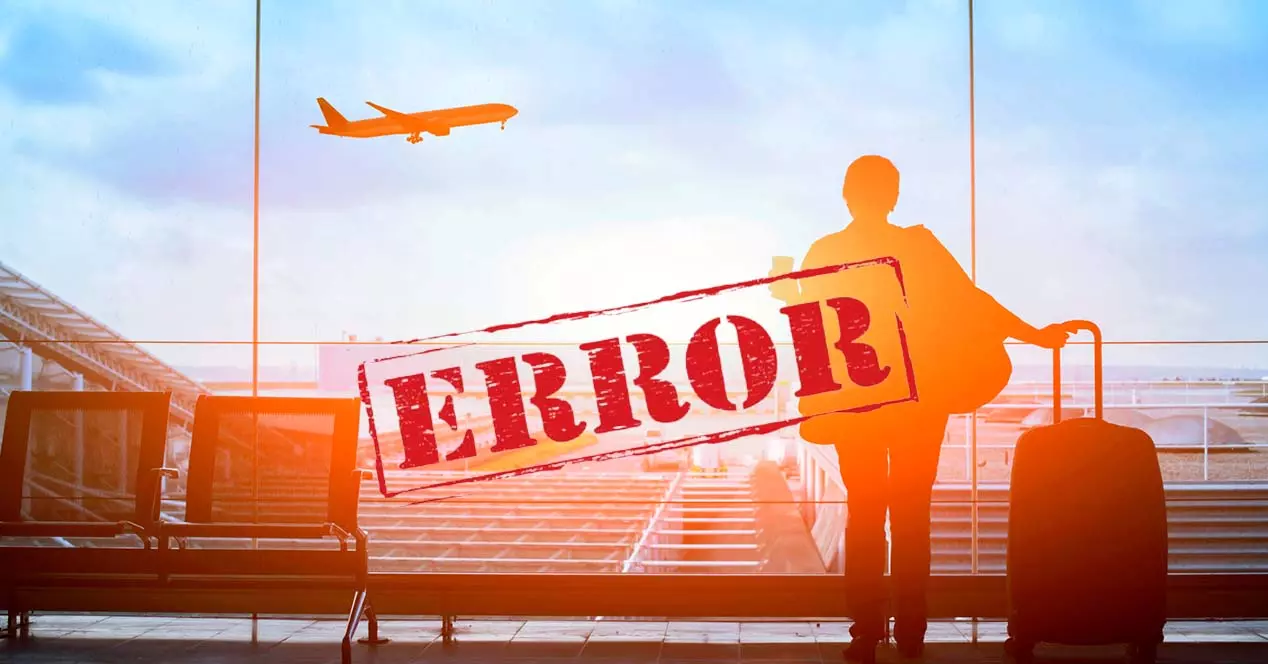 What is an error rate?
Fares error, as the name suggests, means that there has been an error in the price, either when buying a flight or booking a hotel. An extremely low price on a long-haul flight or a luxury hotel reservation is due to a system failure or human error. With the number of flights and reservation systems that currently exist, these errors occur and are sometimes overlooked by online agencies or airlines.
One of the best flight comparators to find cheap flights is Skyscanner. This search engine specialized in flights allows you to select a starting point and an open destination, suggesting the cheapest destinations on the selected dates. It tends to become a good source to find error rates, but it is not one of the best. There are web pages such as Exprimeviajes that report these error rates detected almost instantly. In order for us to travel, for example, from Barcelona to Thailand for 7 euros, it is very important that we make the reservation as soon as possible, since there is a risk that it will be detected and disappear.
How do I find out about a bargain?
Error rates exist due to a system failure or human error. You can find error rates on any website, even on that of the airline or hotel itself. Flight prices are automated and calculated by systems that automatically set fares based mainly on demand. As in any computer system, there is the possibility of small bugs that bring out these cheap rates. On the other hand, we can also find them because there has been a human error such as not including the fuel surcharge, putting a 0 less in the rate or errors caused by a failure in the currency conversion. There are actually several variables that can cause error rates to come to light and users can complete the reservation.
As for the duration of these error rates, as we indicated before, the time factor is very important. When an error rate is published it can last minutes, hours or even sometime. If we detect it during the night or on the weekend, it is more likely that the correction of the error will be slower and give us time to make the reservation.
But most important of all, what is the way to find out about an error rate? We can set alerts in the flight search engines that warn us of the rise or fall in prices of a certain journey by plane, but in this way either we create many alerts or it is impossible to cover all the flight possibilities that may suffer an error rate. One of the best options is to subscribe to the newsletter or follow websites on social networks that are dedicated to publishing travel offers.
It is not a travel agency, it is a website where travel offers and error rates are published daily, since the creators of all the content have been able to travel for very little money thanks to being alert and sharing these error rates with their audience and followers. On its website you can find error rates as attractive as a hotel in New York for 2 euros, a resort in Thailand for 3 euros a night or flights for 50 euros from Spain to Tokyo.
Another website that is dedicated to sharing the best travel deals. Both weekend getaways and flights at ridiculous prices. Yesterday they published an offer to fly to Marrakech in November from Spanish cities such as Madrid, Malaga, Barcelona or Santander for 7 euros one way, 14 euros round trip. Of course, they already warn that these offers or fly or the company realizes the error and deletes them.
Canceling a reservation
If we are quick we can reserve these bargains. Speed being one of the keys, it is best to pay with a credit card because payment is much faster and the plane ticket will be issued earlier. The error rates require an impulsive purchase, without much consideration. If you think about it, fly, pun intended. For this, we must have a minimum flexibility when it comes to being able to benefit from these bargains, since it may be the case that we find an error rate to fly to New Zealand for 100 euros but that on those dates it is impossible for us to travel.
Another factor to take into account is the standard of living of the destination. Traveling with a wrong rate to countries like Iceland or Australia may seem like an exciting idea but we also have to take into account other factors such as the price of accommodation at the destination, travel or the cost of food.
Another very important factor is that you never call the airline or the hotel once you make the reservation with a wrong rate. It seems obvious, but it is not always so. Some users sin not to believe the super offer they just got and call the airline or the hotel to confirm it. Error. This may motivate them to decide to cancel your reservation. You always have to wait, first for the reservation to be actually charged to your account and second for the airline or hotel to send you the confirmation by email. If we receive the confirmation we can start jumping for joy, otherwise the reservation will most likely be canceled.
Can I complain if the reservation is canceled?
If an error rate is canceled, we have the right to refuse. As consumers we do not have to know that it is an error rate and after all the possibility of reserving it has existed. On many occasions we can hide behind the fact that it could be accompanied by some indication of an offer or promotion.
In any case, when an error rate occurs and there is a cancellation by the company, it is normal for them to reimburse us for the purchase money. Having almost the certainty that in case of cancellation we will be able to recover the money and that sometimes they are small amounts such as flights or room nights for less than 10 euros, it can be very worth paying attention to the rates error in the traveling sector from now on.