The new Mac with Apple Silicon processor are a revolution for the company itself and the rest of the technology industry. However, beyond all these positive aspects that they have inherited from Apple's experience designing chips for their iPhone and iPad, the big problem with the M1 processors is that they limit the use of several external screens at the same time. So let's see what possible solutions there are for those who need to use several.
Why use multiple displays with a Mac
It is very likely that as a user you will not see a problem in these of connecting several screens to a Mac , for some it is a significant setback since they have been doing it for years and have been adapting their workflows to the use of two or even more external screens at the same time .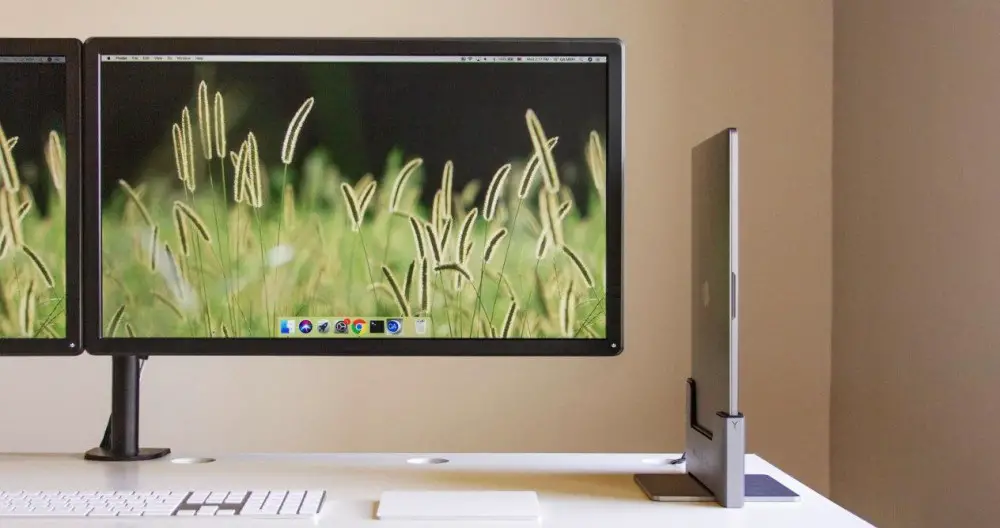 Therefore, finding out now that they cannot use them as they did before with their previous equipment can become a great annoyance. Because we are not only talking about having more screens for that matter, but because in many cases they help to improve aspects such as the readability of documents. And it is that being able to work with panels of greater diagonal and resolution is always attractive.
In addition, there are situations in which it is also essential because while working on one you can be previewing content in another or monitoring anything else. This is why not being able to easily use multiple displays on the newer Mac M1s can be so frustrating.
How many screens does each Mac with an M1 processor support?
Taking into account the above, let's see how many screens current Macs are capable of handling. That is, the Mac mini, MacBook Air, MacBook Pro and 24 ″ iMac that are the only ones with an M1 processor. Well, there is also the new iPad Pro with the same chip, but being a device that works with iOS it would not or should not be something that worries us. Although being able to get a full video signal from the iPad Pro is a significant improvement in the user experience as well.
Returning to what interests us, the four current Macs that integrate the Apple Silicon M1 processor support this number of series screens:
Mac mini: this equipment natively allows you to connect two displays through the Thunderbolt connections or the HDMI 2.0 output. These screens can be one with a maximum resolution of 6K at 60 Hz and another with 4K resolution at 60 Hz as well or two 4K screens at 60 Hz.
The MacBook Pro only supports one external display because it already has its own screen with a resolution of 2560 x 1600 pixels, so that maximum of two would already be covered.
The MacBook Air with its 13 ″ screen and the same resolution of the Pro model (2560 x 1600 pixels) also only supports one additional screen
iMac 24 ″ that the company recently presented integrates a panel with 4.5K resolution and as with laptops it only supports an extra external screen
For a large percentage of users, being able to use two screens is already more than enough. For the rest, the solution, until Apple manages (if it can) solve this aspect, is to use third-party solutions such as Display Link technology.
How to connect more than one display to a Mac with M1
Apple promised to fix the problem of not being able to connect two external displays through the Thunderbolt outputs of their computers. While that is not the case, the easiest way to connect multiple monitors to a Mac with M1 is to resort to Display Link .
This technology allows one or more video signals to be output through USB connectors. Of course, to achieve this, it is necessary to install a driver software and have an adapter that, for example, takes a video signal from the USB C connector also via USB C or HDMI, Display Port, etc.
The process of setting up and using these adapters is very simple:
Connect the Display Link Mount Adapter to your Mac
Download and install the Display Link Manager utility
Once done, you will see in the top bar of Finde a new icon from which to manage the connected screens
In this icon you can activate or deactivate the video signal as well as apply some additional settings
Ready, that is how easy it is to be able to connect not one but several external displays to your Mac. Of course, keep in mind that this technology currently offers some limitations. The most important is that you will not be able to use features such as screen rotation. Others that can also affect and must always be borne in mind are the maximum resolutions that can be managed with these adapters. Because you may not be able to connect multiple 4K displays and have to limit yourself to 1080p at most.
Display Link Compatible Docks and Adapters
Let's say you are one of those users who needs to connect multiple displays to your new Mac M1, more than two to be exact. The options you would have are several, although these may be the most interesting here. Although keep in mind that manufacturers such as CalDigit among others warn that although they can work, natively they are not obliged to do so and that with future system software updates they may be unusable or have to wait for new updates of the drivers for Display Link .
CalDigit TS3 +
In itself, this adapter or port base from CalDigit is one of the most interesting on the market for build quality, connections, etc. The only problem is that it is not particularly cheap, but it greatly improves the experience as it also includes details such as card reader, audio input and output, etc.
OWC Dock Thunderbolt 3
This OWC dock offers the possibility of taking two video signals through one of the Thunderbolt 3 connectors on the back and other mini Display Ports that it also has.
Other options
Along with these docks, both highly recommended by Mac users, there are many more options that can also be used. On the Display Link website there is a section where you can consult all the universal Docking Stations out there as well as USB adapters to HDMI, DVI or Display Port type video output. In addition, they clearly indicate what is the maximum resolution they support, so that you are safe when expanding your work desks with the new Mac with M1 chip.