Surely on some occasion you have been curious about the world of 3D printers. It is an exciting, but complicated world at the same time. For a few years it has been possible to find some commercial ones and receive them at the door of our house to manufacture whatever comes to mind. However, if you do not know where to start and this world attracts you, we will help you with this complete guide.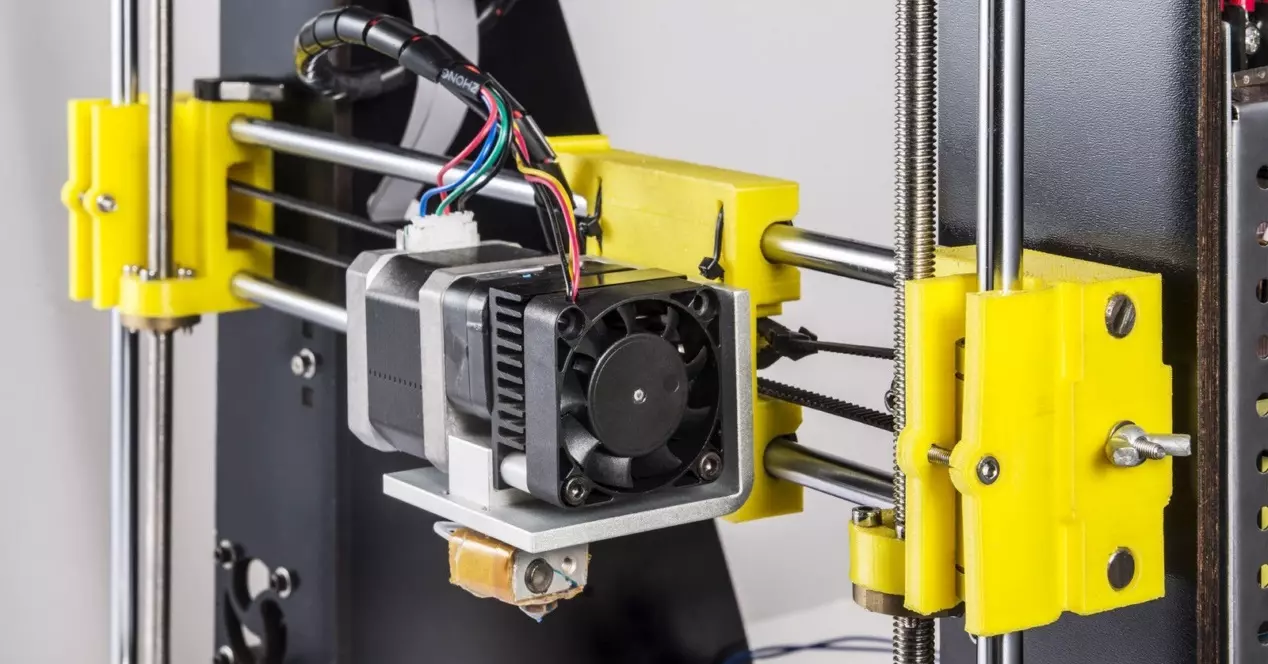 In the first place, we have to take into account, before the materials, the types that exist, but for us, for an amateur or non-professional user level , you will only be interested in one. In this way, we find the following types:
Injection 3D printers
Selective laser sintering 3D printers
Stereolithography or resin 3D printers
3D printers for molten material deposition
Stick with the latest model, Fused Material, or as it is commonly known by its acronym, FFF (Fused Filament Fabrication). It works through the melting of the filament on a base, which generates various layers that are joined by temperatures until the object or piece that you want to manufacture is achieved.
The first two types are intended for professional use . In addition to giants and for commercial use, we will not be able to use them at home, without counting on their high budget. Another option that we could take into account is resin, but… What is the choice based on?
Filament vs resin 3D printers
There are several reasons to choose filament versus resin to begin with. One of the most important is its ease of use . This is because their installation is not complicated at all and, apart from that, they require less specialization in the printing process. Therefore, they are the ones that need less initial knowledge to be able to get the most out of them.
Another of the virtues that these 3D printers have compared to the competition is their price, which is very competitive. For this reason, there are purchase options that are very affordable . If we add to this the fact that quite good quality results are obtained, since the precision when heating the plastic so that it acquires the desired shape is good, we believe that the best choice to start with are the models that use filament -or plastic- as material to print.
Now that we have chosen: types of filaments
We have taken a step forward, after having discerned between the different types of them. Now we are presented with a question… The material used to make the creations: the filaments. There are several different ones, but the ones used with this type are PLA and ABS , which surely sound like other compounds such as Lego, for example.
As we were saying, it is very important to know the use that you are going to give to the object that you want to print in order to use the necessary filament. For example, there are models that have been designed to create flexible parts, so it is a perfect type of filament if you are going to print a part that has to be bent.
It is also very likely that you will need a piece to always leave outside. It can be a small sunshade that allows your external surveillance camera to get better recordings. But of course, it is necessary that this material is resistant to water so that this liquid does not accumulate inside it, which can cause problems in the piece.
Let's see the types of filaments and their properties, which will help you choose depending on your objective:
PLA . It is a biodegradable, stable and manipulable material,
abs. It is obtained from oil, and of course, it has greater resistance than the first.
PET. Derived from polyester, it is transparent but highly degradable.
PA-Nylon. Amide polymer, a very resistant material with good printing results. Ideal if we want something strong and that does not end up breaking.
HIPS. Ideal for objects that are going to be in contact with water, it is a combination of styrene and butadiene.
TPE. Surely you have had a TPE cover, a very resistant plastic, with a smooth finish and very, very flexible.
Important issues in a filament 3D printer
Look at some of the following details before choosing a model:
Assembly . This is the first decision you have to make. It is important that you are clear that the disassembled models require additional effort , since it is necessary to carry out an assembly to use them – which is not particularly complicated, that is true. Of course, these options are usually cheaper.
Print volume . It is the maximum size of the pieces that you will be able to print. The minimum is that they exceed 150 x 150 x 150 millimeters, since if this is not the case, you will have to make more prints than desirable to achieve your goal.
Nozzle diameter . This is the element that ejects the filament once it has been heated to the proper shape. The precision obtained in the pieces depends on it and, to get it right, you must check that the element included is 0.5 millimeters or less.
Printing speed . The processes are not especially fast in models for beginners, but we recommend that the 3D printer you buy is capable of exceeding 20 millimeters per second. If not, you will have a bad user experience.
Positioning accuracy . The three axes used when printing 3D parts (X, Y and Z) come into play here. The rails that are used in each case must offer a precision of at least 0.0225 mm in the first two and 0.004 mm in the third. If this is true, you will surely get good results.
hot bed . This means that the support maintains a high temperature so that the piece does not cool down once we have finished.
Supported File Formats . In order for you to be able to use the creations that can be obtained for free on the Internet, the 3D device you buy must support the use of STL and OBJ files, which are the standard with which this type of machine works.
Screen . It is not completely essential, but the inclusion of one where you can see how the printing process is going is a very good idea. It can be big or small, that's the least of it, the fact is that there is one.
Connectivity . Apart from being able to connect it to a computer, it is very important that it has other options to access work files. The basic thing is that it includes an SD card reader, and it doesn't hurt that it also has USB. Some entry-level models also have WiFi, allowing jobs to be submitted from phones and tablets.
Light consumption . The basic models usually need about 130W to work. This means that if you use the device for about 12 hours a day, what you have to pay is more or less 75 euro cents a day.
Dimensions and weight . Varying in each model, which does not exceed 45 x 45 x 40 centimeters. And, in the case of weight, it is usual for this to be around 15 kilos.
Disassembled 3D printers
We have already told you that there are two types of them in the current market. Disassembled printers are those with a higher level, which, coming disassembled, allow a higher level of professionalism, despite being somewhat more complicated at the same time. Let's look at some of the best models for sale on Amazon.
Voxelab
Advantages. Compact, with ultra fast heating.
Drawbacks. Duration of the installation process.
We are facing an outstanding industrial design printer, with a carborundum glass platform that heats the base in just 5 minutes so that the pieces adhere without warping. In addition to fast heating (180º in 5 minutes ), it is totally open source that allows updates and modifications, to be able to print everything we want. It is very easy to assemble, with less than 2 hours of duration.
It'll let you resume printing if you leave it halfway through, it's ultra-quiet, it has a rotary knob color screen and a build volume of 220x220x250mm, so it's not the biggest. The nozzle is 0.4mm in diameter for easy cleaning, with a maximum print speed of 180mm/s and normal 30-60mm/s. The filament is 1.75mm and works at 24V. Its price is usually between 150 and 200 euros.
JGAURORA Magic DIY
Advantages. Functional with PLA and ABS, the main materials, good print size, price.
Drawbacks. Reliability.
This printer can work with PLA and ABS. It has a print volume of 220 x 220 x 250 mm and a heating plate of 110º C. It has a 0.4 mm nozzle that allows 1.75 mm filaments.
king room
Advantages. Its particular design, double aluminum linear guide rails, double fans.
Drawbacks. Size maybe small and noisy.
We are facing a mounting printer with 180x180x180mm. It is easy to install, built with double rails for greater printing precision and long life. It also has two fans to dissipate heat and make the constructions look much better. The result will be a print that is not so large, but of good quality.
Creality Ender 3 Pro
.
Advantages. Large build area with large and complex models
Drawbacks. High price .
A most professional printer is this one from Comgrow, the Creality Ender 3 Pro, with its own well-known brand power supply (few have it) and flexible magnetic plate . It features a build area of 8.7×8.7×9.8 (220x220x250 mm) to create all kinds of constructions; with a MeanWell power supply ; Redesigned spindle with a stronger 40×40 aluminum extrusion for the Y-axis base providing greater stability and print quality.
Its print bed is magnetic, removable and flexible, with thermal leakage protection and open source. Its usual price is 269 euros.
3D printers already assembled
Now we go with the models of 3D printers already assembled, which are much easier to use in all aspects. On the other hand, they also tend to have a somewhat higher price. These are some of the best models.
Easythreed
Advantages . Ease of use, size, price.
Drawbacks . If you want something more professional, forget it, it will only work for small parts.
This 3D printer already assembled is one of the most ideal to start in the world. It is small and versatile, it uses light ABS material for the body, and it only weighs 1.5 kg, but of course, the parts that you will make will also be smaller. It has an operating system that is very easy to use, you will only have to put the PLA and level it. Then insert the SD card and press the button to make the part you want, and it's that easy! Its usual price is around 150 euros on Amazon.
Elegoo March 2
Advantages. Very fast and ultra-precise printing, as well as being physically robust and small. It also comes with a screen!
Drawbacks. Your print size is too small
A higher level is this small printer with reduced proportions, including a screen and 2K HD resolution. It only takes two seconds per exposure layer. The printer body is machined aluminum. It offers a print speed of 30 to 50mm/hr , multilingual interface, replaceable resin tank, and a COB UV LED light source to dissipate heat and prevent the part from overheating and becoming damaged. In addition, we will be able to control the printer to the maximum through the Chitu Box program. Its price is around 200 euros.
Flashforge Finder
Advantages. Ideal for all types of audiences without any experience due to its simplicity of use and its tiny size. It is also compatible with almost all materials.
Drawbacks. It will be too small for us if we want to build something bigger.
A most curious model to make small parts. It has a removable build plate so you can clean it. The print size of this 3D printer is 140 x 140 x 140 mm . It has a WiFi connection, it works with PLA and its precision is 50 microns. It also has a full color touch screen, with an automatic and intuitive calibration system, as well as support for the main types of materials such as PLA, FLEX or TPU, as well as wood, metal… Its usual price is around 270 euros.
Flashforge Adventurer
Advantages . Already assembled, quick removable nozzle, higher level, possibility of making much larger pieces, light.
Drawbacks . Much more expensive, it will take up a lot of space in your house.
One of the most advanced models from Amazon is this Flashforge Adventurer. It is a much larger printer than previous models, with a removable nozzle for quick cleaning , automatic leveling (with which we will take a weight off our shoulders), highly silent printing. Those who have tried it highlight that its calibration is amazing, we just have to enter the information we want to print and hit the button. It includes a glass door to reduce noise, and for about 400 euros we get one of the best on the market.
Our recommendation
At this point you will wonder what is the best printer you can take. As always, at Topes de Gama we like to help you and that is why we recommend one of each type.
As for the disassembled printers, we would stay with the Voxelab. For its price we get one of the best quality-price ratio, and it stands out for its rapid heating system. On the other hand, in terms of mounted printers, we are left with the Flashforge Finder , due to its size and specifications (especially for its 50-micron precision and use of PLA material).