When choosing a keyboard and mouse set, there are a number of details that you must take into account. And one of the most important has to do with connectivity. More than anything because you can buy a wired model or a wireless one.
The truth is that the available offer is so wide that you can find solutions of all kinds. And if you want a mouse and keyboard set that connects via USB, then don't miss our complete compilation.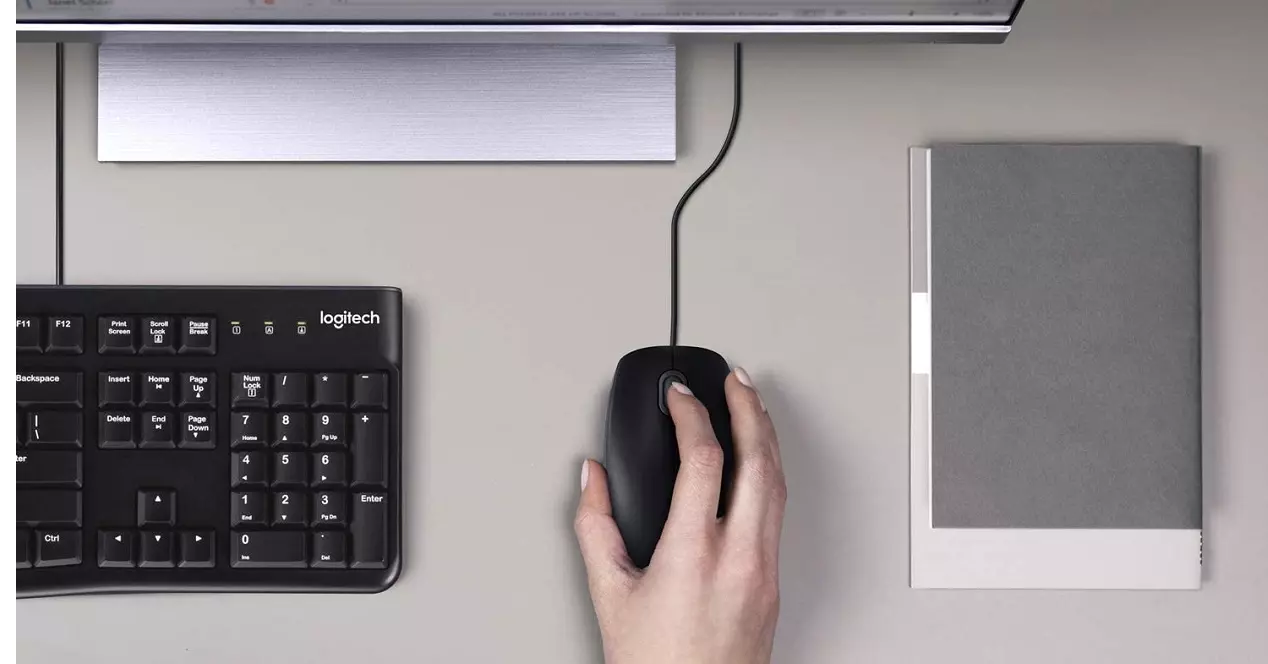 Advantages of USB models
To say that the advantages offered by wired keyboards and mice are obvious. To begin with, it won't take long to have your device configured, since you only have to connect it to a USB port on your computer. This way you save unnecessary paperwork. In addition, the connection will not be lost under any circumstances and you will not have to stop working or studying.
Another of the great advantages of cable models has to do with autonomy . A wireless mouse and keyboard require a battery, or have an internal battery, in order to work without a cable. And this is a problem, since on more than one occasion you can run out of battery at the worst time.
On the other hand, the wired models do not have this problem, since simply as long as you have them connected they will work perfectly. Another detail to take into account is the response time. The truth is that nowadays wireless models have nothing to envy to a cable model, but many users continue to notice that a USB keyboard and mouse offer a shorter response time.
And the most obvious advantage has to do with money . Mainly because wired mouse and keyboard sets are usually priced much lower than a wireless model. Without a doubt, a great detail that you should take into account.
What you should keep in mind before buying a keyboard and mouse pack
When embarking on the adventure of acquiring both a keyboard and a mouse, it is important that you take into account how you need them to be. Let's start with the keyboard, since it is a much more complex device:
The size of the keyboard is important, and it will depend on this whether you can take it with you everywhere or, on the contrary, you will always leave it at home. Your decision will depend, above all, on your specific needs.
Alongside this, you should also see what kind of keyboard you need. Normally, the ones you will find to use as a pack will be those that work through a membrane. Mechanics are usually less affordable and therefore not in packs.
The backlight may be a key point for you or it may not be at all, but it is something that you must decide before you launch the purchase.
Whether or not it has both a numeric keypad and shortcut keys, since both options are very interesting.
In the case of mice , there are also several things that you should consider before making the purchase. First of all, you should see if you need them to have more buttons so that you can configure them. If you are going to play with them, this will probably end up being a prerequisite. However, if you are going to use them to work or study, it may not be relevant.
On an aesthetic level, you should also analyze what type of mouse you like best. Flat? Or, on the contrary, do you prefer more ergonomic ones? Depending on your decisions, you may prefer to opt for one type or another.
Without further ado, let's take a look at a few keyboard and mouse packs that you might really like. We have carried out a very varied selection so that you do not have any problem when deciding, and always find the ideal.
Very affordable keyboard and mouse packs
We begin our selection of perfect combos to work and study with five models that will surprise you for their price. Because we know that there is nothing like saving money by buying good quality products.
Elbe PTR: a very vintage style
The first keyboard and mouse pack that we bring is characterized by having a very marked , vintage and traditional aesthetic. It is available in different shades, although we have opted for the most striking.
The keyboard has 14 direct access keys, where you can access email, the internet or even the calculator. Of course, it is in Spanish . A very striking point, in addition to its curious aesthetics, is that it has a numeric keypad despite not being excessively large.
It includes a power saving mode, so you don't have to worry about turning it on and off all the time. The batteries with which it works are AA, and are included in the purchase pack.
Cimetech: ultra slim and quiet
The next keyboard and mouse pack is totally different . In this case, the design is much more minimalist . In addition, it has been prioritized that both devices are very quiet so that you can work with them anywhere.
The keyboard is completely complete , even with the numeric section and arrows. Of course, it has multimedia keys that you can easily configure. Being so thin, you can carry it comfortably anywhere.
As for the mouse, it brings with it both a wheel and an extra button. The keys are extremely quiet so you can use it even in the library without disturbing anyone.
TopMate: a stylish keyboard and mouse pack
Do you prefer to get a much more minimalist style keyboard and mouse? These, metallic in color, follow the design of Apple products, so they are ideal for fans of the brand.
The keyboard also has a numerical section, as well as multimedia keys. Working like this is much easier and faster. In addition, the ergonomics of the keys will allow you to type quickly without requiring any kind of effort.
As for the mouse, you will be able to choose between two levels of DPI . At all times you will notice both its speed and its precision. And it will never make noise!
WisFox: a pack for the office
For those looking for a combo to work daily, either from home or to take to the office , this one from WisFox is a great solution. It is completely black , in order to adjust to a much more elegant aesthetic.
The design is ultra -thin in order to go completely unnoticed on your desktop. The thinnest part measures less than 1 cm, so we are talking about minimalism taken to the maximum exponent. It connects, like all the ones we have seen, through a USB port.
They have a power saving mode and, after 15 minutes of inactivity, they are automatically suspended. The mouse also allows you to select between three fully adjustable DPI .
Logitech: an always safe bet
The Logitech MK235 combo is always a safe bet. Especially if what you are looking for is long-term quality and a unique user experience.
The keyboard is a standard size, giving you all the keys you need to work. As a bonus, it should be noted that the mouse is considered ambidextrous , and will be comfortable to use even for left-handed people.
Although it is large, you can comfortably take it to work if you wish because it is very light. It works by means of batteries , but it will be years until you need to renew them.
Much more top keyboard and mouse combos
For those of us who have mentioned so far fall short, we have three more options . They are keyboards much more focused on gaming , hence you are going to see totally different colored backlights or designs. Despite everything, we have also considered a more discreet option for those who seek simplicity. Continue reading!
Backlit gaming keyboard and mouse
The first of these combos is from the ZIYOU LANG brand, and you'll be amazed at the rainbow backlighting it brings with it. So much so that, probably, it will end up conquering you.
You can find it in different colors, although we have opted for black as we consider it the one that stands out the most with lighting. It recharges via a cable, and the keyboard has 3,000 mAh while the mouse has 1,000 mAh. However, their actual consumption is very low.
As an important point to note, the keyboard is semi-mechanical . This means that it is not silent at all, and that the feeling you will have when pressing the keys will be totally different. It has a large number of function keys, so you can handle everything quickly. It does not have a numeric keypad, which makes it more compact.
Seenda: a stylish, rechargeable and very slim combo
The Seenda brand brings one of the most striking combos that you will see today, especially if you prioritize elegance and style. Both the keyboard and the mouse are black, but have a very discreet white backlight.
Being so thin , typing is very comfortable. You will hardly have to press to get to type quickly. For those who spend the day typing non-stop, it is the best option!
As for the mouse, it offers three different DPI levels that you can easily change. Both devices are silent so you can use them without ever disturbing anyone.
Our absolute favourite: Orzly, a gaming combo
However, if you ask us which of all these options is our favorite, we have to tell you about this latest pack. It is from the famous Orzly brand, and we have selected it in an intense pink color. You will not only have a keyboard and a mouse, but also a gaming headset and a mouse pad. The complete pack!
Everything you will find in this set is of the best quality. The keyboard is complete, semi-mechanical and has an LED backlight. To this we must add that the mouse has four adjustable DPI, and that it has a button for you to customize it.
And what about the design? It is striking, careful and totally different from what you will find in any office. Without a doubt, a pack so complete that it is a shame not to acquire it. So go for it!