More and more, the use of photography has grown exponentially, especially thanks to the good level that mobile cameras have achieved. If we want to edit or personalize these photos, we have a wide range of simple programs to be able to change the brightness, color, contrast in order to perfect the result. However, if what we are looking for is to merge images or superimpose photos, things can get complicated because we will need more knowledge or more complete tools.
When it comes to composite photos, the biggest challenge that we are going to find is just thinking about what to do and how to do it, but to achieve it without the photo looking like it has been extremely manipulated, being able to achieve more realistic results. To do this, today we are going to see some programs that will help us to make photomontages and obtain great results with them.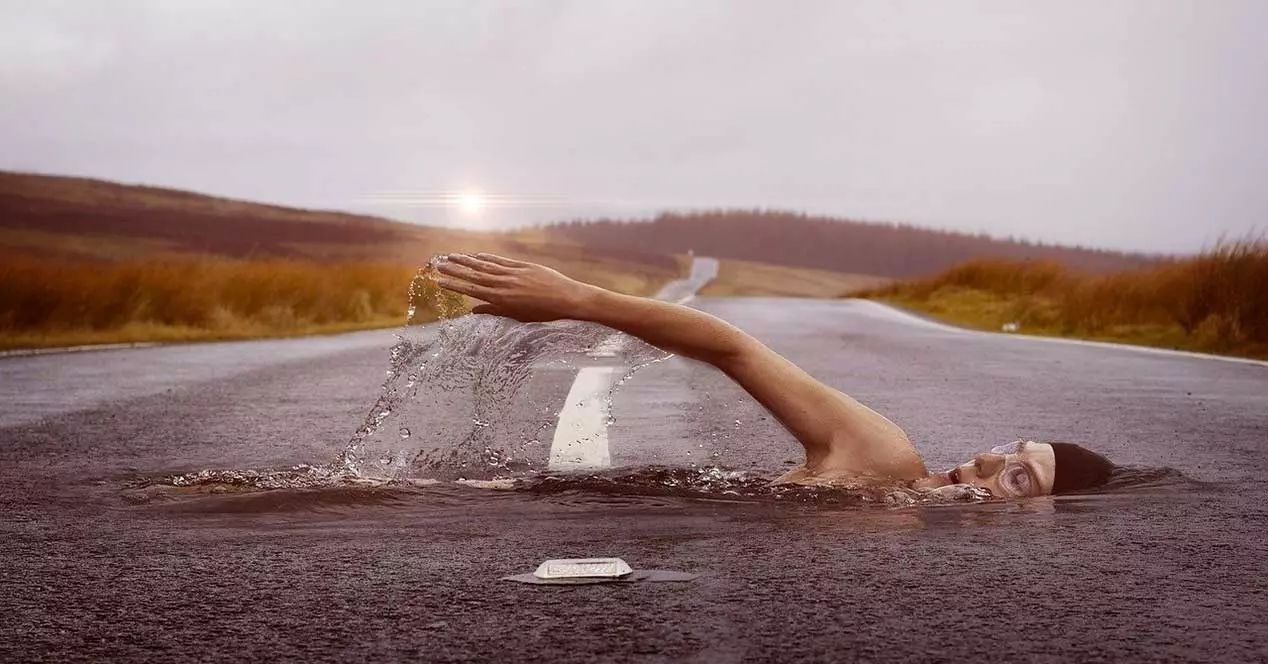 What is photo montage
We can define photomontage as a photo manipulation technique. Through it we will be able to create composite images from different parts of individual images, with the aim of creating more attractive and artistic images or with special effects. We are talking about a procedure that is characterized by being very technical and requires having a certain level of experience to obtain good results. Unlike a collage, when we want to make a photomontage, what we are looking for is that the final image is so real that the different parts that compose it cannot be clearly differentiated.
However, by using photo montage software, we will be able to simplify the entire creation process. Products such as logos, animations, cards or banners are products made by photo montage. In the past, this effect was achieved by cutting and pasting pieces of photos. With the arrival of the era of digital photos and with the help of the appropriate software, it is possible to make photomontages easily from our computer.
Programs to make photomontages
Next, we are going to see different programs that we can install on our Windows computer and that will be of great help to us to be able to make our own photomontages.
inPixio Photo Studio Pro, with AI techniques for natural photomontages
We are talking about a photo editing program which incorporates photo montage and cropping tools . The software makes use of an advanced artificial intelligence technique to be able to easily add or remove objects to our photographs in a quite realistic way. It has more than a hundred stickers and text models to make our photographic montages. We can from removing people to adding objects to photos by just copying and pasting an element from one photo to another. It also includes several functions that are responsible for automating image adjustments so that the elements that we include can fit perfectly with the environment and thus achieve very realistic results. In addition, it allows us to incorporate our own cut out objects or people, cutting them out of our photos.
inPixio Photo Studio Pro has a sale price of 79.99 euros per year and allows us to download a trial version from this link to its main website .
Adobe Photoshop, the most popular and with the most tools to create montages
We are without a doubt the most popular image and graphic design software in the world. It has advanced functions that go far beyond cropping, eliminating objects or cropping, as it also has the possibility of combining photos obtaining great results. Photomontages with Photoshop are created by adding each new image to the collage as a separate layer, so that we can manipulate each photo individually. So we can change the size, rotate, position and organize the order of each of the layers to obtain a montage to our liking.
In order to use Photoshop without any restrictions, we will have to pay a single subscription that has a price of 24.19 euros per month. If we have not purchased the program yet, from Adobe's Creative Cloud we can download a free trial version .
This professional photo editing program will allow us to create very realistic photomontages even if we do not have much experience with the image editing process. We will have many easy-to-use functions so that we can make our own assemblies quickly and easily. The program is divided into three tool blocks, Photo Editor, Photo Eraser and Photo Cutter . With the latter we can cut an object from a photo and leave the background transparent so that later we can change the background or make the photomontage by embedding it in another image. In addition, the program has a template background to be able to create our photomontage or we can also use our own background.
Wondershare Fotophire is priced at $ 49.99 per year or $ 79.99 if we opt for the unlimited license. We can also download a free trial version from the developers' website .
Xara Photo & Graphic Designer, to work on professional graphic design and photomontages
It is a software specially developed to carry out graphic and photographic design work on a Windows PC. It has all kinds of comprehensive graphic design tools , so it is not just a photo montage program. It has very dynamic characteristics, through which we can optimize, facilitate and accelerate the creation of our assemblies. Some of its most useful tools are background erasing, photo grid, resizing, filters, etc. Thanks to them we can delete, add and edit our photos to get our montages done.
Xara Photo & Graphic Designer has a fixed sale price of 39.99 euros, making it a cheaper option compared to its competition. It also allows us todownload a trial version before making the purchase.
Movavi Picverse, create your own montages with ease
We are now talking about one of the most used programs both for editing photos and for creating photo montages with ease. With this application we can remove or change the background of a photo, removing it to replace it with another and achieve striking results. It includes a feature that allows us to transfer parts of an image from one photo to another, combining everything to make the photo look like a natural shot without modifications. It is also possible to add effects to eliminate imperfections and retouch the composite image to give our photomontage a more natural look.
Movavi Picverse has several price plans that start at 37.95 euros per year. It also allows us to download a free trial version from this link to its home page .
Online web applications to create montages
If we do not want to have to download any software to our computer to be able to make our photomontages, we can also use some web applications that will allow us to carry out the work directly from our browser. Although they are not as complete as desktop software, they can be easier to use.
Fotor, create your montages in four steps
It is a web application specially conceived for both novice and professional users with which to make photo montage creations. Being based on the cloud, it is possible to access it from practically any device, allowing us to create montages from a series of photos and a combination of creativity and technology. It has a wide collection of backgrounds, filters and preset settings that we can customize adapting them to our tastes and desires. Its characteristics include the creation of the montage in 4 steps , the possibility of eliminating the background and making photographic retouching effects, among others.
Fotor has a free version that we can use just by accessing its website . If we want to get the most out of it, we must use Fotor Pro, which we can buy for 33.99 euros per year.
Fotojet, photo montage software in the cloud
It is a photographic montage software that we can use from any platform and that has the most important tools for creating our photomontages from a set of individual images. It can be used by inexperienced users as it has a large number of custom templates (more than 800) from which to start our ideas. Once chosen it will only be necessary to remove parts, add others and remodel. It also features classic grid layouts, photo effects app, photo frames, overlays, photo merge, etc.
Fotojet has a free version with limited functions that we can access by simply registering on its website . If we want to get the complete package, we must choose Fotojet Plus which is priced at $ 39.99 per year with a 7-day free trial period.
PicMonkey, one of the most complete web applications
We are facing one of the most complete web applications with which to edit photos and make photomontages . With it we will be able to superimpose several photos, change their size and apply filters. You can adjust different parameters in the photos to achieve a better finish, as well as apply effects or clean the skin to obtain a perfect image. It also has a preview option, and check at all times how the assembly work is progressing, as well as the possibility of uploading images from cloud storage systems or directly from our computer.
To start using PicMonkey, just click on this link to its main website , from where we can try it for free. If we want to take advantage of all its functions, it will be necessary to pay a subscription.
Online Image Editor, ideal for overlaying images
We are talking about a free web application that will allow us to superimpose several images easily and quickly. We will not find image limits, so we will be able to play with several at the same time , change the size, rotate the images or put one on top of the other. It is capable of working with all formats such as PNG, JPG / JPEG, BMP or animated GIF. In addition, we can add text, include shadow to the image, draw shapes, etc. Its biggest drawback is that if we have superimposed several images, it only lets us do the last action, so it will not be possible to delete previously superimposed images.
Using Online Image Editor is free, so you just have to access the developer's own website .
IMGonline, one of the easiest options to handle
Another site similar to the ones seen so far, pes will not allow some montage of images superimposing one on the other. It also has the possibility of adding certain effects or adjustments , such as displaying them in tabs mode, choosing between the different positions for the second image, changing its transparency and even the quality of the image that we are going to obtain. Its main disadvantage is that it only allows you to change with two images at the same time and it does not allow us to change their size either. Despite this, it is a recommended site for being one of the easiest to handle.
If we want to make montages with IMGonline, just click on this link to the developers' website .
Phixr, add all images at once
It is a free website that has a more than interesting online tool with which to combine and suppose our images. It can be quite similar to another web previously seen as Online Image Editor, although it has the advantage of loading all the images that we need to assemble in our collage at one time. This means that we can carry out the work more comfortably and quickly , although as a handicap, indicate that it does not allow us to undo our actions.
To use Phixr to make our assemblies, it is enough to access the developer's own website .
LunaPic, a well-known website for superimposing images
Another of the most popular websites that we can use to superimpose images online. Although the application allows several images to be superimposed, the truth is that we can only do it one at a time. Among its characteristics, it stands out for giving different ways of cutting images, customizing transparencies, rotating them, mixing images giving an effect of tabs, among others. It also allows us to drag the images to move them and modify their size. Although it can be said that it will only allow us to undo the last change, that is, change the superimposed image but not the previous ones.
LunaPic is a free website that we can access by clicking this link to its main website .
What programs to use to make photomontages
As we can see, we have a good number of applications with which we can make our photomontages with the best quality to obtain natural results. When deciding on one or the other, we must weigh whether we prefer a software installed on our computer or choose a web version for which we only need a browser. From there, first it is convenient to start with the respective trial versions to check how well we cope with it before paying to be able to use it permanently. Of the desktop software, Adobe Photoshop is an application that does not disappoint if we have certain knowledge, being more complete than any other option. For beginners, possibly Wondershare Fotophire could be the option to consider.