Surely on more than one occasion you have encountered the problem of needing to digitize handwritten notes or texts to edit them on the PC. The same happens when we find certain texts that we want to edit, but they are in image format , so we will have to use the OCR.
Well, for all this we can use certain applications specially dedicated to help us in these tasks. They are known as OCR applications or optical character recognition. Actually, these are programs that are responsible for analyzing the text we have written by hand or that is within the images or PDF, and convert it into editable text.
There are simpler and more complex, everything will depend on the additional functions that integrate. Keep in mind that many times they are not 100% effective, so make some interpretation errors. That is why we can find some of these proposals that even put at our disposal a spell checker. That is why we are going to show you some of these solutions that will surely be of great help.
Free OCR applications for optical character recognition
This is the case of Simple OCR , such a free proposal that you can use on your desktop computer. It is one of the best-known solutions of this type and that takes a good amount of years among us. The program uses its own function that tries to make the best character recognition, even if the writing is somewhat faulty.
To say that the program recognizes about 120,000 words, a figure that we can increase ourselves by adding new ones. It is also characterized by being a quick tool in the process and can even deal with batch documents, which will save us time. Something similar is found with Online OCR , although in this case it is a web application that we use from the browser.
Here, the first thing we do after uploading the PDF or the image with the text, is to choose the language with which we are going to work. There are many supported by this program, so there will be no problem. In addition, the process is carried out in a few seconds with a very good success rate in the characters. We should also know that this web application can be used without registering and paying nothing, although it is also true that we have other more effective solutions available in this regard.
So, you can get editable text from photos or PDF in a few seconds
Following the line of applications of this type that we can use from the browser, we also find SodaPDF . This is an OCR software that is responsible for extracting text from any file in PDF format and making it editable. To do this, all we have to do is drag the corresponding file to the program interface to start the conversion process, something that only takes a few seconds.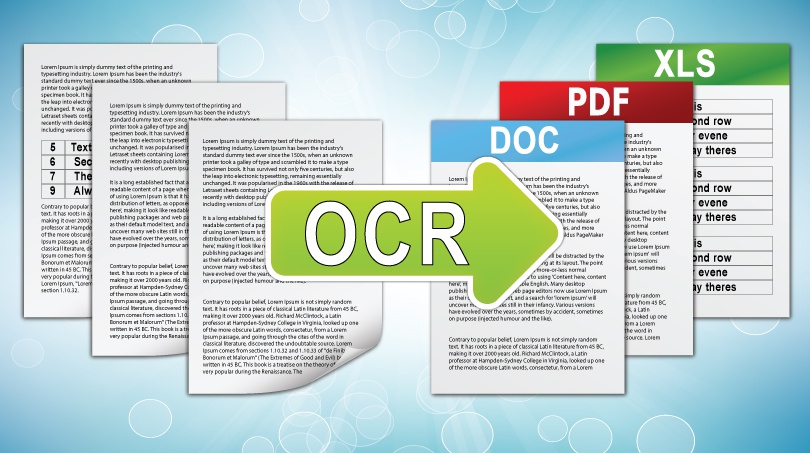 Another of the free proposals that we are going to talk about in these lines, is FreeOCR , a software for Windows that hardly consumes resources. It has been designed so that we can identify the texts contained in images and files in PDF format, and it is characterized by the speed of the process. Of course, the internal technology that it uses presents many errors when it comes to recognizing handwriting, so it better recognizes the characters of a machine. However, this represents a good proposal if we need a program at zero cost to recognize the texts of any photo or PDF and make it editable.
We can also opt for the option proposed by Convertio , another OCR platform for optical character recognition. Here we will only have to select the files to be treated from the hard disk or some cloud storage service. Once we have added it, we can already select the language of the text, or the pages to be treated. In the same way we can select the output format from the many that supports this particular application.
The software giants also propose their own OCR solutions
There are some of the current major firms dedicated to software that also want to help us with these issues. Serve as an example of all this, Google, which has some tools that can convert handwriting to text. To do this we can use Google Docs using a very simple and efficient method.
For this, we will only have to select, for example, a PDF file that contains text that is not editable in principle. Thus, in the "Open" menu we select the "Upload" option so that we can choose the PDF to recognize. Once we have selected it, a preview of it appears on the screen, so we have more to indicate that we want to open it in Google Docs. From that moment we will have all the PDF text on the screen as if it were a normal document that we typed, so easy.
And finally, we will talk about another of the most important firms such as Microsoft, which also proposes its own solution for character recognition. Specifically, this is something that we can carry out from its platform for taking notes, OneNote. This is a signature tool that has its own OCR function, in addition to very simple use, as we are going to check now. As you know, this is a tool that focuses on the creation of personal notes in which we can integrate all kinds of elements.
Well, to make use of the OCR function, what we have to do in this case is to add the image with which we want to treat one of these notes. We do this from the "Insert" menu of the program to add the photograph in question. Thus, once we have it uploaded to the platform, we only have to click with the right mouse button on it and select the option of "Copy text from the image". Then the program itself will be responsible for extracting that content text so that we can edit it.