Even if you don't know, every time you open Google Chrome and start visiting web pages, the browser collects all kinds of information about you. Among those data we find, for example, your IP address, from where you access the Internet, the operating system of your computer (Windows, macOS, Linux, etc.) and even the type of hardware you are using.
---
---
While this data may seem trivial at first, it is not to anyone's taste to spy on each of our steps. That is why it is always advisable to connect to the Internet through a VPN.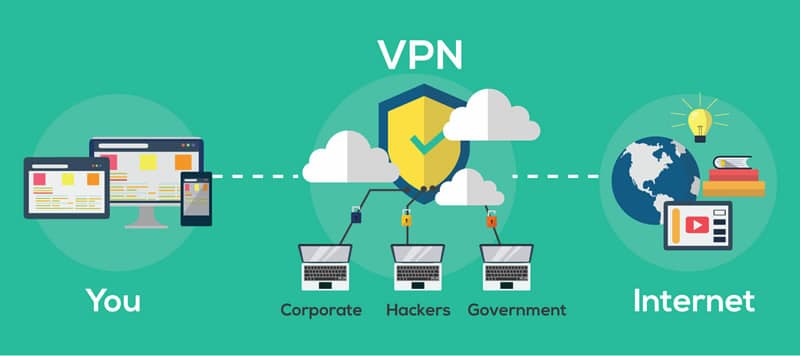 One of the most comfortable ways to use a VPN from the Google Chrome browser is through its extensions. These can be added comfortably from the Chrome Web Store and also have the security of having been inspected by a team of experts. However, there are hundreds of VPN extensions in their catalog and not all of them offer the same performance or are often updated. Which one should we choose then?
To facilitate this work, in today's article we have selected the ones we consider the best VPN extensions for Google Chrome of this 2019. All of them will encrypt your browsing data and allow you to surf the Internet completely anonymously. We hope they help you.
The Best VPN Extensions for Google Chrome
One of the best VPN extensions you can install in Google Chrome is without a doubt ExpressVPN. Although this is not free, it offers a 30-day trial period in which you can use it free of charge and thus know if you should pay for this service.
To use ExpressVPN you will need to have both the Chrome extension installed and its desktop application . This is largely due to the fact that it is a very complete and high security VPN, so you will never have to worry about your data being collected by third parties.
ExpressVPN offers all the tools you could want for a good VPN. It keeps your data always encrypted, has more than 2000 servers spread around the world and offers unlimited bandwidth. This is especially interesting if for example you want to use the VPN to access blocked streaming services in your country. Among them we find, for example, Amazon Prime Video, BBC iPlayer, Crunchyroll, DAZN, HBO, Hulu, Netflix, Showtime or Sling TV. In addition, you can also download P2P files without worries.
In short, ExpressVPN is one of the most complete options and if you are looking for a good VPN for Google Chrome.
---
NordVPN is another complete option if you are looking for a VPN service for Google Chrome. In a similar way to Express VPN, it is not completely free although it also offers a 30-day trial period in which to use it and know if you want to hire its services.
Like any good VPN, NordVPN is able to mask your IP, provide you with high-speed browsing and keep all your activity over the Internet completely anonymously. But not everything ends here; What really makes NordVPN an excellent extension is that it hardly takes up space on your hard drive and does not slow down the operation of your browser. To all this we also have to add that this VPN is able to block any attempt to introduce malware on your computer as well as any pop-up ads.
Starting to use NordVPN is really simple. Simply add the extension to Chrome, create an account with the service and sign in. Your VPN will be ready to protect your data!
---
If you are looking for a VPN extension for Chrome that offers a free service indefinitely, we recommend that you take a look at ZenMate VPN. This extension works really well, it is very powerful and you will have the peace of mind of using a secure service without having to pay a single cent.
The free and basic version of ZenMate VPN offers secure browsing and good connection speed. If you have several computers you will be happy to know that each account allows you to connect up to 5 devices at once. In addition to all this, this extension is capable of encrypting all your data and protecting your computer from hacker attacks via WebRTC and NATFirewall.
As we have already mentioned, ZenMate VPN is a completely free extension in its basic plan. However, developers offer 7 free days of its Premium version for you to try all its features. Once this time has elapsed, you will automatically return to the free version.
---
DotVPN is another good option if you are looking for a VPN extension for Chrome that is completely free. It offers good speed, unlimited bandwidth and 10 VPN servers located in countries such as Japan, the US, Canada or the United Kingdom.
One of the strengths of DotVPN is that it offers a really secure connection. In fact, it offers a 4096-bit encryption system … more than double that offered by any secure bank page! In addition to all this, the extension can be integrated with Tor (The Onion Router) to add an extra layer of anonymity and incorporates a powerful firewall that prevents any suspicious connection with your device.
As we have already mentioned, DotVPN is an extension that can be used completely free of charge although if you wish, you can also use its premium version.
---
TunnelBear VPN is one of the most downloaded free VPN extensions from the Chrome Web Store. In fact, millions of users use it daily and applaud its exceptional service.
TunnelBear promises to protect both your privacy and that of all your data, allowing you to use even a public Wi-Fi network without fear that someone can access your computer. Like any good VPN extension, from TunnelBear you can connect to servers from more than 22 different countries, thus being able to access blocked pages and services in your geographic location.
An interesting option of TunnelBear is that to ensure that you always have a fast connection speed, the program offers an option called "Closest tunnel". This will search for the best server you can connect to offer you optimal speed.
---
Hide.Me is with TunnelBear one of the best known and most used free VPN extensions in the Chrome Web Store. Although it also has a premium payment option, the free one complies with everything necessary to be able to surf the Internet peacefully.
One of the main reasons we believe Hide.Me should be on any list of free VPNs for Chrome is that it doesn't sell your data to third parties. And is that many free extensions are precisely supported through this. In fact, none of your personal data is saved by the company.
Another strong point of Hide.Me is that despite being free, the extension is not going to bother you with ads or overwhelming pop-ups, so you will always enjoy an optimal browsing experience. If you are interested in learning more about Hide.Me, you can visit its official website in the Chrome Web Store by clicking here .
---
Hotspot Shield is a completely free VPN extension that stands out for its reliability and high data protection. With it you can be sure at all times that all sensitive information such as bank details or credit cards will not fall into bad hands.
The great feature of Hotspot Shield is that this extension uses its own proprietary security protocol called Catapult Hydra. It compresses all the data, encrypts them at the AES military level (256 bits) and optimizes the connection to the server of your choice. This makes any connection from Hotspot Shield not only secure, but really fast.
The only negative point of Hotspot Shield is that its free version has a daily data limit (500 MB). If you want these to be unlimited you will need to create a Premium account with the service.
---
To finish our list of the best VPN extensions for Chrome we want to recommend Windscribe. This useful extension offers both a free and a paid mode and the only difference between the two is that if you use the free version you will have a data limit of 10 GB per month.
Windscribe offers an excellent navigation and data protection service. This ensures that all your Internet sessions will be conducted anonymously in addition to not saving any data on the company's servers. In addition to all this, the extension offers an antimalware and antiadware service called ROBERT capable of intercepting any malicious attempt to enter your computer.
With Windscribe you can both navigate anonymously and access services subject to geographical restrictions, all with the security of being protected against hacker attacks.
What is a VPN?
A VPN (Virtual Private Network) is, as the name implies, a virtual private network capable of encrypting all your data and thus offering you an anonymous browsing. This is achieved by creating a connection that will go from your Internet provider to the VPN server and from it, to the website you want to visit.
What advantages does a VPN offer?
As we have already told you, one of the main advantages of using a VPN when connecting to the Internet is that it is able to encrypt and hide all our data. In this way our real IP will remain hidden and our searches will not be able to be tracked by third-party services. This adds an extra layer of security so necessary to all our searches.
Another great advantage of a VPN is that it is able to create local and secure networks virtually. This allows companies to have employees working outside the office or freelancers hired around the world always safely.
However, one of the main functions for which VPNs are so fashionable today is due to their ability to avoid censorship and geographic content blocking. For example, these allow you to have access to blocked pages in your country or to movies and series of services such as Netflix that you cannot access. This is basically achieved by masking your geographic location by selecting a VPN server that is in the country you want.
We hope this list of VPN extensions for Chrome has helped you. Have you tried any of them or are you missing a name on this list? Share your opinions in the comments section!
---
---