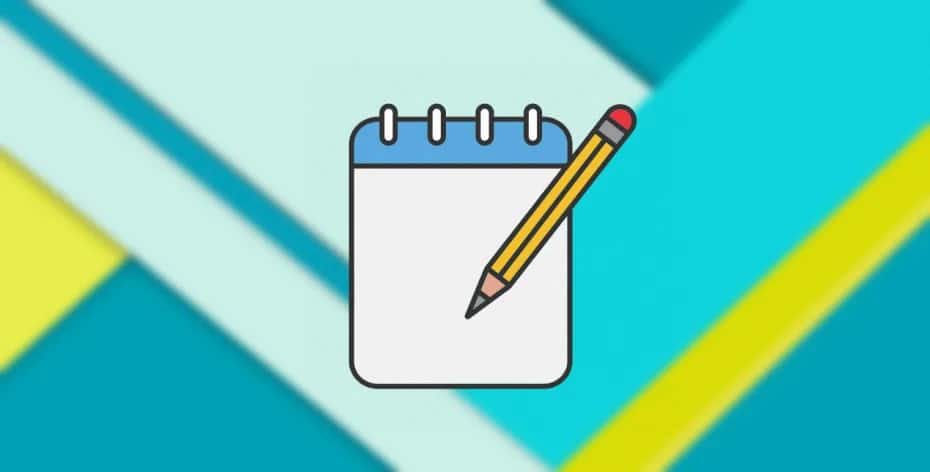 We have more and more problems to remember the large number of things we have to do during the day, and it is not surprising, because we live in the information age and over time we are handling larger amounts of data than our Mrs. head, not being a machine, you can forget to process. To solve this problem , note applications arise, which allow us to write down information quickly and have it accessible so that we don't forget a single task that we have to do.
There is a huge amount of note apps , since these types of applications are relatively simple to make, but not all of them work well. That is why I leave you a list with the best of them so you can choose the one that best suits your needs.
List of the Best Android Apps to Take Notes 2019-2020
Google Keep
Google Keep is the first application on our list. It has the great advantage that being Google, we have access to the notes we make on any device that we have synchronized with our Google account . You have many options , including changing the color of the notes, adding reminders , collaborators so they can write and see any notes or lists in which you can cross out the tasks you have completed.
Evernote
Evernote, is one of the most complete notes apps, since it has hundreds of options and multiple features. With Evernote you can differentiate your notes in different notebooks, search handwritten texts, save voice memos, capture web articles, and even scan documents .
OneNote
OneNote is the official Microsoft notes application, so if you use the Microsoft Office suite, this will be the best choice . It works well in applications such as Word, Excel and PowerPoint as it completely blends in with them, and you can type notes by typewriter or with a touch pen in case you have a compatible device. Without doubt one of the best, focused on productivity .
SQUID – Take notes and mark PDFs
SQUID is less known, but it can be very useful when working with text and images. Another feature is that it allows you to use digital signatures and perhaps the highlight of this app: you can mark and export PDFs.
Simple Notes Pro – Create notes easily
Simple Notes Pro has two main features: its ease of use and the speed with which notes can be taken. In addition, we can change the color of both the background and the text, and then place it as a widget on the desktop of our Android.
Color Note: Notepad
ColorNote is probably the simplest application to take notes on this list. That does not mean that it is bad, since in many cases, less is more. Like the previous app, it allows us to create notes quickly and easily, without menus loaded with messy options that the only thing they do in many cases is to complicate something that should be very simple. You can change the color of the text and notes, and use them as widgets .
FiiNote: Quick Notes
FiiNote is a simple app to use but at the same time very complete in terms of options and features. This app allows us to combine handwriting and keyboard, take notes , video, voice, drawings … You can organize books, labels, bookmarks, calendar. The File and Trash functions are also available, in addition to an alarm .
FairNote – Encrypted Notes & Lists
FairNote is a notes app focused mainly on security . With it we have multiple writing and personalization options, but where it really stands out is maintaining the privacy of our data. It keeps our notes under encryption, and if we have a device that supports fingerprint , we can use this type of biometric security so that only we have access.
ClevNote – Checklist
ClevNote is an app that allows us to have very strict control over the organization of our notes. From it we can highlight the diverse number of lists in which to organize the notes we write. You can also synchronize with Google Drive to always have that information available and on any device.
Material Notes: Colorful notes
MaterialNotes is another quite simple notes app, which stands out for its colorful and beautiful design based on material design . It allows you to block your notes by pin, create widgets, synchronize your notes with multiple devices and change the sources to put everything to your liking.