The App Store is full of applications that can be really useful and can affect people's health. An example of this are all the apps to keep track of food, providing nutritional information on practically all foods. In the same way that you can keep track of what you eat, you can also do it with the amount of water you drink, a fundamental parameter to enjoy good health. In this post you have a compilation of applications that will help you do this.
Importance of keeping track of how much water is drunk
Drinking water throughout the day is really important, after all, the human body is largely water, so getting enough water is vital to maintaining good health. However, many people are unaware of the amount of water they drink during the day, so they cannot establish whether they are actually drinking the minimum amount that experts recommend. In this way, the use of one of the applications that we talk about in this post will help you to know much better how much water you drink and thus be able to increase your intake if you do not reach the minimum recommended to enjoy good health.
Apps to establish water drinking routines
Aqua Reminder – Drink water
This application will help you calculate how much water your body needs as it will track your hydration and remind you that you have to drink water in order to achieve the previously set goal. These two functions are perhaps the most important and outstanding of this application, the management of notifications when it considers that you have not drunk water for too long, or at least, without registering it, and second, the establishment of an initial goal for each day will make those notifications happen throughout the day. In addition, you will also have available a monitoring of your history to know what your water consumption has been throughout the day, week or even month.
Drink water – Water reminder
In case you are too busy during your day not to remember that you have to stay hydrated, this app will do the job of reminding you from time to time that you have to reach for the water bottle to reach that water intake goal that you have marked for each day. This application has a really attractive interface, in addition depending on your weight it will also provide you with information about the recommended amount of water that you have to drink throughout the day, but beware, you will not only be able to record the intake of water, also from 20 other drinks that, obviously, contribute to the hydration of your body.
Drink Water Water Reminder
Drink Water is in the top 5 health and fitness apps in 14 different countries. With it you can calculate how much water you have to drink at the end of the day based on your weight, in this way you will establish a series of notifications that the app will send you to remind you that you have to drink water to stay hydrated, a fundamental point to have a good Health. It also has integration with Apple's own Health app.
Aqua Alarm: Drink Water Daily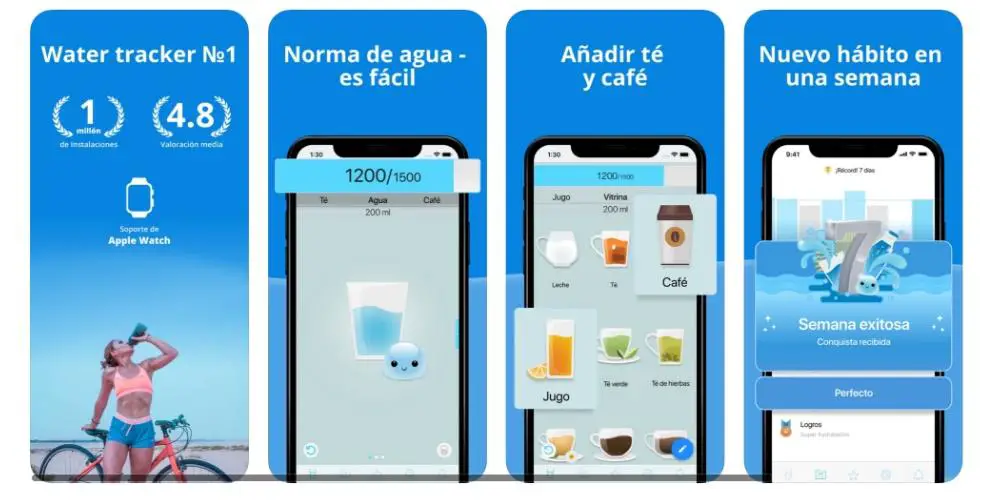 It is a simple reminder so that you can be drinking water on a regular basis throughout your day. This app will help you regain a habit as healthy as drinking an adequate amount of water every day to enjoy good health, good metabolism and good water balance. In addition, it is a good method to combat stress, fatigue, lose weight and avoid headaches.
WaterMinder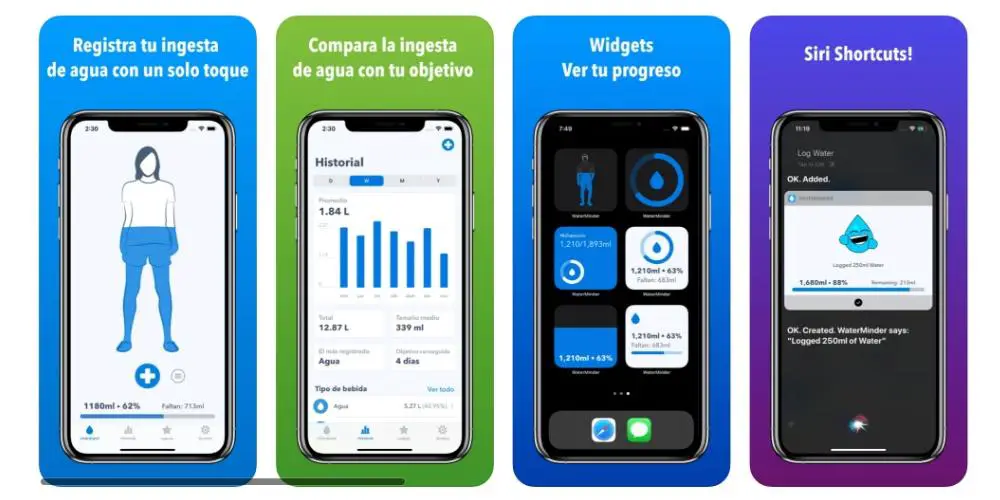 WaterMinder is used by more than 2 million people around the world to enjoy a good daily intake of water that promotes a healthy state. It is a very easy and intuitive app to track water consumption. Based on your body weight, WaterMinder will remind you to drink water to reach your daily goal. It also has a dark mode and even a widget that you can have on your screen to know your hydration status much faster.
My water drink reminders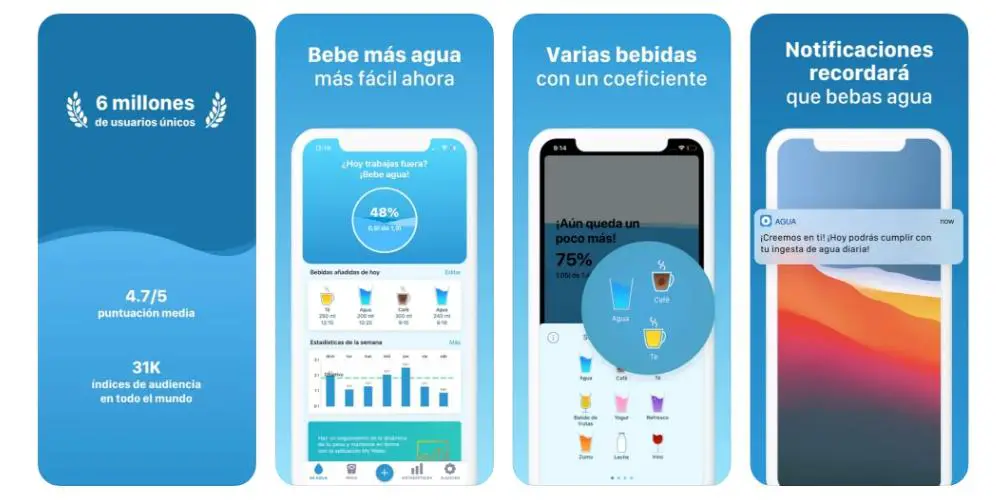 This application will calculate for you the amount of water you have to drink each day to send you reminders and help you in this way to be able to ingest the sufficient amount of water that your body needs for good health. In addition, you can also view your statistics with very attractive and easy-to-understand graphs. It is compatible with Apple Watch and syncs with the Apple Health app.
Aqualert: Drink Water Remember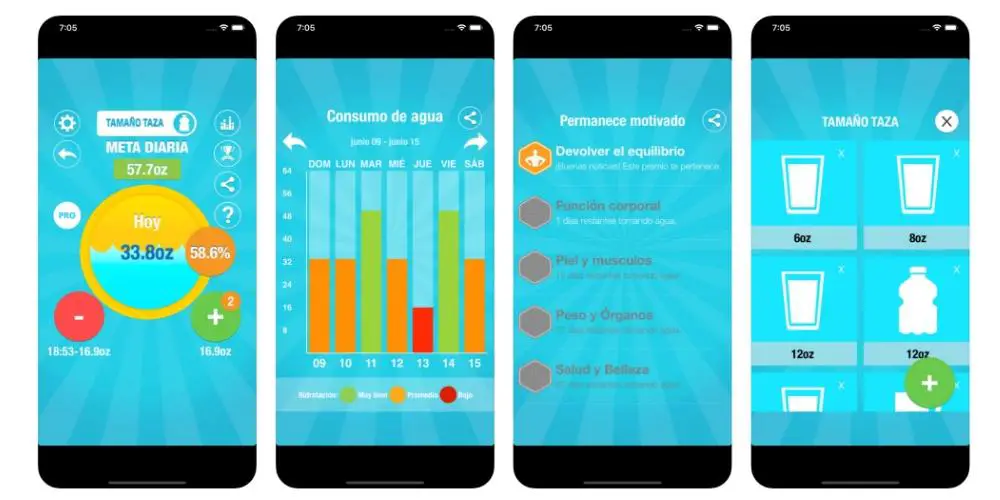 This application is very simple and easy to use so it is suitable for users of any age. It will calculate the amount of water you have to drink taking into account your gender, weight and the level of activity you do. In this way, it will send you notifications and reminders to warn you that you have to drink water, which will increase, with total security, the total amount of water that you get to drink at the end of the day. Don't worry about receiving notifications during the night, as this app also has a sleep mode that will disable notifications until you wake up.
Plant nanny
This application will provide you with a personalized plan using simple graphics and interfaces so that you can have a solid idea of your daily water consumption, all while collecting plants, which will help you improve the health of the body and cultivate good habits to drink water. In Plan Nanny you can customize the way you manage your water consumption goals and it has graphics and simple interfaces to obtain all the necessary information at a first glance.
MyFitnessPal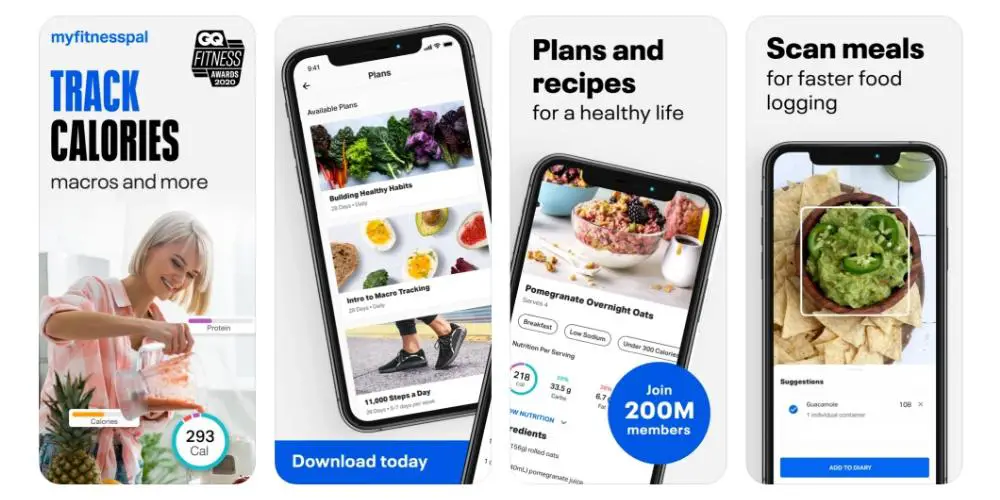 MyFitnessPal allows you to keep track of the amount of water you drink throughout the day, but not only that, because here you can also keep track of all your diet, so if you are looking for an app where you can record all the information related to your different intakes throughout the day, be it food or drink, this is one of the best options you can find in the App Store.
Intermittent Fasting Tracking
The consumption of water is very important for health, but it is even more so during the periods of intermittent fasting that you may carry out, since the mineralization in these periods of time in which you do not eat any food is key for your body reap the great benefits of intermittent fasting. With this application you will not only be able to keep track of the fasting hours you have, but also the amount of water you are drinking throughout the day. It also has a nice widget through which you can record your different water intakes.