The WhatsApp stickers are an excellent way to communicate a mood or a funny picture liven up any of our chats. There are all kinds: varied themes, animals, familiar characters, seasonal, etc ... but surely more than once you wanted to find a specific one and you have not done so. Why don't you create it yourself?
At first, creating stickers for WhatsApp may seem like a complicated task or beyond our reach, but in reality, it is very simple. In fact, there are a variety of apps with which in the blink of an eye you will have that exclusive sticker with which to surprise your friends. Do you want to know what are the apps to create your own WhatsApp stickers that we like the most? Keep reading!

Sticker Maker
Sticker Maker is the application par excellence when creating custom stickers for WhatsApp. Using the app is something as simple as clicking on the button to create a new sticker package, give it a name and select the photos we want.
Sticker Maker allows you to create sticker packages of up to 30 stickers with your images. Once you have selected them you will simply have to trim their edge using your finger and add them to WhatsApp.
Sticker Studio
In a similar way to Sticker Maker, Sticker Studio is a completely free application from which you will be able to create your own stickers for WhatsApp.
Sticker Studio is a really simple tool to use that allows you to create packages of up to 30 stickers. To start designing your creations, simply press the "+" button, select your favorite photographs and surprise your friends. All this without spending a penny!
Personal Stickers
Personal Stickers is another free tool, easy to use and also provides excellent results. Personal Stickers works using images in PNG format that you have on your mobile. You also have the option of using your search engine to find them on the Internet and import them directly to your WhatsApp.
Personal Stickers is a simple app to use and very useful if you are used to working with images in PNG format. Unlike the other two applications that we suggest, Personal Stickers is really useful if we want to download images directly from the Internet without having to search and save them previously to our smartphone.
Custom Sticker Maker
If you want a simple app to use and just take your pictures and create stickers, that's the Custom Sticker Maker. This one will not need or remove the background of your image; just select it and you already have your sticker on WhatsApp!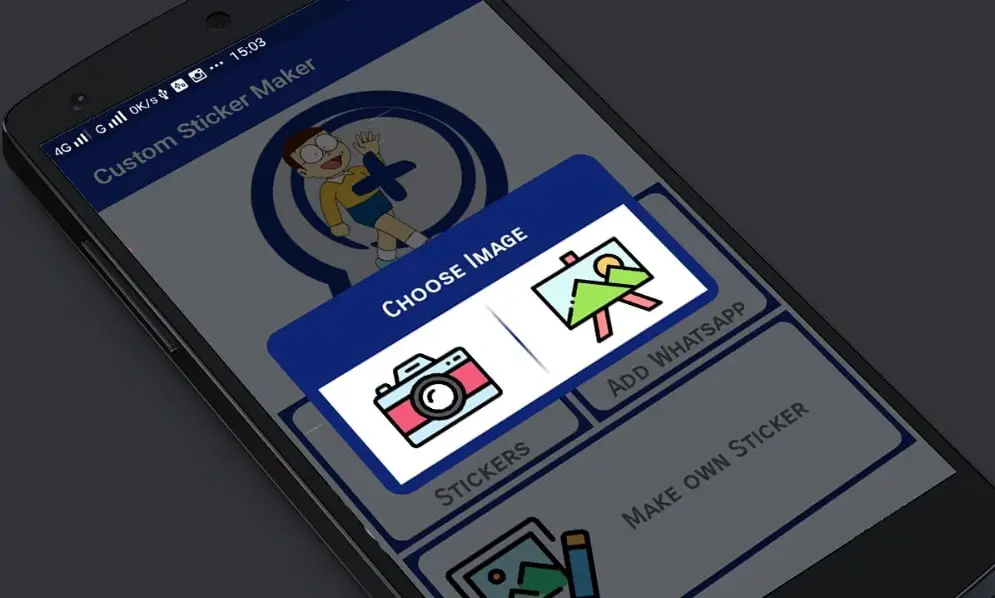 In the same way as the rest of the programs on this list, you should have at least three stickers made to create the package and import it into WhatsApp. To do this just add your photos and have fun surprising your friends in the chats.
WhatStickers.in
This app allows both downloading ready - made stickers as create your own with its powerful editor. It is completely free.
To create your own stickers with WhatStickers.in simply click on the button to create a new sticker package and select the photos you want to turn into stickers.
Once in the editor you can crop the photo to your liking or use some of the default clippings. There are heart-shaped, star, etc. After making three stickers you will have the option of importing them to WhatsApp within the same package.
Stickfy
This app is perfect for everyone looking to create their own stickers without having to deal with complications. Simply download stickers from the Internet or use your own photos and start using them on WhatsApp.
Stickfy has a fairly simple photo editing system, in fact, you will not be able to crop your photo by hand or remove the background of it. To compensate, the application incorporates a large number of pre-defined ways with which you will be able to crop your image. Although it is not the most versatile application, it is very simple to use and perfect for creating stickers in a few seconds.
Mojipop
Mojipop is an application absolutely different from any of the ones we have shown you so far. This one is not going to create stickers through photos on your reel, but it will turn you into a cartoon through a selfie.
To create your sticker, simply take a selfie and the application will create an avatar for your image and similarity. Once you customize it and adjust it to your liking, the same app will create hundreds of stickers with different expressions, situations and themes, all of them using your avatar.
A strong point of this app is that not only will it help you to make stickers for WhatsApp, but you can also use them on Facebook. Useful don't you think?
Do you know any other app to create stickers? Share it in the comments section!