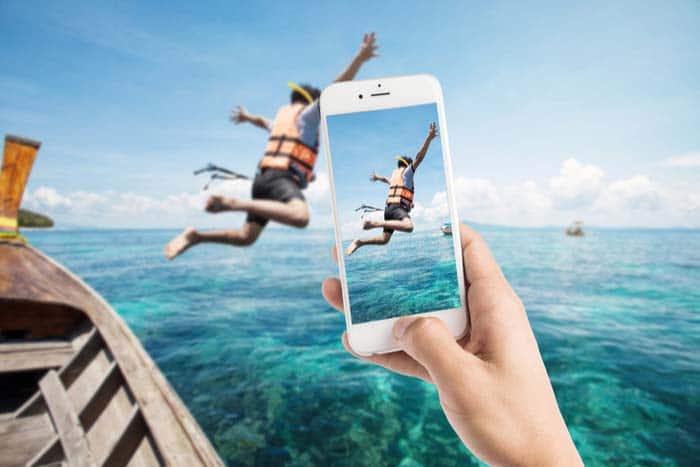 Instagram is, along with Facebook and Twitter , one of the most used social networks around the world. This has been among us for many years and has managed to dazzle its users thanks to the simple approach of sharing important moments of our day to day through photographs.
As a good Instagram user, you will know that a key factor when it comes to getting new followers and content your followers is to update your account with increasingly impressive images. The best way to achieve this is by editing your photographs like a true professional but … do you know how to do it?
In today's article we will share with you what we consider the best applications to edit and publish amazing photos on Instagram.
The best Instagram photo editing apps for photographers
Our first suggestion is Snapseed, the application to edit images from your mobile created by Google itself. This is not only fast, powerful and very simple to use but also stands out for its good results.
Snapseed has a good selection of predefined filters with which to give that special touch to any image. To start using them simply download the app and open any of the photos you want to publish on the social network. Once this is done you can choose between any of the effects already created or if you prefer, create your own.
In addition to having a superb collection of filters, Snapseed allows you to perform all the basic tasks of any photo editor from the comfort of your mobile. So, thanks to this app you can touch up the brightness and saturation of each image as well as its contrast and highlights.
Snapseed is a complete application, free and very easy to use. And best of all, you will always have the security and confidence of using a Google product. Do you dare to try it? With millions of users behind it, this application is unrivaled.
Install
---
---
VSCO is much more than an excellent application to edit photos and videos. We are facing a social network of creative minds where you can share your images and be inspired by the rest of its users.
Thanks to VSCO you can open, edit and improve any image stored on your mobile as well as share and inspire other users of the application. In this way it becomes a perfect complement to all those Instagrammers who cannot resist sharing their images in other media.
VSCO offers a huge catalog of effects and filters that you can add to your photographs, from recreating the retro aspects of Kodak, Fuji or Agfa cameras to the most modern touch-ups. In addition to all this is accompanied by all kinds of basic tools to improve the contrast, saturation and grain of all your images.
If you are interested in trying it, you'll be happy to know that VSCO has a free and paid version. With the free version you can edit your images with up to 10 presets of the app and with access to its basic tools. The paid version will give you access to your entire library of filters and will allow you to add up to 200 presets to your photographs.
Both the free and paid version of VSCO are worth it, but if you are interested in knowing the full potential of the app, we recommend that you take your free 7-day trial version.
Install
---
---
MOLDIV is a photo editor for your mobile designed to get the most out of social networks such as Instagram. This one stands out for being really simple to use but not less effective, offering results that will leave all your followers speechless.
The main attraction of MOLDIV is, as we have told you, the ease with which you can use this app. You just need to download the application, take the snapshot you like best, apply a filter and you will be completely ready to succeed on the web. For this you will have at your disposal a total of 194 filters divided into different themes so that it is very easy to find them.
An interesting point of MOLDIV is that in addition to the filters that you can apply to your images you can also use camera filters. In this way you will find beauty filters to always have the best look, real-time blur filters and effects of all kinds to achieve the ideal image.
MOLDIV is a completely free app although it has a micropayment system with which to acquire new functions to improve your images. However, its free version is complete enough to satisfy the most demanding Instagrammer.
Install
---
---
Prisma was the winner in 2016 of the awards for the best app to edit photos from the Play Store and it is not surprising. This is capable of transforming any image, landscape or portrait into an authentic work of art.
Ideal as a companion of your adventures and moments of IG, Prisma is a light and very complete application to edit any type of photos. Its more than 300 filters ensure the freshness of any of your publications and if you find them few, the app adds a new one every day.
In a similar way to VSCO, Prisma is an application supported by a large community of creators and artists. This is really useful if for example one day you want to surprise your followers with a different image but you are not very inspired. Simply walk through the Prism wall and immerse yourself in the thousands of photos, filters and ideas that all its members share.
One of Prisma's strengths is precisely its artistic filters. These are especially attractive if you are an Instagram user who enjoys sharing landscapes, images from your window or you are a traveler influencer portraying everything your eyes see. Once the image is taken you can pass it through the Prisma filters and turn them into a true work of art.
Like any photo editing app worth its salt, Prisma not only provides a good library of filters and effects for your images, but also all the basic tools to correct any defect you detect once the image is taken. Do you dare to try it?
Install
---
---
Not all Instagram users spend the day hanging selfies or landscape images. Others prefer to focus on one of life's great pleasures: food.
Foodie is an application designed especially for all of us, offering all kinds of editing tools to improve the appearance of any food we want to portray.
With more than 30 professional filters designed to make each dish look even richer than the previous one, Foodie is one of the best apps to get the most out of your meals and make all your followers salivate.
As an interesting point, Foodie will not only allow you to upload your photo directly to Instagram but also to the rest of social networks. You can download it now for free and securely under these lines.
Install
---
---
Facetune is an application for selfie lovers who always want to be perfect in all their photographs. Have you had a bad night and have dark circles? Are your pores too marked in your last post? Facetune will solve all these problems in just a few seconds!
Using Facetune is really simple. Simply take your selfie, open the application and give it a face lift. Thanks to its tools to soften, smooth and erase any type of imperfection you will have your photo ready to be published in just a few seconds.
But not everything ends here, Facetune also has professional tools to perform tasks such as improving the structure of your facial oval, correcting a small defect in your nose and making your face shine like that of a Hollywood star. Once you try it you will not be able to live without it.
Finally, Facetune also incorporates a makeup tool to fall in love with all who see your photo in IG. Do you dare to try it? Downloading the app is completely free although in order to unlock all its functions you will need to pay a subscription.
Install
---
---
Surely on more than one occasion you have been dumbfounded admiring the vibrant colors of some of the Instagram photographs. It is likely that you even tried to emulate that same effect but without achieving it. For these types of situations, we have A Color Story, an application designed precisely to enhance the color of any Instagram photo.
Thanks to this application you will ensure that all the images in your publications have the perfect white intensity and that their colors shine like never before. For this you will have at your disposal more than 300 filters, 100 effects and 20 powerful tools.
In addition to being able to use the app's default filters, A Color Story also allows you to create your own. This not only generates a better user experience but also ensures that with a little skill, your images become unique compared to the rest.
A Color Story is a completely free application but if you want, you can access new filters and effects thanks to purchases within the same app.
Install
---
---
If you use Instagram or Instagram Stories to share black and white images, you will love Black and white cam. This app allows you to edit in just a few seconds any image inside the reel of your mobile and give it that retro and mysterious air that you want so much.
Black stands out for being an accurate application and that nothing has to envy the best photo editing tools. This works with an intuitive system of curves with which you will be able to improve the black balance of your photos until you achieve the desired effect.
To use Black simply load the image of the reel of your mobile and decide if you want to use any of the filters already predetermined or venture with its contrast curve.
Black is an excellent choice for lovers of black and white photos looking to surprise their Instagram followers. As the only downside, the application is only available in the App Store and iOS devices.
Install
---
---
As a good photographer, you will know that the game between light and shadow is essential to obtain good results. A beautiful photograph can be sublime just by adding a small light bulb. With this idea in mind, Afterlight is born, a comfortable app with which you can improve the light of any image without wasting hours and hours with Photoshop.
Afterlight offers a wide range of effects with which to enhance any image directly from your mobile device. Simply download the app, load the image of your reel and add that touch of light that you need so much.
Among the main functions of Afterlight are its more than 59 light filters and textures as well as customizable tools with which you can add touches of flash and color to all your photographs. Do you dare to try it?
Install
---
---
It may seem obvious but the Instagram app itself is a very good option to edit your images before uploading them to the social network.
As the years have passed, the Instagram application has greatly improved and has been adding all kinds of tools to create the perfect photo. It is only necessary to open the app, take the picture, use one of its many filters and add a good assortment of hashtags. Success is assured!
If you are an Instagram user but you have never given an opportunity to the editor of the application, we recommend that you take a look. You will not be disappointed.
Install
---
---
To finish our list of applications to edit and improve any image for IG we want to recommend Adobe Photoshop Express. Do not worry because it is not a portable version of very expensive Adobe editing software but a versatile free editor with which in just a few seconds you can have the perfect photo.
Adobe Photoshop Express has been designed precisely for all those mobile users who need to improve a photograph but do not have the time or the pocket to acquire Photoshop CC . We could say that it is a decaffeinated version of your desktop brother where you can only add filters and improve your selfies without spending hours and hours doing a manual edition.
With a simple interface and excellent results, Adobe Photoshop Express is a discovery among image editing applications. What are you waiting for to try it?
Install
We hope this article has helped you to find a good photo editor for Instagram. Do you use any that are not on this list? Share it with us in the comments section!