Taking selfies is an art, but getting the perfect photo is not easy. That's why we recommend the best apps so you can edit your selfies and get perfect results.
This is not about photo editing apps (although we will see a couple), we talk about apps that are designed entirely to edit your selfies. Although obviously they can also be used to edit other people's portraits, since it is intended for photos of people.
Photo Editor & Perfect Selfie
The first app on the list has a very generic name, Photo editor. But that does not mean that your options are basic. It will allow you to correct the smile, whiten your teeth, apply filters, add text and much more. A very complete option to get perfect or perfect in your self-portraits.
Sweet Selfie: Snap Camera&Photo Editor, Filter Cam
This app also allows you to make great touches. You have the option of thinning the face, removing acne, applying thinner skin with beauty modes, whitening teeth and more. You can also crop, blur, make collages, put filters and much more. Do not worry, you will not run out of options.
Selfie Camera Editor: Take Selfies & Edit Photos
This app is more fun. Although different makeups can be applied, it is designed so that you can add effects. Instagram style filters or different effect on top of the photo. You can also add text, filters and much more.
AirBrush: Easy Photo Editor
AirBrush is another one of those apps that allows you great things. Add light effects, touch up your makeup, remove acne or imperfections, improve your smile, apply filters and you can even edit the photos. This app includes almost everything you might need for your selfies. What else do you need?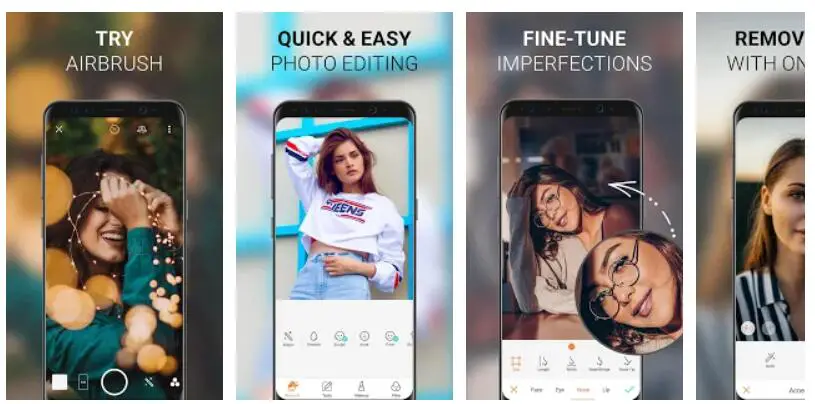 Facetune2 – Selfie Photo Editor
If you liked a photo a lot but you just did not leave at all well do not worry, Facetune2 is an app that will fix it for us. We can thin our face, whiten our teeth, add makeup with very professional results and more. Get handsome or pretty in a moment.
Selfix – Photo Editor And Selfie Retouch
With this app we can modify things that we cannot with others. We can add or change the eyeliner, eyelashes, lip color … but we can even change the color of our eyes. We can also smooth our skin, thin the face or remove shadows or skin defects.
Fotogenic : Body & Face tune and Retouch Editor
But … And why keep our faces? If you want to create an idyllic version of you you can correct pimples and imperfections, add abdominals, tattoos, etc. You can also add effect to our photos, modify colors and much more. It is the closest thing to what we can do with Photoshop but in an easier and more accessible way.
Snapseed
But if all you want is to edit your photos and get your creativity with the colors to shine the best is Snapseed. The Google editing app is one of the best known in mobile photo editing. Its editing capabilities are so many that we would not explain them, and it can compete with other apps as complete as Lightroom or Photoshop.
VSCO
And finally, if you only want to apply high quality filters to your photos, we can only recommend VSCO, an app with filters that emulate the styles of classic film reels and much more. You can also make small editions in the photo apart from applying the filter.
These are our recommendations of the best apps to edit selfies for your Android. Do you use any in particular? Do you have any recommendations of your own?