Although our mobile connections - 4G, most of them - are fast, stable and with increasingly generous data franchises, there are times when Wi-Fi is still necessary. And not always our domestic fixed broadband connection is within reach, so we need a free WiFi away from home. But how to find it? Well, in reality, you have it really easy because there are apps for locating them by and for you.
---
---
When you are away from home and need an especially fast connection, or no transfer limit, what do you do? Well you have an option, and it is to locate a network with free WiFi. There are them in airports, large surfaces, and in some establishments among other places. But better than stopping to think where there may be, and take a chance, you can use applications specifically designed for it. To locate Internet connections at no cost and with good benefits.
WiFi Map - The 'Google Maps' of WiFi
WiFi Map is, as its name implies, a map of fixed broadband wireless connections. There are more than 100 million networks registered worldwide, so it is worth having it downloaded. Because in addition, it not only tells you where the networks are located but also their benefits, details to take into account and the valuations that other users have published based on their own experience.
Install
Free WiFi App - Find free WiFi
This second option is somewhat less colorful and complete, but it fulfills the same function and in a similar way. Millions of WiFi networks registered worldwide so that you can easily find Internet connection points to connect to wherever you are at no cost. All these points appear on a map, so their location is really simple. In addition, you have details about its benefits.
Install
WiFi - Locate networks easily
Although with a somewhat smaller database, this third option is also interesting. Again, it helps you locate free wireless networks near you, and in no less than 50 different countries. You can see them in list format or on a map, and once again we have relevant information regarding these connections, to know what they are going to offer us and what has been the experience of others before taking risks.
Install
WiFi Finder - The best WiFi near you
Again, we return to an app with a huge database of networks, and with a very careful and intuitive interface. One of the key aspects, beyond the fact that it has free WiFi throughout the world, is that it quickly tells us what download and upload speed each network offers us. It is perhaps more comfortable than the rest of the apps that we have collected in this list, at least in this regard.
Install
WiFi Key Connector - Quality Internet
This option follows the same approach as the previous applications. It helps us to locate WiFi networks that are close to us and, in case they have a security password, they will give it to us in case other users have shared it. Again, telling us before your benefits and giving us the option, from within the same application, to check the speed of the Internet connection.
Install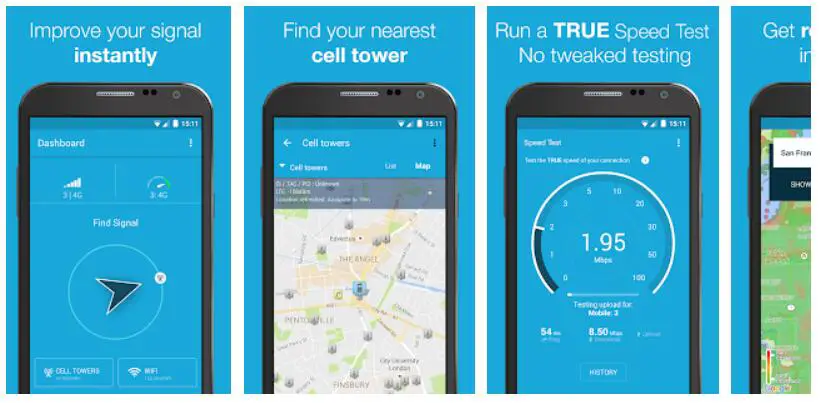 OpenSignal - 3G, 4G & 5G Signal & WiFi Speed Test
The OpenSignal application is one of the most complete. It has a speed test for WiFi and mobile connections, but it also has maps to find wireless networks of any kind. Here we not only have free Wi-Fi network location, but we can even see where the 3G and 4G antennas of each operator are. So, obviously, it is a more complete option that is worth your space on our smartphone.
Install
---
---