We know that quitting smoking is not an easy task. So we want to help you in any way we can. We will recommend the best smoking cessation apps for your Android phone. If you have been a smoker for years and your number of cigarettes a day is very high, you may need more than an app. Try consulting your doctor or looking for more information, but what is clear is that these apps will help you in the process.
---
---
Quit Smoking is Possible with These Apps for Android
SmokeFree – quit smoking slowly – Quit smoking with guidelines and help
With a name as explicit as Quitting smoking little by little, little room for doubt remains. This app will allow us to put the number of cigarettes you smoke in one day and the days you want to quit.
The app will tell you how often you can smoke and will gradually reduce the number of cigarettes, it does so that withdrawal is noticed as little as possible. One of the apps to quit smoking that you like.
Install
---
S'acabó – Root Cut
This app, called S'acabó is an application of the Spanish Society of Smoking Specialists (SEDET). This app will provide you with tips and help to cope with the first weeks, which are the hardest. Whether reminding you of the benefits of not smoking or being able to remember your reasons for this by pointing it out.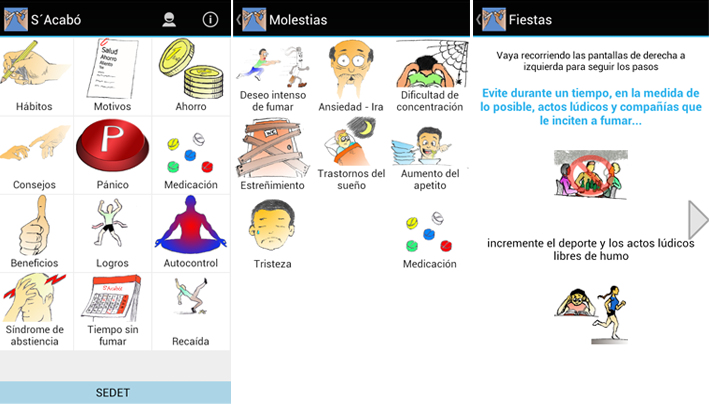 It also calculates what you are saving on tobacco since you are trying to quit, which is always an incentive for it. You also have achievements, time you have been without smoking, explanation of the medication and much more.
Install
---
EasyQuit – An app with a thousand options
The next option is EasyQuit, although in the Play Store in Spanish it appears simply as an app to quit smoking. This app allows you to consult scientific statistics to remember all the benefits of not smoking. Statistics related to blood circulation, mental health, oxygen levels and much more.
It has a way to quit smoking slowly and the blow is not so hard, although you can do it faster with other modes. You can also check your saved money.
EasyQuit says that if you feel like smoking a cigar, with a memory game that is provided that barely lasts 3 minutes you feel like it.
Install
---
Respirapp – The AECC app
This app is the one offered by the Spanish Association Against Cancer (AECC). This app offers a guidance guide in 4 phases. This guide will allow us to quit smoking in about a month. You will even have a free phone for help and inquiries.

Install
---
Smoke Free – Turn it into a game
This is an app that users like very much. Smoke Free is an app that offers us to quit smoking as a game. It offers you daily challenges, you have some achievements to achieve as if it were a videogame and it will tell you how you are going health and much more.
You can set some goals yourself, so you can also "play" with personal goals. In the end, you know yourself better than anyone.
Install
---
Qwit – Make it easy for yourself
This app, Qwit works much like Smoke Free. This app presents you with this as a game. A challenge to face with their achievements, medals and much more. In addition to having health information and much more.
Install
---
Kwit – Make sure you don't smoke again
With a name almost identical to the previous app, Kwit allows us to consult above all why we have certain problems, certain withdrawal symptoms and how to overcome them, in addition to keeping a very easy and understandable control of your progression.

Install
---
QuitNow! – Leave it now!
The next app is QuitNow! This app will also allow us to see our achievements and progress. But it will also allow us to talk with ex-smokers and how they managed to quit. An app most useful to have the opinion of several people.

Install
---
Flamy – Start a smoke-free life
With Flamy you can "play" with your friends. Propose a challenge among you, to see who smokes less, to see who is longer without smoking, etc. In this way the incentives are greater, since you can share it with your friends.
Anyway, you can do it alone and use the plan and achievements that the app proposes.
Install
---
Quit Smoking Assistant – The assistant to lose your addiction
This has certain touches different from the previous ones. Here they will not tell you what you are earning since you are trying (that too), if not what you have lost in your smoking years. Something a bit shocking that can make you see things with perspective.

Install And these are our app recommendations to quit smoking. Do you have any recommendations of your own? Have any of these worked for you or will you be encouraged to try it?
---
---