Mobile phones have become the perfect game center, a work computer and an almost professional camera. Although all this surprises us on a day-to-day basis and gives us many options, we must bear in mind that when we use all these functions a lot, the heat takes over our mobile and could even be dangerous.
More and more smartphones have security measures that face the heat of the smartphone and cooling systems, it does not hurt to give it a hand if we are going to use it for several hours to squeeze its possibilities. Although there are ways to prevent the phone from heating up, they are options and this is complicated if we want to squeeze it. This is where the accessories that allow us to cool it to a greater or lesser extent come into play.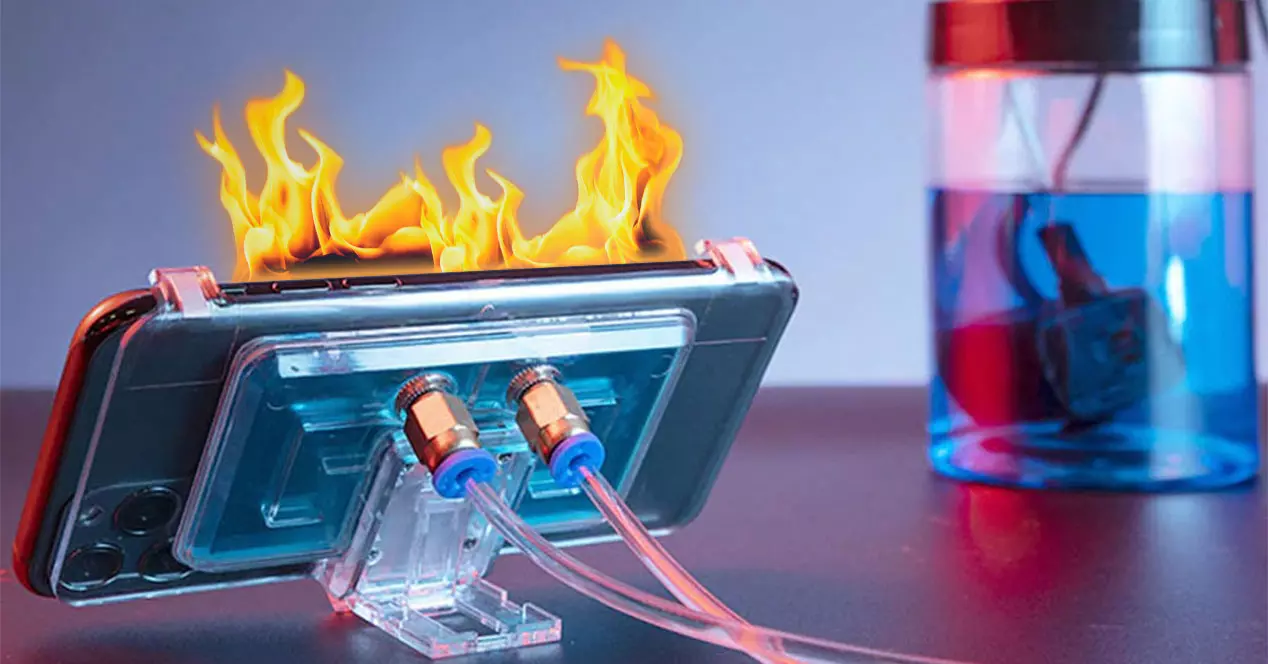 Cooling systems
There are several types of products that exist to combat this rise in temperature in mobile phones and in each of these options we can find models that radically change their operation. So that you can choose the best cooling accessory for your smartphone, we are going to know the functions and possibilities that they offer us, as well as their most important characteristics.
Fans for smartphones
The most popular and well-known option with which we can cool the mobile is the classic smartphone-sized fan. This is placed on the back wall of our mobile and works thanks to its own battery that it integrates. This model called BLACK SHARK Fan Cooler 2 Pro is one of the best valued and belongs to the prestigious brand of gaming smartphones, but it adapts to any smartphone thanks to its claw that adapts to the size we need.
It is valid for both iOS and Android as long as it fits in the averages that go from a thickness from 67 mm to 88 mm. To make it more complete, it has an LED system with which we will not be able to think about it to give it a gaming touch, but rather it serves as information to measure the temperature of the mobile. This allows us to see how it changes from having it activated to activating it.
The mobile cooling tool itself has an app that we can link to our mobile to choose the fan speed. The higher it is, the more the mobile will cool down, but on the other hand, the accessory's battery will drain sooner. We can even set timers to turn off at a certain time. Its price is around 40 uros and although it is an important investment, it can last us a long time.
Liquid refrigeration
You may have heard of this option, but you would not have imagined it integrated into smartphones. It is an accessory that is placed on the back of the device by means of claws, connected to a power source and a continuous flow of water that circulates to avoid the heat that is produced in the smartphone . The water is in charge of eliminating the heat that is being accommodated in the mobile, although we must bear in mind that we have to locate ourselves in a specific area, since the tube that transports the water has to reach the small motor to move it continuously.
To compose the internal liquid they do not rely solely on water, but also help in professional cooling liquids. All compound is hermetically sealed so it won't spill and cause us a problem. It works connected to the light through a USB input, so we can use it near a plug or use a portable battery if we are away from home. It is cheaper than we could imagine, since it is around 25 euros, although it has the negative aspect of having to always be connected to the light and stay in a fixed place.
Thermo conductive sleeves
Without the need to plug it in, without batteries and without complex systems, there is a way to fight against the heat in mobile phones. These are heat protection covers, which not only fight against the external heat that can be caused in summer, but also against the heat generated mainly by the smartphone when using it. It is not a very popular option so far and it does not extend to many mobiles, but it is an option that we must value.
It is placed on the mobile like any other protective case and we can always carry it with us without removing it. It differs from the others in construction materials since it is composed of a thermo-conductive lining that redirects the trapped heat and keeps the phone colder for longer. But incidentally, it also protects the mobile from falls of up to 3 meters in height without suffering a single scratch.
Since it is not just another protection cover, the cost of acquiring it grows to 50 euros. In addition, we must bear in mind that it is currently available for the most prominent mobiles. Among them we find the Samsung Galaxy S21 family, Note 20 and most of the iPhone, starting from the XS model until reaching the iPhone 13.
Which is more effective?
If we are thinking of getting any of these options to fight against the heat that is generated in our mobile , we must take into account the moment in which it occurs. In the event that we do not usually play games and even so the mobile gets very hot throughout the day from checking the GPS, making use of the camera and other apps, we should consider using a case that transpires more and takes the heat towards the outside instead of trapping it.
For those who are all gamers or who spend their free time playing with their mobile, the accessory as a fan is the best option. We can use it wherever and whenever we want without having to carry anything other than the little extra in a backpack or bag. In addition, we can see for sure how the mobile cools and we will notice a big difference.
Finally, the least recommended option is the one based on the cooling liquid since it has not been proven that it can achieve a good result. It would only be valid for those who are going to use the mobile in a certain place for a very long time, for example when processing videos if we edit with the mobile.