The best gaming experience on PC is not conceivable without a good sound system to complement it. Headphones will always give us the best feeling of immersion, but having a good speaker system will almost always provide us with better audio quality . For this reason, in this article we are going to recommend what we consider to be the best 2.1 speaker systems for gaming on the market.
Razer Nommo Pro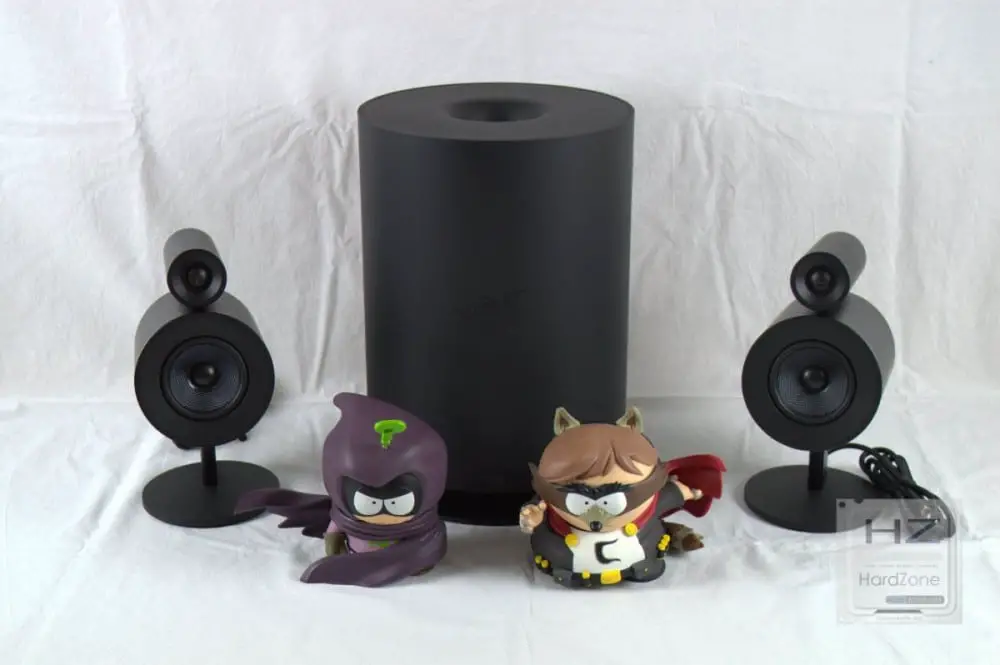 These are possibly the best 2.1 gaming speakers on the market. Each of the main speakers incorporates a 3-inch midrange driver and a 0.8-inch tweeter tweeter, delivering a total power of 75 watts per speaker with a frequency response of 35 to 20,000 Hz with THX audio certification and Dolby surround sound technology. Add to that a massive subwoofer with 150W total RMS power (300W total across the entire system).
As a particularity, this 2.1 gaming speaker system is configurable from the brand's Synapse software, has RGB lighting on the speakers, and supports USB connection, Bluetooth 4.2, optical (S / PDIF) and analog (3.5 mm minijack). In addition, it has a control unit that includes power, volume, audio mute, synchronization and all the control functions you may need.
Creative Sound BlasterX Kratos S5
Much simpler is this 2.1 speaker system from the famous manufacturer Creative. With a total power of 60 watts RMS (15 per speaker and 30 subwoofer), it is capable of delivering high resolution 24-bit / 96KHz audio and even create immersive audio. It has configurable RGB lighting on both satellites and has a control console to modify the volume and even to connect headphones directly to it.
Logitech Z533
When we talk about "the best" in any category of peripherals, Logitech cannot be absent, and in this case we highlight its Z533 system that incorporates two satellites and a dedicated passive subwoofer to deliver a total power of 60 watts RMS (120 watts peak according to the maker). It has a control console with analog mute and volume controls and connectors to connect headphones to the speaker system itself, thus allowing us to use them without having to disconnect the speakers from the back of the PC.
Woxter Big Bass 260
The Woxter Big Bass family stands out for being one of the best performance / price ratio on the market. In this case, the manufacturer promises a maximum power of 150 watts RMS with a response frequency of 90 to 20,000 Hz, and includes a practical additional volume control.
Trust Tytan 2.1
These are probably the best 2.1 gaming speakers in terms of quality / price on the market. They offer a real power of 60 watts RMS (120W peak according to the manufacturer) with two 15W satellites and a 30 watt subwoofer. They incorporate, like the previous ones, a control "console" to be able to comfortably modify the volume in an analog way and connect headphones to the system without having to disconnect the speakers.
Edifier S360DB
With Edifier we already enter the "big words". This 2.1 speaker system is not that it is gaming as such, but considering its characteristics it will certainly give excellent performance in games. They have two satellites incorporating midrange drivers and planar diaphragm tweeters for clearer highs. At the same time they have an 8-inch subwoofer, delivering 360W RMS power throughout the system, compatible with Bluetooth 4.1 aptX, and with a wireless remote control.
They stand out for their MDF wood box that minimizes resonance and ensures a clearer sound, with the added quality and aesthetics it provides.
Yamaha NX-B150
Yamaha is a brand that touches many categories, from motorcycles to sound products, but it is precisely in the latter that it stands out above all in the professional field. This brand 2.1 speaker system provides 58 watts of power (14 for satellite and 30 for the 13 cm subwoofer). The subwoofer has massive proportions, and unlike all the audio systems we've seen so far it's active rather than passive, delivering impressive bass sounds. By the way, they are compatible with Bluetooth.