The iPhone XR launched in 2019 by Apple have managed to be a best seller thanks to their reasonable price and high-end features, such as their autonomy. However, not everything always goes well, no matter how much we take care of our devices and in this post we will explain what to do in one of these situations, those caused by battery problems in an iPhone XR.
---
---
Ideal iPhone XR battery life
Currently there are devices within the Apple catalog that have a better battery than the iPhone XR, but this does not mean that this has been left far behind, on the contrary. This device has a 2,942 mAh battery , which for practical purposes we would have to add the A12 Bionic chip or the good optimization of iOS.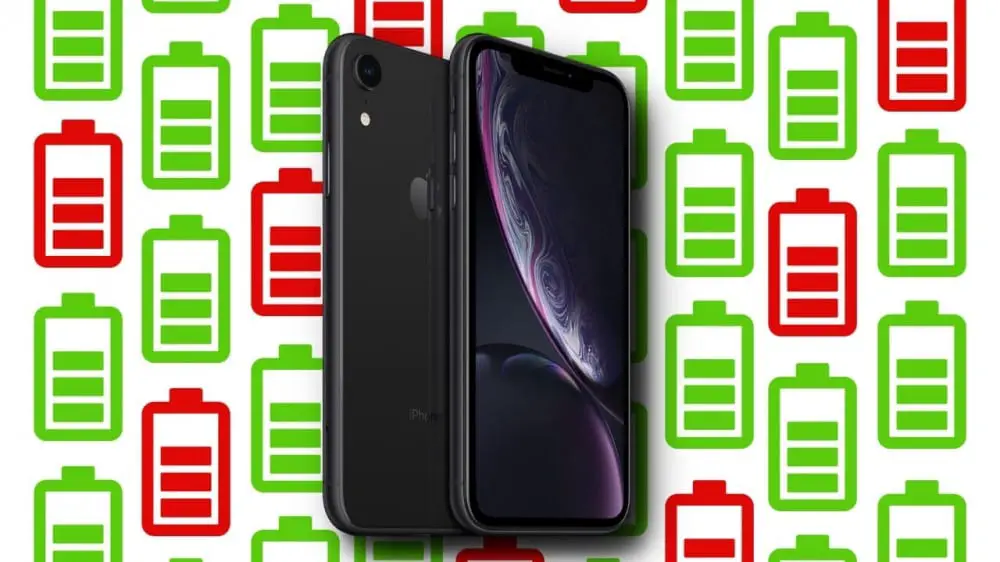 The use that each person makes of the device can be very different, depending on the apps they use the most, if they make many calls and others. But as a general rule, with more or less normal use, this phone should not give you trouble getting to the end of the day without resorting to the charger. Of course, with intensive use it may take a little longer to get up to date. In any case, the use must be very excessive so that it has to be charged at least twice.
Is the software the problem?
Beyond visual or functional innovations, Apple implements in each iOS update a series of bug fixes and performance and security improvements that allow devices to maximize battery life. We understand that there are times when some version can generate the opposite effect and consume more battery, but it is exceptional and they take little time to resolve it. Therefore, the first recommendation we must give you for your iPhone XR is that you go to Settings> General> Software update and download the latest version that is available.
Maybe there are apps that consume too much
Despite the fact that all the applications in the App Store must be perfectly optimized for the iPhone, the truth is that there may be some of them that, either because they are outdated or because they have errors, consume more battery than they should. There is a very quick and easy way to see which apps are consuming the most battery, going to Settings> Battery. Once in this section, you will be able to view the apps and their consumption, obtaining more details if you click on "Show activity".
See if there are applications that consume in excess and in such a case assess if it compensates you to have it installed given the circumstance and proceeds to delete it. If you are not interested in uninstalling it, you can wait for an update to be launched in the App Store.
Check battery health
Since iOS 11 there is a parameter on the iPhone that allows you to check the health of the battery of this. To do this you must go to Settings> Battery> Battery health . The percentage that will be shown here is not related to the battery level that you currently have in your iPhone XR, but to the level of deterioration that this has physically suffered. It is completely normal that if the device has been with you for a few months this percentage has dropped, since the battery is in the end one of the components that suffers the most wear and tear on these devices over time.
The algorithms that calculate this percentage is not always correct, as we have in an article in which we show how to increase the percentage of battery health of an iPhone . However, it is possible that the deterioration was actually caused by the battery being defective , in which case you should go to the technical service to have it checked.
Restore iPhone XR as desperate solution
If you've already checked your battery-consuming apps, updated iOS, and even verified that you're in good battery health, there could be one last software-related issue. Sometimes, no matter how well we use the phone and how optimized its version of iOS is, it is possible that there are some junk files that are generating consumption problems. For this, the best solution is to restore the device and configure it as new afterwards.
But how can you restore? The recommendation is that you do it through a Mac or Windows PC, connecting it by cable and using iTunes or Finder. However, we understand that a computer is not always at hand, so perhaps a restoration from the iPhone itself could serve. To do this you must go to Settings> General> Reset and click on "Delete contents and settings" .
Remember that all your data and settings will be deleted, although you can save some such as Safari bookmarks, photos, notes and others from Settings> your name> iCloud and activating the tab of each of these.
IPhone XR battery price
If no solution has been valid, the last thing you have left is to go to Apple or a SAT (Authorized Technical Service) to make a diagnosis of what happens on your iPhone XR. If they finally verify that it is a battery problem, you will have to assume the cost of repair, although there are two exceptions with which it will be free. The first is that it is a factory problem with the terminal and not due to normal battery wear. The other possibility is that you have contracted the extended AppleCare + warranty, in which case this replacement will always be free.
In general, if the device does not have factory problems or you do not have insurance, you will have to pay 75 euros , to which you would have to add 12.10 euros for shipping costs in case they had to pick up your iPhone at home for not being able to go to the technical service in person.
In other unauthorized establishments perhaps they could offer you a lower price, but the truth is that since they are not original parts they may not work well on your device and leave you with even less autonomy than you had with the defective battery. Another point against this is that if the device has a guarantee, it would be lost when manipulated by unauthorized people.
---
---