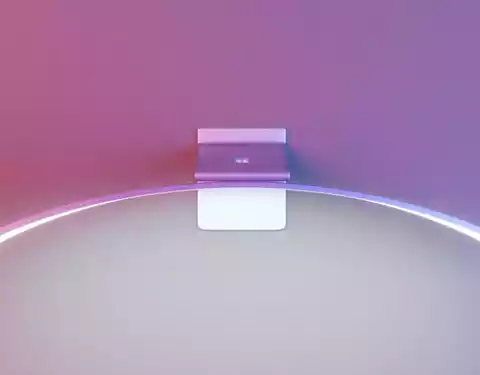 The fame that Macs are not computers focused on gaming is true, since apart from the fact that at the hardware level we do not find the features more focused on it, there is not as much video game catalog as in Windows. However, for several years the arrival of an Apple computer focused precisely on this subject has been rumored. And in connection with this, a curious video details a hypothetical iMac for it.
The gaming iMac with a curved screen
Aaryan Sai is a designer who today shared a concept video on his YouTube channel reimagining the iMac with that gaming approach we were referring to. It must be emphasized, just in case, that it is not official and is based purely on those rumors that we were referring to and on the artist's own ingenuity. However, it is worth seeing.
After a nice transition from the current iMac M1 we see a hitherto unprecedented (at Apple) curved screen format and peripherals such as the Magic Keyboard and Magic Mouse adapted for the occasion, with a colorful backlight honoring this gaming style so characteristic of other companies. .
Also noteworthy is the inclusion of the already mythical backlit apple on the back, a very symbolic branding that the company introduced on its laptops until 2016. Although, yes, the video also shows other details that seem more out of place as a player for physical games, which are becoming increasingly obsolete in the field of computers.
Could Apple one day release something like this?
Putting the rumors in context again, it must be said that in recent times the number of reports that point to it has decreased. Not to say it's been ruled out completely, but at least in the short term it doesn't seem like it's on Apple's roadmap to release a Mac of any kind with this approach.
Of course, we remember that much of this information is given by the arrival of Apple Arcade, the streaming game platform of the Californian company introduced in 2019 and that already has more than 200 titles. There has been much speculation about a possible device focused precisely on squeezing the catalog of the service, although in addition to Mac, the idea of converting Apple TVs and having a format more similar to a video game console has also sounded a lot.
Therefore, although with Apple you never know where they can go, we should not expect an iMac of this style. We remember that the closest thing will be, except for surprise, an iMac of 27 inches or more with Apple Silicon and a design similar to the 24-inch model launched last year with the M1 chip.