Book lovers have already turned the page. If before they were reluctant to plunge headlong into new technologies, now they are the first to dare to try everything. Proof of this is that more and more electronic books are being sold. There are many advantages offered by this type of device, especially if you choose an appropriate model. And we are going to teach you how to do it!
If you are interested in knowing everything about electronic books , and you want to get one, keep reading! In this article we are going to break down the interior of these devices, focusing especially on the 6-inch ones. Because, although they may seem small, they are the best to accompany you in your day to day. There's nothing like being able to carry your entire library in your pocket.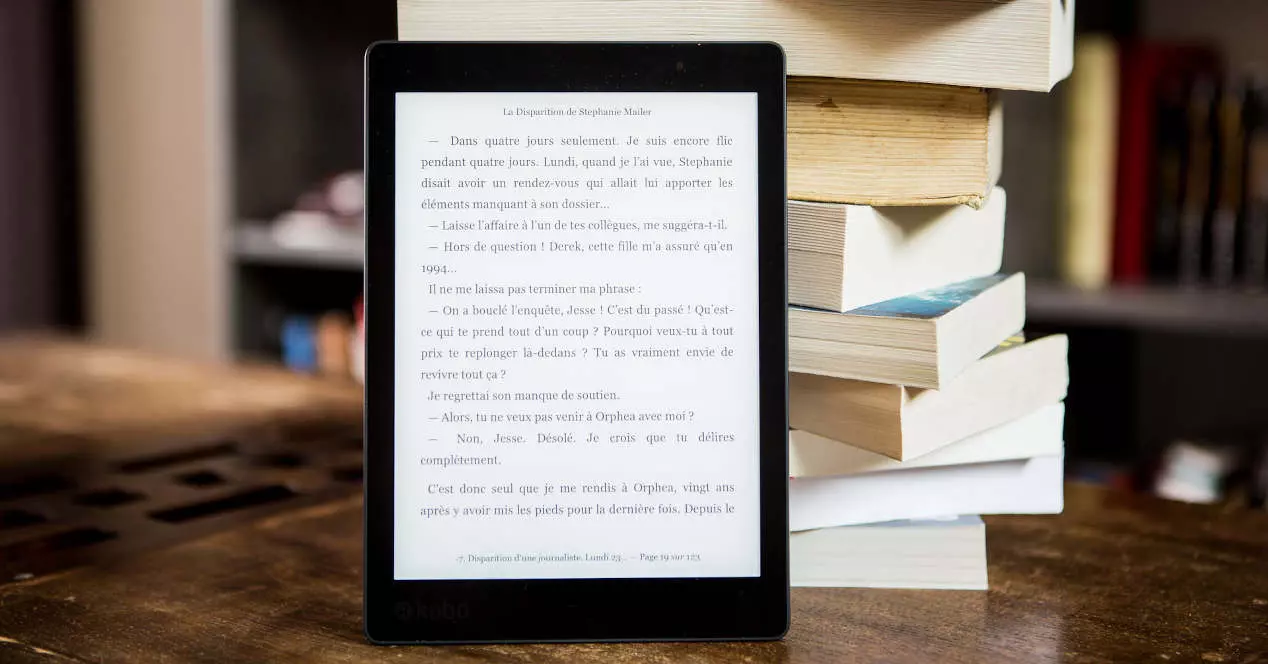 What e-books should have: the screen is essential
There are quite a few things to keep in mind when launching for an electronic book . Although they are quite small devices and, a priori, very simple, they have their complexity. First of all, you should keep in mind that everything will depend on the quality of the screen . If the screen is good, your experience as a reader will be second to none.
The most common electronic books are those that come with 6-inch screens. It is the perfect size, since you can take them with you anywhere. Some argue that it is more difficult to read on a 6-inch screen , but nothing to do with reality. All e-books allow you to customize both the font that is most comfortable for you and the size. In this way, it will not matter if the screen is small since you will be able to enlarge the font and continue reading comfortably.
As for the resolution of the screen , it is best to choose models that start at 167 pp as a minimum. This will make you never see the pixelated screen, even if the books you read have pictures. You should know that most electronic books have a screen with electronic ink . This affects the colors, since everything will be in black and white. Actually, it is a feature that, as readers, we will not notice as harmful at any time. Few are the books that incorporate color images that we could consider essential and, normally, we will acquire those in physical form.
Screen with backlight or not?
Continuing with the screen , we have to talk about one of the most important aspects of an eBook. Do we buy one that has a backlight or one with electronic ink ? We have a firm position in this regard: the best is electronic ink. Especially if you are going to spend many hours reading.
Although the backlit screen has its advantages, such as that you can read at any time, your eyes will notice it. We spend many hours in front of devices such as computers or smartphones , and if in our leisure time we add more screens… The headaches will be numerous! Although it is true that there are those who do not feel uncomfortable being always with backlighting, the most common thing is that we do feel uncomfortable.
However, electronic ink is much more respectful of the health of our eyes. It is a real visual pleasure to change the light of our computer for an electronic reader with electronic ink. Today, in addition, a new technology known as integrated lighting has been implemented. This has nothing to do with a light hitting us from behind the screen. The light comes from the front of the screen and is focused precisely on it. Thanks to this, we will be able to read for many hours without this being a long-term problem.
The most striking eBooks in terms of screen are those that have integrated lighting that regulates itself based on ambient light. By means of small LED lights, it ensures that the lighting of the screen is always ideal. Of course: these models are usually more expensive, since they include more complex technology.
Formats that 6-inch e-books support
Not all eBooks accept all available eBook formats. A clear example of this is that Kindle brand books do not accept ePUB format, which is one of the most used. When you are going to decide on a specific electronic book, you should always look in the specifications what formats it supports. The most important ones are the following: PDF, AZW3, AZW, MOBI, TXT, HTML, DOC, DOCX, JPEG, BMP and EPUB.
Along with that, you need to consider where you plan to purchase your books from. If you are interested in a particular eBook store, you can look at what formats it works with and thus ensure compatibility before making the purchase.
Other important aspects: connectivity and autonomy
The battery is a point that should always be analyzed before buying any type of device. If the electronic book you like uses electronic ink, you're in luck. They are the ones with the least battery consumption in the long term. They will not only last you many hours, but even days or weeks on a single charge. Of course, it will depend a lot on the use you make of it.
All e-books will load using a standard loader, so there is little to discuss here. But the connections it offers are relevant. For example: does it have WiFi, or can you only transfer the books via a USB port? Kindle devices usually always have WiFi, which allows you to buy books through the eBook itself. Through an internet connection you can have access to subscriptions such as Kindle Unlimited, with which you can read a lot of content.
But if you only have a USB port and no other methods, you will always have to download the books from your computer and transfer them. WiFi is always the most comfortable alternative, although the final choice will depend on the use you make of your book.
Covers are vital for e-books!
One last point that could be positive to take into account is if there are accessories for that model of electronic book. Are there covers available in the market? And LED lamps that you can integrate, in case you have electronic ink? Especially the issue of covers for electronic books is very interesting, since if you take it away from home it is better to protect it. They are very hard devices that will hardly break but, just in case, it is better to prevent! If you choose one of the 6-inch e-books mentioned below, you will always find covers. The good thing about going for a standard size is that finding accessories is much more comfortable.
The advantages of 6-inch e-books
Do you still have doubts regarding the size of the screen? The fact that 6-inch books are the most purchased is for a reason: their comfort. Next, we are going to list the advantages of opting for such a small device. You won't have any more questions to ask yourself!
Its weight will always be very low, around 100 grams. That will mean that you can take them with you anywhere, even if you have luggage restrictions. Nothing will happen! 100 grams is not noticeable at all, even if you put a case on it.
They are very comfortable to hold and hold in your hands. It is the perfect size to lie on the sofa to devour chapter after chapter, or on the beach to spend hours in the sun.
You will not have problems with the font size because you can quickly adjust it in the settings. No need to squint to read: enlarge the print!
You will fit a complete library in your pocket . This is the biggest advantage of an electronic book, especially for those who are fans of literature. You can always carry with you all the books you want, consult them, reread them… It's a real blast!
Three 6-inch e-books for less than €100
Without further ado, let's see what 6-inch e-books are interesting. First of all, we are going to see three models that cost less than €100. Because it is not necessary to invest a lot to have good quality devices with us.
amazon-kindle
This product has become a reference in the market. That is why it is always one of those that should be kept in mind. The new model integrates light into the screen , which expands its use options.
The panel density is 167 ppi, so everything looks really good. It has WiFi connectivity, which allows you to access a store with an excellent database. In addition, it has 4 GB of storage space. And all that in 174 grams!
Woxter E-Book Scriba 195
One of the most interesting points of this e-book, its specifications aside, is that it offers many colors to choose from. Thanks to this, each user will be able to have their own to their liking.
Its screen resolution is excellent, 1024 x 758, which is combined with an E-Ink Pearl type panel that optimizes outdoor use. It is one of the models that offers greater compatibility with file formats, including images. To this we must add that it exceeds 20 days of use. It's even lighter than the previous one, at just 168 grams.
Denver EBO-625: 4GB storage
If you are looking for an e-book that is affordable, this model from Denver is for you. Its specifications continue to be very striking, since it has a resolution of 1024 x 758. The screen is electronic ink , and has up to twenty hours of reading per charge. It supports all formats including EPUB. Its weight is somewhat higher, reaching 300 grams, but in return it is very affordable.
Three 6-inch electronic books for the most demanding
Do you need anything else? Are you an inveterate reader, and want to be able to devour books for hours on end? In that case, we bring you three electronic books suitable even for the most bibliophiles.
PocketBook Basic Lux 2
This model offers a screen with 16 levels of gray scale , so the quality is unbeatable. To this we must add the 8 GB of memory and that it is compatible with 17 different formats.
Another of the positive points of this electronic book with respect to others is that it has physical buttons . This makes it very comfortable to use in any situation. And it has integrated front lighting ! That, together with the fact that the battery ensures us more than a month of autonomy, says a lot in its favor and makes it a model to take into account.
Hacketa eReader
The Hakeeta eReader is a product that offers very interesting features that make a difference. For example: you can also use it as a radio. It has a speaker that is not visible to the naked eye, but that will allow you to listen to music.
Its screen offers a resolution of 800 x 600, and is electronic ink . It offers compatibility with practically all file formats, so it will not pose any problems for you in this regard. It weighs just 189 grams , and offers a very high autonomy.
Kobo Clara HD
Kobo 's eBook is one of the most comprehensive you can find on the market right now. First of all, it allows you to fully control the temperature of the light so that you eliminate blue light. If you spend hours in front of the screen, this will make you feel much more comfortable and your eyes will thank you. And with a resolution of 300 pp , one of the highest you will find.
To this we must add that you can customize practically any detail of the reading. You will find more than 12 types of fonts and 50 sizes from which you can choose the one that best suits you and each file. And the battery can last for weeks . A jewel!
Our favourite: Kobo Clara HD
If we could only pick one of the 6-inch eBooks we've mentioned, it would be the Kobo eBook. Although its price is somewhat higher, it is still quite low if we take into account all its specifications . Its screen offers one of the best qualities that can be seen right now. In addition, it has 8 GB of internal memory, a touch screen and multiple customization options. It is the ideal option for all those who want to lose themselves for hours in the pages of their favorite books.