Surely more than once it has happened to you, that your pet has been lost in the countryside or in the city. That fear and stress that this type of situation produces in you is horrible, especially because a dog or a cat is one of the family. Thanks to technology, you can now resort to a GPS locator for pets , and thus avoid this type of problem.
In this article we are going to talk about the different types of GPS collars that you can choose from, in order to control your pets at all times. As there is a great variety, we want to present you several models, to analyze them one by one, and thus facilitate your selection. Do you want to know more about this type of accessory?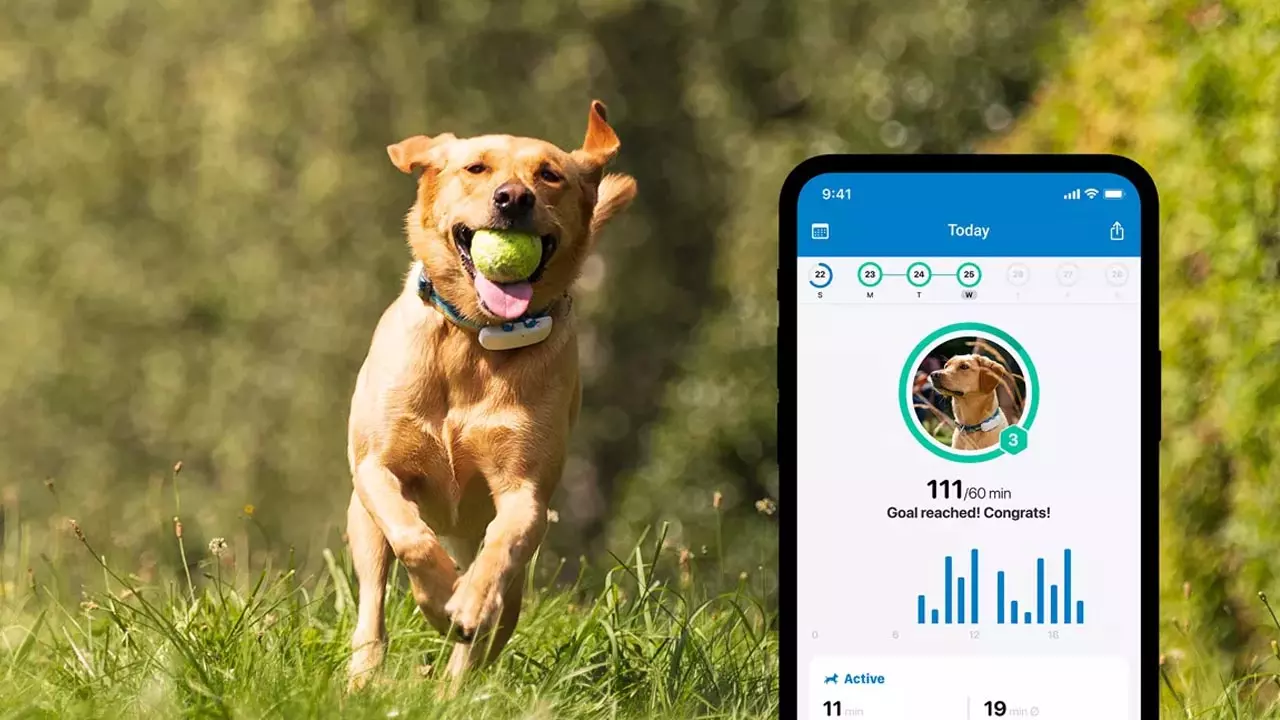 Types of GPS locator that you can find
Before going into more detail, the first thing we must be clear about is that depending on the technology they use, it is possible to classify them into:
GPS locator by radio waves: They are the first to appear on the market and as their name suggests, they emit radio waves so that, through a radio transmitter, we can locate our pet. They are the most obsolete today but they do not depend on having telephone coverage, which can be a great advantage when locating or finding our dog or cat in more hidden or rural areas.
GPS locator by SIM: As you will understand, they are the ones that work by transmitting data through the mobile phone network. Although they are the ones that offer a much greater radius of action, we depend on the coverage in each place. Of course, they need a SIM card to work and a subscription plan. It also requires having an app installed on our phone or tablet to be able to track the animal.
GPS locator by Bluetooth: They are what use a communication between the locator and our mobile phone through Bluetooth. They work in the same way as many smartbands or smartwatches, they do not require a SIM card, but their range is quite limited.
That said, and although it is quite clear, we should not confuse GPS locators with microchips that are implanted under the skin of our pet. These are the ones that contain contact information so that veterinarians, police or other agents can consult the corresponding databases and locate their owner. Microchips are not tracking devices.
How does a GPS collar for dogs or cats work?
A pet GPS tracker features small size, low weight and waterproof design. On the other hand, the operation is very similar to what other devices such as smart watches can use. Basically, these locators incorporate a signal receiver chip from different satellites that allows information about the exact location of our pet to be transmitted to another device connected to it.
Therefore, it is enough to place the receiver on the collar of our pet, there are models that are incorporated into the collar itself and others that can be attached to the dog or cat, and synchronize it through the corresponding app on our mobile phone. The receivers are powered by batteries that usually offer great autonomy.
For greater peace of mind, it is convenient to use the GPS locator at all times, however, there are very specific situations in which the use of this type of device can be of great help and in which the use of this type of locator is recommended. :
The first times you go for a walk without a leash.
Puppies that have not yet acquired certain behaviors.
When you go for a walk with your dog at night.
At times of the year when parties are held and there may be fireworks and firecrackers.
When you take your dog to the snow or the mountains.
When you go hiking.
On vacation.
In any new place of visit.
Fundamental parameters in a pet GPS locator
When choosing a product of this type, several details must be taken into account. To start, you must choose a specific model for pets. A normal GPS locator could help you, since it will monitor where your pet is at all times without major problems, but you have to keep in mind that a dog or a cat is usually very curious, and they never stop still. And that is a problem.
More than anything because our beloved pets love to get into all kinds of nooks and crannies, jump, jump… And of course, if they don't have an adapted locator, they will most likely end up losing it. So, much better to look for a specific model for pets, even if its price is higher. Features to consider:
Water resistance: an important element when choosing a product of this type is to look for a model that is resistant to water. You need the locator to be waterproof , so you don't lose the signal. These devices are very useful for hunting dogs and some models include topographic maps.
Technology and coverage : those that offer the most coverage are those that have GPS technology, only when using a SIM card, they require a subscription. On the other hand, those that use radio waves do not require a subscription, but their coverage is less. While the collars that use low consumption networks do not require a subscription and have a wide coverage.
Range and accuracy : those with GPS technology or low consumption networks can track the exact location of your dog or cat with considerable precision without distance limits. And the locators that work with radio waves have a range of a few hundred meters, and they do not offer an exact location, they work by proximity.
Mobile application: it must be taken into account that GPS collars have a special application to be able to monitor through the mobile.
Battery: another important factor is that they are powered by a battery that provides the best autonomy and recharges in the shortest possible time.
Recharge mode: it is interesting to review the type of battery and how to recharge or replace it. In this case, it is normal to find models that use small rechargeable batteries or batteries.
Low battery warning: since the battery is essential for its operation, we cannot risk running out of it at the most inopportune moment. This means that models capable of notifying us when the locator's battery is about to run out are very interesting to avoid unpleasant surprises.
Coverage in other countries: in the models that use SIM cards, it is interesting to check their coverage in other countries, especially if we are one of those who travel abroad with our pet.
Subscription: it is also a very interesting fact to take into account, if the model that interests us requires a subscription and in that case, its cost.
Complete Google Maps routes : there are models that are capable of providing us, usually through a text message, a link to Google Maps where we can see the exact route that our pet takes, speed and route history.
Geofencing: It is one of the most interesting functions offered by many of the GPS locators for animals. Basically, it allows us to create virtual limitations or fences that we do not want our pet to exceed. If at any time it does, then we will automatically receive an alert. This way we can prevent our dog or cat from leaving a defined area through the app without us realizing it.
Configuration: Some of these devices allow the registration of multiple pets thanks to the additional tracking tags.
Models of collars with GPS locator for dogs
Once we have seen the different characteristics, we are going to present several models to analyze them one by one. We have selected different types of locators, so that you are the one who chooses the one that best suits you. In addition, we have taken into account the size of the GPS locators. Based on this, we have divided the same into those that are more suitable for dogs and those that are more suitable for cats .
Those that are smaller are always the ones recommended for cats, since their size tends to be smaller. However, everything will depend on how your pet is in particular. If you have a dachshund , for example, you may prefer one of those recommended for cats. However, if you have a Maine Coon, perhaps the dog breed is a better fit for your needs.
TKSTAR GPS Tracker
We start with a model of height: the TKSTAR GPS collar. Its dimensions are somewhat larger, which is why we introduce it in the dog section.
It allows you to quickly position where your dog is, both via GPS and GSM. You can access this information through the web or the mobile application that you can download. It has an option of security fences to notify you when your dog leaves that area. And you will not need a subscription!
MUXAN GPS locator for dogs
The second model that we bring is this one from the Muxan firm. This gadget has everything you need so that you know where your pet is at all times. All you have to do is send him a message so that the GPS is activated and you can see his position in real time. That is, you will have to get a SIM card for everything to work.
It works through an application that you can easily download to your mobile, and it alerts you whenever the battery needs to be changed. The autonomy is quite high, reaching up to 300 hours. In addition, it provides you with the complete route of the animal in just three seconds since it has Geo-fence. If you have several pets, don't worry, since you can locate them all with the same account.
You will not have to pay any type of monthly fee, thus allowing you to have less expenses. Of course, it is rain resistant .
Tractive GPS tracker for dogs
Another excellent option to take into account, with which you can control your pet with greater security, is this GPS locator from the firm Tractive . It also works through a SIM card that you will have to purchase separately.
Of course: with this you do need a monthly subscription . The advantage is that you will have access to each step that it takes live, and that you will be able to establish virtual fences so that it warns you when they are crossed. This option is very interesting if you live in a house with land, since you will know if your dog leaves the area.
Not only that, but it will be like practically putting a smartwatch on him: you will know how long he sleeps, his activity, if he has progressed… In the event that he is overweight, you will greatly appreciate this function. You will know everything your dog does when he is not with you, and that is a guarantee of security! It is 100% waterproof, and offers up to 7 days of battery life , which you can also recharge in 2 hours.
Kippy EVO Tracker
Continuing with this compilation of the best GPS collars to control your pet, another of the most complete models on the market IS this Kippy EVO tracker. To begin with, its 10 days of autonomy are a detail to take into account. It is also very light , suitable for both small dogs and cats. And waterproof!
It will allow you to locate your pet in real time , as well as mark the so-called safe areas. Again, you will be able to see what activity the animal performs per day and the calories it burns. It includes a SIM card that you will have to activate, and that costs more than €3 per month. We could talk about a monthly subscription, although in this case you only pay for the connection.
PAJ GPS PET Finder 4G: a quality GPS locator
This GPS locator is one of the best you will find on the market. Although it has an autonomy of only 4 days, it weighs less than 50 grams. This makes it the perfect GPS locator even for small animals.
Although you may think that it is fragile due to its size, the truth is that it is very resistant . There will be no rain to affect it, so don't worry about it. Of course: if you want to have access to the most precise location, as well as the routes that your pet has taken, you will have to pay a subscription . It may seem excessive, but thanks to €4 per month you will be able to see where your dog is at all times and if it has left the considered safe area. And it will send alarms to your device!
Invoxia Pet Tracker: the best quality GPS locator
This Invoxia Pet Tracker model transmits its position every 5 or 10 minutes since it is in motion, so you can know where your pet is at all times. In addition, its installation is really easy, since it has a really intuitive configuration.
But not only for this is it special . In addition, it allows you to install virtual fences so that the device alerts you if it leaves the area where it should be. It has between 15 days and a month of autonomy , depending on the use you make, and it takes just a few hours to recharge. It also has interesting health indicators so that you can detect any type of pathology with more time.
The difference with respect to the previous ones is that you will be the one who has to attach it to a necklace. But it's easy to do, so don't worry about it.
GPS trackers for cats: more compact size
As we've noted, devices that are recommended for cats tend to be much smaller in size. But you can always use them on your puppy if you consider it appropriate, since they will work just as well.
YONGQING: Small Size Pet GPS Tracker
With this GPS locator you can control both small dogs and cats, thanks to how compact it is. It comes with an elegant and simple design necklace.
It has a discreet LED screen where you can see the battery. It needs a SIM card to work, and it connects to any Android device thanks to an app.
As for the battery , it promises up to 7 days of continuous duration thanks to its 500 mAh. It is waterproof, and you will be able to see in the app the entire route that your animal has taken and, in turn, its position at the indicated moment.
GPS tracker for cats: Tractive Collar
This GPS tracker will be the best ally for you to have control of your feline. It is specifically designed for cats both in its size and ergonomics. It is fully waterproof, and will allow you to access location history through its application. As for autonomy , its battery allows up to 5 days without recharging.
Again, we find a product that requires a subscription of € 4 per month . In exchange, it offers an already integrated SIM card thanks to which your cat will never be missing. The way in which this collar is hooked is very important, since it has a release mechanism in case your cat gets hooked.
If you need to track their activity , you will be able to do so with ease. Lots of cats tend to get overweight when left to their own devices, so this way you can see exactly how to improve this.
Weenect Cats 2: a high-quality GPS locator
This tracker claims to be the smallest model on the market. Yes, a GPS collar that will become your best ally to know where your cat is at all times.
It has no distance limit , so it doesn't matter how far your animal is because you can always have it under control. It allows you to monitor in real time, and establish an anti-leak system with certain security zones. And it even brings with it features as interesting as the training one, allowing you to play a sound at mealtime for the cat to associate with it.
The battery lasts up to three days, charging in just 3 hours. Of course: it is necessary to pay a subscription to keep the SIM card that comes with it active.
Tractive Tracker: Real Time GPS Locator
With this GPS locator you will need a subscription, but in return you will not have any other type of additional mobile fee. It is similar to one of the models we have seen before, but in this case ergonomically adapted to the cat's neck.
You will be able to see where your cat is at all times, without a distance limit. If you're interested in seeing exactly where he walks, to see if he goes into places he shouldn't, you'll have access to that too! And you can even install virtual fences to mark which areas are safe and which areas are not.
The battery has an autonomy of up to 7 days , it is totally waterproof and you can adapt it to any type of necklace. Also, you will have access to the activity that your pet has done with ease.