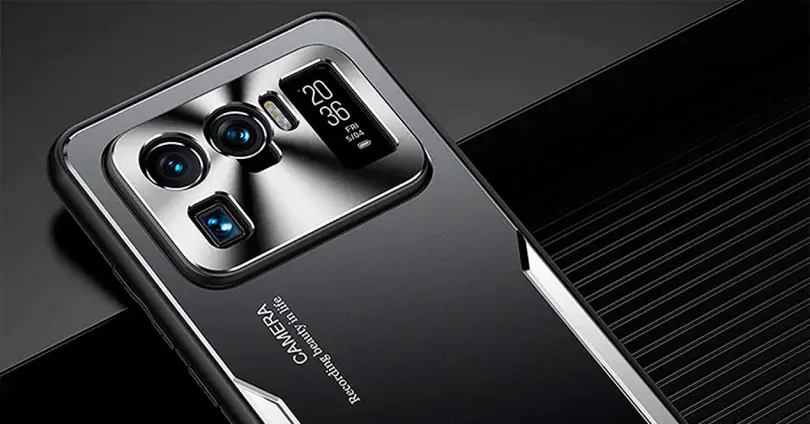 This year the Chinese firm is in top form, and that is something that is evident in the launches it is making, which are increasingly risky and innovative. And we are not talking only about its first folding, the Mi Mix Fold, but about the Xiaomi Mi 11 Ultra , a terminal that has some unpublished features. And if you have decided to buy, you will have to protect with these covers.
Finding our ideal case is not an easy job, since we must take into account several factors, a combination of those that we seek to protect our phone, and its peculiarities. And in the case of the mobile that concerns us today, it has some curious characteristics.
Your secondary screen, a key element to protect
This phone has a unique feature on the market, and it is its secondary screen. Although we have seen this type of screen on other mobiles, with this format we had not experienced it until now. And when choosing a cover, it must be borne in mind that we must not only avoid scratches on the main screen, on its front, but also on the secondary screen that it has on the back.
This is especially vulnerable, since when placing the phone on a table, as usual, this screen could be scratched easily. That is why it is necessary to get covers that can create a " bubble " around it that prevents this type of damage. Today we are going to see covers of various types, ultra resistant, more practical and lighter, or more functional, but all protect by that unique component of this phone.
Rugged covers
Robust and magnetic
This case is undoubtedly one of the ones that can best protect our Xiaomi Mi 11 Ultra without sacrificing practicality.
Since it offers us not only comprehensive protection with shock-absorbent materials, but also a very practical ring, which allows it to be used as a base, as well as a magnetic area that allows us to comfortably place the cover on a car holder. These brackets are placed on the air conditioning or heating vents and can therefore be conveniently placed in the car.
Combining metal and aluminum
In this case, we are faced with a case that offers us a much more stylized design, with a more elegant appearance. And all this thanks to the appearance of metal and aluminum in its finish. This gives the case more resistance and protection power.
And also the belly that the rear camera module has, also integrally protects the secondary screen with a more resistant material.
With excellent grip
This case stands out because it offers perfect finishes to favor an excellent grip on the phone.
Not only is it protected with the absorbent material it has, but it also has a diagonal texture that results in a better grip. Its creators claim that it has military grade resistance, which is a plus in its favor.
To absorb shock
This case has been designed above all to be able to absorb the biggest blows that your phone could take. Its body is very thick, and for that reason it can protect not only the elements of the camera module.
But you can also place the phone on the table face down without fear of scratching its screen. Its finish also favors a comfortable grip in all conditions.
360 degree protection
These types of covers are undoubtedly the most complete if we want to fully protect the phone. Since they not only protect the back as we can expect in any other case, in this case with a transparent tempered glass.
But it also has another front cover that protects the phone screen completely. Both covers are coupled by a magnetic system.
Silicone sleeves
Transparent
This case is the most common that we can put on the Xiaomi Mi 11 Ultra . So simple that it lets others see what is important, its design. While the phone remains protected thanks to this lightweight silicone case.
It even has a certain belly that comprehensively protects the camera and the secondary screen as well.
Pack of nine sleeves
Without a doubt, the great attraction of these covers is the number that make up this pack and its price. Because we are talking about the nine cost what the usual price of one.
For just over ten euros we get new silicone covers in black, pink, yellow, light green, white, light blue, light pink, red and navy blue. Therefore we have a cover for each day of the week and we would also have two left over.
With reinforced corners
This case offers us a design similar to the first one we have seen made of transparent silicone. But the big difference is that this one has some reinforcements in the important corners.
With them you can absorb the strongest blows on the phone, especially in the corners, which is usually a quite vulnerable area of any phone. That is its great advantage over others that are very similar.
Cases for carrying documents
Book format
This is one of the most common types of covers for our mobiles. And it is because of its practicality. Since it offers us a book-type format, which fully protects the phone, even the screen.
Also when we open it, on the left side, we have a card holder , where we can store several bank cards. And just behind this an area to store bills as well. When closed, the screen is completely protected from scratches.
Compact
In this case, it is a case with a card holder that takes up much less space, practically the same as a traditional case. The difference in this case is that the card is deposited on the back of the phone .
In this way we always carry it by hand, without having to carry a thicker cover than usual. It is a case similar to the ones we find designed by Apple for the iPhone, it certainly seems inspired by its design. Although the photo does not correspond to that of the Xiaomi Mi 11 Ultra, this is a similar model, perfectly adapted to this Chinese phone.