Although the name of this Yeedi 2 Hybrid sounds like something related to Star Wars, we are really facing a robot vacuum cleaner with specifications that match the best , but with a much lower price. Let's see if the high expectations that it generates in the beginning end up meeting them.
And it is that if we look at the characteristics of this multifunction robot vacuum cleaner we find some numbers that are given in devices that are in the high range, although the price, as we will see later, does not agree at all. For example, we have 2500 PA suction , a state-of-the-art camera mapping system, four capacities in a single device, since it is capable of sweeping, vacuuming, mopping and scrubbing or compatibility with the main voice assistants on the market, among other things.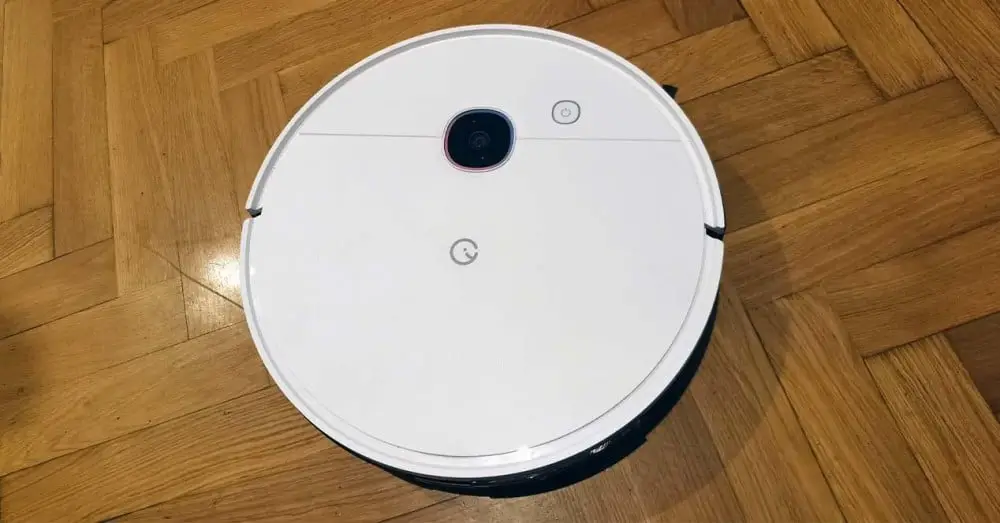 Technical specifications
The Yeedi 2 Hybrid is a model with really good specifications and the most performance model that the brand has so far.
Dimensions: 35 centimeters in diameter and 7.7 centimeters in height.
Weight: 3 kilograms.
Battery: 5,200 mAh
Autonomy: 200 minutes of cleaning with 4-6 hours of charge.
Suction power: 2,500 Pa.
Noise level: 56 dB.
Dust deposit: 430 milliliters.
Water tank: 240 milliliters.
Connectivity: 2.4 GHz WiFi.
App: iOS and Android.
Mapping: vSLAM technology with camera.
Cleaning modes: sweeping, vacuuming, mopping and scrubbing.
Sober design
The design is typical of many of these devices with a circular body, which is synonymous with good ergonomics to better reach complicated areas of any house. The white color may not give it the elegance that other models in black and gray have, but it is true that, when it comes to seeing the dust on the robot, in this case it goes much more unnoticed. The only concession that this model makes out of the pristine white of its entire body is the area where it integrates the camera, which is surrounded by a multicolored ring in pink and blue.
The measurements of this robot, 350 mm in diameter, 77 m in height and 3 kilograms in weight, do not suppose anything exceptional with respect to what we see in other brands, since it will be able to pass under furniture that is moderately elevated without too many problems .
The upper part of the robot is dominated by the camera with Smart Navi 2.0 technology, which is capable of scanning and mapping the environment where the robot will work, along with the red button to start or stop the device, which is not the same as it turns it on and off, since that is under the lid that covers the top.
Here, apart from the button to turn on and pay that we have mentioned, we will also have the 430 ml capacity dust container and high-efficiency HEPA filters to trap all kinds of particles.
If we now look at the side and below the robot, we will find out when it is black. In the front part is where it integrates the sensors so that it does not crash when it is working, on the right we see the grill to expel the air from the engine, on the left we have nothing and in the back we find the fuel tank. 240 ml scrubbing , a tank that we can remove very easily, as is normal, to fill with water in case we are going to scrub.
If we are going to carry out this action, we will have to place one of the two types of mop that we have at the bottom, some disposable and others that we can use again.
If we continue to see this part below we will realize that it has a front wheel and two rear wheels, a central roller with rubber bristles and hair in charge of sucking whatever it finds, two hair brushes in charge of collecting dirt and sensors in the front that are responsible for not falling down stairs.
Start using it
The first thing we have done is charge it until its battery is already full, placing it on its charging base. From there we will have to turn on the Yeedi with the red button that we had talked about before located under the top cover.
Now it is essential to download the application for our mobile terminal, either Android or iOS , since it does not matter as it is compatible with both operating systems. When opening the application, the first thing we have to do is register and then synchronize the robot with our smartphone and our WiFi network , which must be in the 2.4 GHz band , since it is not compatible with 5 GHz.
To achieve this, we only have to follow the instructions indicated by the application, since it is very simple and everything is explained step by step so that everyone can understand it. Once we have connected the vacuum cleaner, we will simply look at the number of options that the application and the robot itself allow us to clean the floor of our house.
Cleaning options
We will not have a map until you have cleaned our house several times, since you need to collect information from several passes. When we can get the most out of it is when we have an established map of our house. We must confess that in that sense it has nothing to envy laser systems, which are said to be more accurate. The result has been really good in our tests.
The cleaning modes are divided into:
Area : where we indicate which is the area or room that we want to clean in our house or restrict the cleaning of a room or rooms by placing virtual walls.
Auto: this is the default mode and is responsible for cleaning all the rooms of the house with zigzag movements. If the battery is not enough to finish the house, it automatically returns to the charging base, finishes charging and immediately continues where it left off.
Personalized : in this case it will allow us to choose in which order the rooms are cleaned.
We also have the option of choosing between three levels of suction power such as Standard, Max and Max + , increasing said power exponentially between one and the other.
We will have the possibility in Map management to see all those that the device has created and manage them in the best way. This comes in really handy when we have a home with two floors, since we can choose the most suitable for each one.
At the time of scrubbing we can choose between three levels: Nothing, Low, Medium and High . This will indicate the level at which the mop will be soaked when we have it placed on the bottom of the robot.
Another thing that we liked the most is that in addition to being able to choose the language in which the vacuum cleaner speaks to you, when an incident occurs, it not only tells us by voice, but also sends us a message to the smartphone. In addition, we can use Alexa or Google Assistant to communicate with the robot, another facet to take into account.
Autonomy
The official autonomy of this Yeedi 2 Hybrid is 200 minutes as reported by the brand. In our experience in a 120 square meter house, although in several places it cannot get under furniture when going to the floor, the robot has taken between two and two and a half hours to complete the cleaning.
This means that most of the time he has managed to finish before running out of battery , although on other occasions, where we have forced his work a bit by leaving the occasional gift on the floor to see his performance, he has had to go back to the charging base to continue minutes later.
Conclution
The main conclusion is that of being before a quality robot, with which we can perform the same tasks that we would do with those considered leaders of this type of device, without having anything to envy them. It may be that other brands offer more and more varied modes, but the truth is that with what they have the experience is good and we do not miss any.
In addition, the application is very easy to handle and that is appreciated, since we do not need any type of adaptation period to it and in a few minutes we are clear where each option is.
Regarding cleaning, we found it to be the best we have tried , especially in relation to sweeping and suction, since when scrubbing we have the same feeling as with all robots of this type, they do not do it badly, but there are room for improvement. Perhaps we could hope that the mop would get less wet, because, although we selected the option with less water, the truth is that more than we expected. Of course, the indications that the robot gives us with the voice or with sounds, should have more power, since they cannot be heard from one room to another.
The autonomy has been more than correct and it has only shown weaker when we have subjected it to the hardest tests, which gives an unequivocal sign that, for a normal home, behavior in this sense is really well.
The price of this Yeedi 2 Hybrid is right now on sale throughout the day today and you can also add a discount coupon to leave it at only 214.99 euros , a much lower amount than much of its direct competition, something that it is extremely positive knowing how well this device performs.
The best
Swept and sucked
Mobile application
Autonomy
Price
Improvable
Volume of indications somewhat low
More water in the mop than is desirable