We have already closed the stage of Falcon and the Winter Soldier , we are about to start that of Loki … but we can hardly forget about Wandavision. The Scarlet Witch and Vision series from Disney + and Marvel Studios has been a surprise to many, both those who already knew the story of these two characters and those who have just practically "discovered" that there is life beyond Iron Man or the Captain America. Are you from this second group? Then you may want to continue delving into the adventures of this couple or learn more about the stories that inspired the television production. Make yourself comfortable that we put you on the trail of the comics that you have to read yes or yes.
Wandavision, what a gem
Starting a project like the one Disney + and Marvel Studios were up to on television with Wanda and Vision was risky. These are secondary characters, who have always been in the shadow of other great superheroes and the idea could turn out very well or very badly. Luckily, the mouse factory and the company in charge of giving life to Marvel comics knew what they were doing and not only decided on this great couple to start the journey in a small format: they also bet on a very particular plot That left everyone completely unsettled.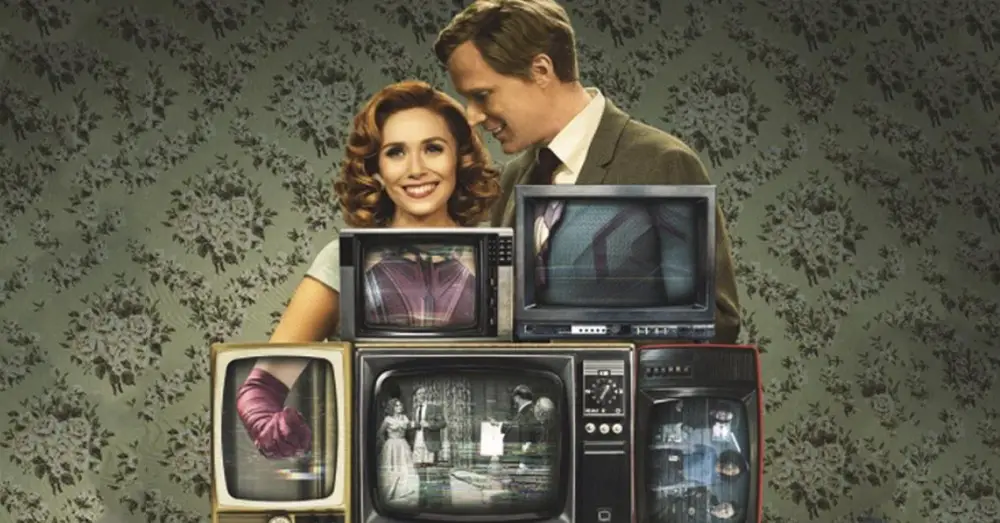 Honoring earlier times, the TV series dared to recall sitcoms from the 1950s onwards, making a very original but very disconcerting journey at first. Especially for non-Anglo-Saxon audiences – who hadn't "grown up" with that type of content – it was quite strange at first, although if you were patient and "held on" then you would see that everything had a meaning and a reason for being. Thus, we were presented with a different common thread that until now we had not seen in Marvel and that ended up convincing an audience that has fallen asleep before Vision and especially before the great Scarlet Witch .
Now we all want to continue enjoying them in future Marvel projects (Wanda has to appear in Doctor Strange in the Multiverse of Madness ) but until that happens you may feel a little orphan of content and want to continue knowing more about this peculiar couple . Is the case? Then you have to give these comics a chance, used to lay many of the foundations of the series and where its comings and goings can be followed much more. Aim.
The Scarlet Witch and Vision comics
The Wandavision series that we have seen on the Disney + platform is not based on any specific story from its comics, but it is true that during its 9 episodes we have seen endless details and moments that do appear on paper. Therefore, we select here the most representative and popular of the couple.
The Vision – Visions of the future
It is one of the most important bases on which the creatives have relied for the creation of the series. The Vision , by Tom King and Gabriel Hernández Walta , is considered one of the best Marvel comics by many and paradoxically does not require you to be really put in the world of superheroes to enjoy and understand it.
And it is that in The Vision , the comic strip away a little from all the paraphernalia of the world of the Avengers to show us how Vision tries to build and protect his family, made up of Wanda and her two children. Let's say that it is a more human plot, in which more mature questions are raised, far from the action to which we are usually accustomed.
There are 12 numbers that are very unlikely to disappoint you.
Vision and the Scarlet Witch
In these four issues you will experience the beginning of the life together of Vision and Wanda as a couple after leaving the Avengers . This will not make them free to face all kinds of problems, of course. And it is that although they look for a new life, much calmer, this will not be so easy.
Possibly one of the most outstanding details of this collection, created by Bill Mantlo and Rick Leonardi, is that at the end of it (there are 4 numbers) we discover who Wanda's real father is. And up to here we are going to read.
Vision and the Scarlet Witch, by Engleheart and Howell
This series of 12 installments (be careful because the first in the US was double, make no mistake) also introduces us to the couple with their daily chores, but here we do have a lot more action in the purest Marvel style. Agatha Harkness, Scarlet Witch's mentor in the role, recalls, has an important weight in the plots of this strip, helping Wanda through her powers to get pregnant.
Be careful because the comic is full of stellar appearances such as Pietro, Wanda's brother (who did not welcome his relationship with Vision), Captain America, Wonder Man, Magneto … as well as enemies such as Ultron, The Macabre Reaper or The Seven of Salem.
The Scarlet Witch – The Path of the Witches
If what you want is to delve deeper into the character of Scarlet Witch independently, then what you have to do is give The Scarlet Witch – The Path of the Witches a try. Enjoy some fantastic illustrations while posing a Wanda Maximoff who wants to leave her past as an Avenger behind.
During 15 issues and with a script by James Robinson, we will see how the superhero embarks on the mission to fix witchcraft, walking around the planet and facing mystical situations of all kinds.
House of M
We finished our selection with Dynasty of M by Brian Michael Bendis and Olivier Coipel. This is one of Marvel's most acclaimed comics in which both The Avengers and The X- Men face a common front to fight an enemy that has become the greatest threat to the whole world: neither more nor less than Wanda. Maximoff.
A highly recommended crossover with excellent reviews that you can get to read alone, although it is true that to enjoy it in all its splendor, the ideal is that you have a little more knowledge of certain previous titles (we can consider that it is the closing of Avengers Disunited ) . At Amazon you have it in a hardcover edition of Marvel Deluxe, being a must for many Marvel fans.