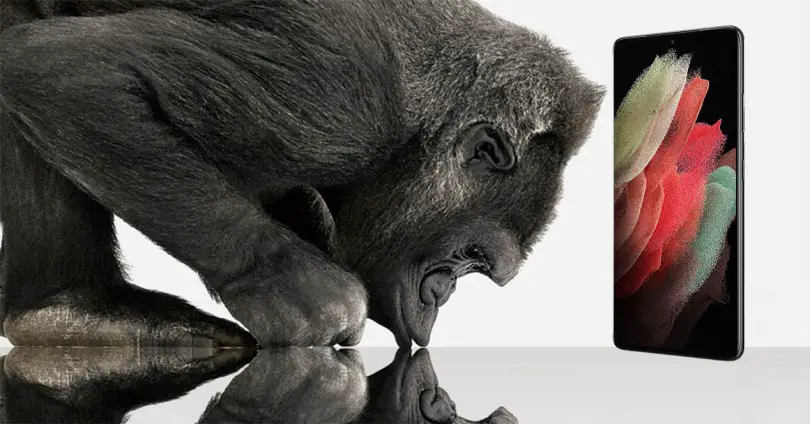 When we check the characteristics of a mobile, the usual thing is that the terminal has a protection technology, either Gorilla Glass or another. Why? It is something very common, since leaving aside the protectors and covers that we can put on the terminal, manufacturers also do their part by providing the best possible protection to the device against bumps or scratches.
And it is that, today, for many users it is one of the most important elements to be able to guarantee greater resistance. But, many wonder what exactly this protection is , how it is manufactured and how they really protect themselves as much as companies claim. In addition, over the years, various generations have followed each other, in which different changes have been introduced, causing an important evolution in this protection.
What is it and how is it made?
This protection, which is resistant to bumps and scratches, is manufactured by Corning Inc., and although its development began in 2005, its official launch occurred in 2008. Likewise, it was not until 2010 when it began to be successful and, since then , has managed to increase unstoppably its popularity among manufacturers. A fame that was given thanks to the fact that companies needed to protect the panels of mobile phones that were getting bigger and bigger.
Gorilla Glass is made of a material called alkaline aluminosilicate , which is formed by joining together aluminum, silicone, and oxygen. So it is not a material that is found anywhere in nature, on a regular basis, and it is an extra in the cost of the terminals. In addition, it is a material that has been designed in such a way to make it as light and thin as possible, with just 0.4 mm thick. But, this does not mean that it has a great ability to resist damage and scratches. For its manufacture, it must be heated to high temperatures (over 400 degrees) in a mold, to then be able to extract it and cool it, finally giving it the shape of a protective sheet.
However, it is true that it was not the first crystal of this type to appear on the market, since there were already other companies and brands that were also working in this segment. And as we have commented previously, with the arrival of smartphones, Corning's reception was increasing, making it the most used option by manufacturers. Although it is true that there are others like Dragontrail , which also have a presence in many mobile phones.
Generations of this successful protection
Gorilla Glass 1
The first Gorilla Glass protective glasses appeared between 2005 and 2006, beginning their great success when they were included in the first Apple iPhone. At the presentation of the first iOS phone in 2007, the device was presented with a 1.5 mm thick Gorilla Glass technology accompanied by an oleophobic coating, capable of repelling fats, which minimized fingerprint marks and smudges on the panel.
Gorilla Glass 2
In 2012, we could see a clear evolution of the protective sheet, as it managed to reduce its thickness by 20%, reaching 1.2 millimeters. In addition, they increased resistance with pressures up to 50kg without breaking or. A curious fact is that it was installed in more than 600 million mobile phones , helping manufacturers to develop much lighter and thinner models.
Gorilla Glass 3 and 3+
The next version, released in 2013, brought as a novelty a 35% increase in resistance to bumps and scratches. In addition, it was the first time that NDR (Native Damage Resistance) technology was integrated. And years later, to be exact in 2019, version 3+ hit the market to improve protection against in low-mid-range smartphones against drops. Providing great results, as it is able to withstand 0.8 meter drops on hard and rough surfaces. So it becomes the most affordable option to protect the screen of cheaper terminals.
Gorilla Glass 4
The Gorilla Glass 4, which was introduced in 2014, increased its resistance to drops and drops by two times compared to its predecessor. An improvement was also implemented in its anti-fingerprint repellent film.
Gorilla Glass 5
The fifth generation saw the light in 2016, although that does not prevent it from being widely used today. The Gorilla Glass 5 managed to outperform its predecessor four times in durability, withstanding drops of up to 1.2 meters in height. In addition, its thickness can vary from 0.4 to 1.3 millimeters. In addition, the manufacturer guaranteed that the technology of this version is capable of inhibiting up to 80% of falls on very rigid surfaces at heights of up to one meter.
Gorilla Glass 6
For now, this version that was launched in 2018 is one of the most present today in high-end mobiles on the market. In addition, they managed to reduce its thickness once more and that is not all, since its resistance increased twice compared to Gorilla Glass 5, withstanding falls of up to 1.6 meters in height.
Gorilla Glass Victus
Last year the latest version of the company was presented, Gorilla Glass Victus , or also known as Gorilla Glass 7. It was released in the Samsung Galaxy Note 20 Ultra and has a thickness of only 0.4 millimeters, although its thickness can vary up to 1.2 mm. According to Corning, they have developed the strongest Gorilla Glass to date, both for drops and scratches.
The most striking thing is that, in the laboratory tests that have been carried out on this glass, it has managed to overcome falls on hard and rough surfaces up to 2 meters in height . So we would be talking about an increase of up to four times its resistance compared to the previous version.
But, does it have advantages?
Leaving aside that Gorilla Glass allows phones to be much more resistant, it has been shown that the use of this glass allows to achieve a design and finish of high aesthetic value and can optimize the wireless charging function , which is present on high-end mobiles. It will even be beneficial for 5G connections on mobiles that have a metallic finish. This is mainly due to the increase that this technology will entail in the number of channels and frequencies that will require greater performance from the antennas.