If there is a bracelet that has been in fashion in recent years, that is the Xiaomi Band and its latest model, the Xiaomi Band 7 continues to be a rage for users. One of the most cared for aspects of this bracelet is its appearance, the way in which we combine it in our day to day and make it another accessory , so choosing is not always easy. On our site we guide you to choose the best strap for your Xiaomi Band.
Beyond the fact that we need to know which straps are the best for our smart bracelet, it is also necessary to know certain previous questions so that you can identify which is the best of all that you can find on the market.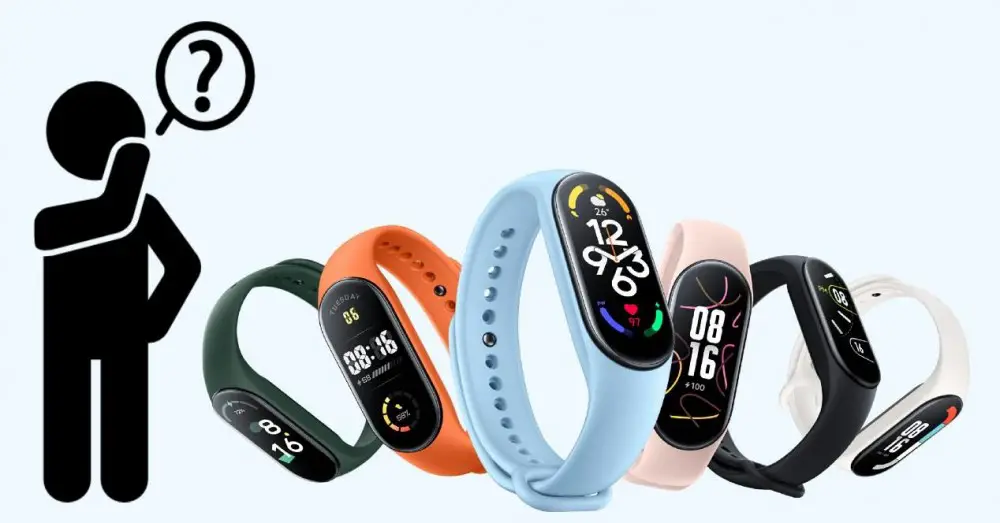 What should a good strap have?
There are many issues that we must take into account when getting down to business to buy a good strap so that the purchase is as satisfactory as possible. Issues related to quality, comfort and the different features and styles that each of the straps we choose for our Xiaomi Band will give us.
Some of the questions we should think about are the following:
The design and materials used by said strap must be the best possible to avoid possible problems in the future.
If you are an athlete and want a comfortable strap, find one that breathes correctly and that is not annoying when you start to exercise so as not to suffer while doing it.
Remember that you wear the bracelet almost every day of the year and it is not the same to wear it in winter than in summer , the latter being a season in which you sweat, so a comfortable strap for that time will never hurt.
And beyond all these issues, there is one that you must have… That you look spectacular with it!
best straps
Once you know everything that a good strap should have, we will explain the best and most beautiful ones so that you can choose the one you like the most or get several of them to have a good variety to choose from and combine with your Xiaomi Band.
The classic, the usual
If you don't want to take risks and want to go back to the usual, there is nothing like silicone straps , the most widely used and also one of the most versatile on the market, fully betting on the comfort that this type of bracelet will surely give you. Here you will not risk, but you will have the winning horse.
It is true that in summer your hand can get too sweaty , but that will be a risk that you will have to take yourself and know if a strap of these characteristics is really comfortable for you or not.
be the most elegant
We all fancy from time to time to become a little more elegant and change the appearance of our bracelet a little to complete that special day that we have been looking for so much. On these occasions, there is nothing like this type of bracelets, elegant and sophisticated , thanks to its design similar to the leather finish.
An elegant finish that also has the plus that we can adjust it as we want, so it will be a good possibility.
Give color to your doll!
One of the most comfortable and also one of the most colorful is the braided nylon , a bracelet full of its own personality that once on, you will surely never want to take it off again because of the comfort and how beautiful it looks both on and with our Band. 7. Of course, it does not have an adjustment or closure, so it is a one size fits all.
Also, just in case you feel like going a little more sober that day, it also comes with a black nylon strap that matches everything.
One of the best for day to day
If you've gotten tired of or don't like silicone straps, the time has come to change and give your hand another look thanks to metal bracelets, which imitate the classic watches with metal straps that have accompanied us so much. This is one of the most interesting straps that we can find, in part thanks to a design with which we all feel integrated.
In addition, this model eliminates 'problems' that other bracelets have, such as the silicone one, which can make our hands sweat more than we would like.