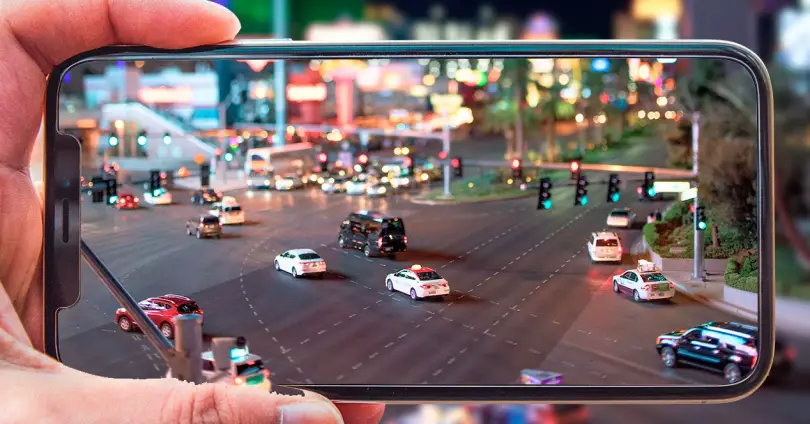 More and more manufacturers are betting that users take advantage of the more creative side of their mobiles and something that is becoming fashionable in recent months is Tilt-Shift photography. If you do not know what we are talking about, surely you will understand it better if we tell you that we are talking about those photographs of the real world that, due to their editing, seem to be a model.
This type of capture has been taking place with professional cameras for a long time, but for some time now, several mobile brands have made sure that their terminals can also do it. And for this they use a series of algorithms and software tools that make it possible to imitate these scenes without the need for the same hardware used by photographers with professional equipment.
Today there are already several brands, especially Chinese, that offer this special mode in their camera apps but, don't worry, if your mobile doesn't have this tool, you can try to take this type of photograph in different ways .
What is Tilt-Shift photography?
Professional photographers have known these types of scenes for a long time. Initially, they are achieved through the use of special lenses that could be used to straighten the contours of buildings in architectural photography. But it quickly became clear that there was also great creative potential in these types of scenes.
Using "miniaturized" subjects and extreme viewing angles, landscapes suddenly look like little models due to the visual characteristics of our eyes. For this reason, in recent years, Tilt Shift photography has experienced a boom thanks to the development of mobile phone software, which can now more accurately emulate this effect without the need for complex hardware.
Manufacturers such as Realme, Xiaomi or OnePlus have directly added this "diorama" type of photography mode to the latest versions of their operating systems.
What mobiles allow taking this type of "mockup" type of photos?
Currently, more and more smartphones are betting on this type of photography and, to make it easier for the user to imitate life, they have developed specific modes so that this type of captures can be taken with just pressing the shutter button.
Realme has been one of the first manufacturers to bet on it and some of its smartphones, such as the Realme 8 Pro, have a series of algorithms that allow a real blur effect to be applied intelligently according to the scene, being able to choose the shape, position and angle of the blur effect. To find this mode you simply have to go to the right from the camera application and select the Tilt-Shift mode. then follow the on-screen instructions and unleash your creativity.
Another manufacturer that also seems to bet on this type of photography is one as well known as Xiaomi . Known by the brand as Diorama, what this company mode does is exactly the same, miniaturize the scenes through software algorithms using the lenses that our mobile has by default. In this case, to access this mode you have to display the menu with three horizontal lines that is located in the upper right part of the camera app and select the "Diorama" tool. When you activate it, you will see how the ends of the scene appear blurred, generating the desired effect.
The new OnePlus 9 not only boast camera optimization thanks to the cooperation with Hasselblad, but also do it in a new way: Tilt Shift. We are not going to discover anything new, it is accessed from the right of the modes and updates menu in the same way as in the other manufacturers.
The alternative if your smartphone does not have this mode
Being able to use these modes is very practical because you only have to point and shoot and the phone takes care of offering the best possible result. However, if your smartphone does not have this tool, you can always try to take titl-shift photos with the mobile by yourself using manual mode.
The key to achieving a good result is finding a high point of view and making sure that the elements of the scene, be it people, cars or street furniture, are small. Then you should try to make the scene have the maximum possible exposure because, if there are parts in shadow, the blur created will not be optimal.
Shoot with the widest possible focal aperture so that the focus is fixed on some elements while the rest of the scene is blurred or out of focus. Once you have taken the capture, you will have to enter the photo editor of your phone and compensate the exposure and raise the saturation slightly to give that "unreal" look to the shot. Many photo editors that have mobiles installed by default will allow you to move the focus to house it on the point of interest.
This, of course, is much easier if we use an app prepared to obtain these types of photographs or we get a special accessory to make dioramas with the phone .
Use an app like Tilt-Shift Camera
In the App Store and Google Play it is quite easy to find numerous applications dedicated to the tilt-shift effect. As it is free, we recommend trying Tilt-Shift Camera , an app with which you can apply filters in real time while taking photos and previewing the results of the miniaturized photography. In addition, it not only allows us to take photos but also allows us to explore this type of video composition, apply different color adjustments, brightness, contrast, saturation, exposure and, what interests us most, be able to work with an adjustable focus area ( linear or round).
The key is to know how to apply the blur in our photos , whether they are made through the app or loaded from the photo reel. Regardless of the app you download to take Tilt-Shift photos, you must adjust the focal point by touching the image and dragging up and down to leave some areas or others porous. You can also expand the range by using two fingers to pinch and drag, keeping in mind that the less range there is, the more it will look like a mockup.
Use special lenses for your mobile
By default, the lenses that appear on the mobile are not optimized for this type of photography but, luckily, on Amazon you can find different sets of lenses that will help us apply different types of compositions to our scenes.
These accessories are attached to the smartphone by means of a clamp and, especially those that have a wider field of vision, will be able to record better photos with "model" style. For this reason, you should look at those that exceed 110º of field of view. vision, although these will deform more the ends of the photo. Luckily, it is nothing that cannot be solved with a simple photo editor.
The most optimal thing is that you try each other and follow the advice that we have given you in the previous steps to achieve the effect that is closest to what you are looking for.